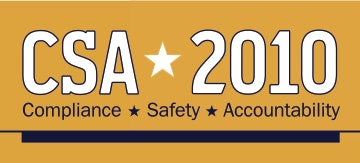 At least three industry organizations plan to file a lawsuit within the next couple of weeks seeking to block public disclosure of certain information from the Comprehensive Safety Analysis (CSA) initiative until the Federal Motor Carrier Safety Administration considers disclosure as part of a planned CSA-related rulemaking next year. Early next month, the agency plans to release publicly the data from the new Safety Measurement System (SMS), which will replace the current SafeStat methodology.
The groups – the National Association of Small Trucking Companies, The Expedite Alliance of North America and the Air & Expedited Motor Carriers Association – argue that disclosure of the percentile rankings within the Behavior Analysis and Safety Improvement Categories (BASICs) and use of terms characterizing those rankings amount to a public branding of carriers as less than safe. SMS data in its current form is unsuitable for use by the public in making decisions about a carrier's safety, and that's FMCSA's job anyway, they argue.
In September, NASTC, TEANA and AEMCA filed a motion to postpone release of CSA data with percentile rankings or labels characterizing carriers as "deficient" or "marginal" in a BASIC if they exceeded intervention thresholds. After meeting with FMCSA officials, the groups in October offered to withdraw the motion in exchange for removal of any pejorative labels on carriers' safety performance and a specific disclaimer on the use of the data. The groups do not object to FMCSA's use of the SMS as an internal tool for targeting enforcement.
FMCSA has not responded to either the motion or the conditional offer to withdraw it, and the agency's CSA changes announced Nov. 18 are insufficient, says attorney Henry Seaton, who represents the three organizations.
"Changing the color from red to orange and changing the terms from 'deficient' or 'marginal' to 'alert' do not begin to address the possible misuse of CSA 2010 by the plaintiff's bar," Seaton says. The changes do not alleviate vicarious liability concerns "or put an end to the prospective black-balling of carriers by shippers and brokers when those carriers are in fact certified by the FMCSA as safe to operate," he adds.
Seaton also points to FMCSA's decision to withhold rankings in the Cargo-Related BASIC as further support for his clients' position. "The fact that the agency has now agreed not to publish percentile scores in yet a second BASIC area begs the question – why publish any percentile ranking before the protections afforded by the Administrative Procedures Act have been provided to affected carriers, shippers and brokers." FMCSA had previously decided not to make the Crash Indicator rankings public due to ongoing problems with the accuracy and timeliness of crash reporting by states as well as concerns about the fact that FMCSA still does not consider fault or preventability in crashes. Crash scores have been withheld from the public display of SafeStat data for several years
Although NASTC, TEANA and AEMCA might prove to be the only named plaintiffs in the lawsuit, they likely will have backing from others in the industry. For example, late last week the Oklahoma Trucking Association decided to endorse the effort to withhold public disclosure pending a rulemaking. "The concern is no due process," says OTA Executive Director Dan Case. There is no effective way to challenge bad data at the state and local level, and that's the data that ultimately populates the SMS, Case says. "There's nowhere to go."
Concerns over data quality
The difficulty in correcting flawed and misleading data is one of the most frequent objections lodged against public disclosure, and it has been a longstanding issue with SafeStat as well. Although there is a DataQs mechanism for seeking corrections, carriers often complain that the process is unsatisfactory, and corrections are at the discretion of the states where reported violations allegedly occurred.
Another due process issue raised earlier this year by the American Trucking Associations and others is FMCSA's reliance on warnings in the SMS as well as citations. In a handful of states, some of which are large like California, Florida, Michigan, Missouri and Pennsylvania, law enforcement personnel generally need probable cause in order to pull a truck over for an inspection. The result, critics charge, is a large number of warnings for speeding that drivers and carriers have no way to challenge in court.
The groups challenging public disclosure cite other data reliability concerns, such as "the law of large numbers" – the idea that reporting anomalies prejudice entities with small samplings. Nor does the system provide any checks to prevent the underreporting of clean inspections, which members of the groups report as significant at some scales. Also, carriers with units operating under the 100-mile logging exemption are not segregated from over-the-road carriers, which must log and comply with the 11- and 14-hour rules, thus contaminating any peer group sample, they contended in their September motion to postpone.
The significance of these and other potential data issues should be considered as part of a formal rulemaking before FMCSA makes rankings based on the data available to the public, the groups argue.
A question of negligence
The damage to carriers from public disclosure of CSA scores will be substantial due to vicarious liability worries, the groups contend. Several court rulings in recent years, such as the oft-cited Schramm v. Foster decision, have held that due to the availability of safety-related data, shippers and brokers are accountable for the safety performance of carriers they retain – even if FMCSA has rated the carrier as satisfactory or hasn't rated the carrier. Shippers and brokers will be forced to avoid carriers that FMCSA labels publicly as less than fully safe, the groups say. Otherwise, plaintiffs in crash lawsuits could claim that the shippers and brokers were negligent in using such carriers.
Many large trucking companies and companies that offer CSA-related products have acknowledged that shippers, brokers and insurers must worry about using carriers with subpar CSA scores. For example, data mining firm Vigillo last week unveiled at the National Industrial Transportation League's annual meeting a 3P Carrier Analysis Scorecard to help shippers, brokers and underwriters ensure that carriers fall within their own risk tolerance levels.
"These companies, which work with hundreds and sometimes thousands of carriers, can be at risk for a negligent hire lawsuit if they place freight with an unsafe carrier," says Steve Bryan, Vigillo's chief executive officer. In a separate release, Vigillo customer Schneider National discussed its use of the company's CSA scorecards to educate and prepare shippers for CSA.
"As we visit with our customers, CSA is increasingly a part of the conversation," says Don Osterberg, senior vice president of safety, security and driver training at Schneider National. "They are paying close attention because these companies can be at risk if they tender freight to an unsafe carrier."
In this legal and commercial environment, attaching labels to carriers is tantamount to handing over the safety rating process to the private sector, the potential litigants claim. "I don't remember anywhere where Congress told FMCSA they could delegate to the public the safety regulation of motor carriers," says attorney Kenneth Siegel, who is working with the potential plaintiffs. "That is in effect what they are doing. If these carriers are unsafe to operate, then the Department of Transportation should be taking them off the road. If they are safe to operate, they are safe to operate."
"Throughout this process, we want to re-affirm our commitment to public safety and our desire to work with FMCSA on these issues," says NASTC President David Owen. "We fear, however, that the ultimate result of implementation of CSA 2010 in its current form threatens the survival of tens of thousands of small companies in small town, rural America."