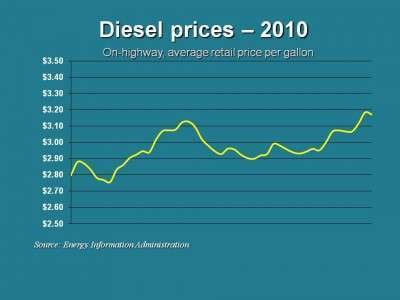 After rising 11.7 cents in the past two weeks, the national average price of diesel dipped 1.3 cents during the week ended Nov. 22, according to the U.S. Department of Energy's Energy Information Administration. The average price is now $3.171, which is 22 cents higher than the level at the end of September whe prices began to surge. In addition, diesel prices are 38.4 cents higher than they were during the same week last year.
Prices fell in all but two regions — New England and California. The largest decline was 1.8 cents in the Lower Atlantic region. As usual, California has the most expensive diesel. The least expensive diesel on average is in the Gulf Coast region.
Complete diesel price information for the week ended Nov. 22 is available on the EIA's website.