Electronic evidence
Retention critical to effective data management
By Aaron Huff
When it comes to data retention, some of your guidelines and policies are clear-cut, but others may be a bit murky. To be prepared for a potential compliance review by the Federal Motor Carrier Safety Administration, carriers should retain the following records for at least the specified time period:
• Hours-of-service records, 6 months;
• Maintenance and accident records, 1 year;
• Results from "clean" drug and alcohol tests, 1 year;
• Driver qualification files, 3 years; and
• Results from "dirty" drug and alcohol tests, 5 years.
Beyond these minimal requirements, what policies should you use for data retention? How long should you retain electronic data downloaded from vehicles and engines, position data from satellite tracking systems, dispatch records and communications with drivers?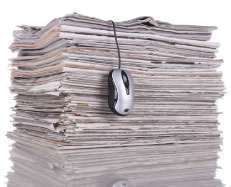 In recent months, satellite tracking data has come under scrutiny. In December 2008, FMCSA declared that it considered satellite location data from mobile communications systems to be supporting documents that motor carriers must be able to produce in a compliance review.
Location data is only one of a number of supporting documents that lack clarity in the form of a regulatory language. Should carriers purge their tracking data after six months along with the rest of their supporting documents for hours-of-service?
This and other questions about tracking data retention became a major issue last July when FMCSA issued a new policy that relieved carriers using qualified tracking systems from some 15 specific paperwork requirements.
The American Trucking Associations argued the new policy was insufficient because carriers need regulatory certainty. Moreover, ATA said the policy would hold carriers using tracking systems that didn't qualify for paperwork relief accountable for using the data it did have for auditing their drivers' logs.
On Sept. 30, a federal appeals court ordered the agency to issue a proposed rulemaking, by Dec. 30, to specify what documents trucking fleets must retain to verify their drivers' hours-of-service logbooks. So carriers soon will have more clarity about supporting documents for the hours-of-service regulation.
Litigation is a different matter. Courts have sided with plaintiff's attorneys that argue carriers have a duty to preserve records beyond the regulatory period in cases where litigation is concerned.
To avoid being charged with data spoliation, carriers must have standing procedures for how to handle all safety- and maintenance-related data when an accident occurs, experts say.
Technology tools
Carriers have several options to manage – and in some cases automate – their procedures for data retention. One option is to use features available in transportation management software.
"Companies that are paper-based tend to have paper records go away." – Al Uritis, CEO, Operating Tax Systems
The Express system from PCS Software has features to purge data in its safety and compliance modules automatically. Users can activate a function to purge driver log data that is older than 6 months, as well as purge all accident and claims records older than 3 years. Users also can purge data manually by using Express' SQL database management tools.
J.J. Keller's Encompass online system for driver and vehicle compliance helps fleets manage driver qualification files, logbook data, fuel taxes and compliance data such as roadside inspections in its "CSA 2010" feature. Users can purge data manually based on industry guidelines and internal policies. Encompass users that choose to outsource their log auditing, fuel taxes, driver qualification files and other processes to J.J. Keller can have their data retention procedures carried out automatically.
The return on investment from effective data retention policies and procedures can go beyond mitigating the risk of an audit or litigation. Operating Tax Systems helps clients recover money in overpaid fuel taxes up to 4 years back. The tax recovery process is much easier for clients who maintain electronic fuel tax records.
"Companies that are paper-based tend to have paper records go away," says Al Uritis, chief executive officer. OTS uses a proprietary paperless system called Roadtax.net to capture GPS readings, fuel purchases, mileages and other data from fleets electronically and prepare IFTA and state mileage tax returns. OTS retains fuel tax records for 5 years for its customers.
Outsourcing can be an effective way to manage compliance, but ultimately fleets are accountable for establishing and complying with policies and procedures for data retention. n
TCH,Zonar offer fuel purchase security system
TCH and Zonar Systems unveiled a system to prevent fuel theft by ensuring that diesel is being pumped into an authorized truck. Called Z-Con, the system will be installed at participating truckstops throughout the United States and Canada. The installed devices will interface with Zonar devices installed in trucks operated by Z-Con customers to ensure that the truck that is positioned at the fuel pump is the truck the company has authorized to use the fuel card.
The Z-Con system combines ultrasonic and infrared technologies with vehicle telematics. As a vehicle approaches a Z-Con-equipped fueling island, an ultrasonic sensor detects the presence of the truck, activating the radio in the truck's fuel canopy and an infrared transmitter. Once the infrared transmitter and receiver in the truck are aligned, an LED on the windshield tells the driver that authorization is in progress.
After the VIN has been validated, the LED indicates that the driver is authorized to begin fueling. Z-Con terminates fueling when the vehicle leaves the pump area, ensuring that only the correct truck is fueled. The technology also eliminates the need for drivers to swipe fuel cards or enter data to begin a transaction, reducing the chances of inaccurate information.
IN BRIEF
* Cheetah Software Systems
(www.cheetah.com) incorporated ALK Technologies' CoPilot Live v8 turn-by-turn GPS navigation software to maximize the safety and efficiency of its dynamic routing and dispatch optimization solution.
* Prophesy Transportation Solutions (www.mile.com) added Microsoft Bing Maps technology to its Prophesy DispatchSeries system through a new ProphesyMaps feature.
* PeopleNet
(www.peoplenetonline.com) and Trinium Technologies plan to integrate the Trinium transportation management system for intermodal trucking and truckload operations with PeopleNet's mobile communications system and Automated Workflow.
* Complete Innovations
(www.completeinnovations.com) released the ES400 Track & Dispatch Suite to provide mobile resource tracking, dispatch workflow, barcode scanning, signature capture and push-to-talk communication.
* Networkfleet
(www.networkfleet.com) now provides complementary emergency roadside assistance with the purchase of its 4200 GPS fleet tracking system.
* SkyBitz
(https://www.verizonconnect.com/) and McLeod Software customers can install a newly integrated SkyBitz enhanced asset-tracking and management module in beta.
* ALK Technologies (www.alk.com) released PC Miler FuelTax 16 for automated fuel and mileage tax tracking, calculation and reporting.