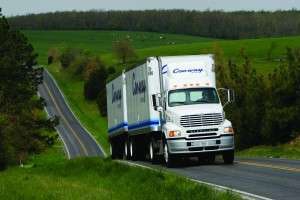 Con-way Inc. on Wednesday, Feb. 2, reported net income for the fourth quarter of 2010 of $2.4 million compared to a fourth-quarter 2009 net loss of $1.9 million. Revenue was $1.21 billion, an 8.7 percent increase. Operating income was $15.8 million compared to $17.3 million.
For the full-year 2010, Con-way reported net income of $4.0 million compared to a full-year 2009 net loss of $110.9 million. Revenue was $4.95 billion, a 16.0 percent increase. Operating income of $78.2 million was improved from an operating loss of $25.9 million.
"Con-way's principal business units managed through an unsettled economy in 2010, concluding the year with solid operating discipline," said Douglas Stotlar, president and chief executive officer of the Ann Arbor, Mich.-based company. In the fourth quarter, Con-way Freight, the company's less-than-truckload unit, reported improved yield as a combination of pricing actions and proactive account management increased revenue per hundredweight, and helped maintain network volumes at more efficient levels. Tonnage per day was essentially flat compared to the previous-year fourth quarter.
"We were disappointed with Con-way Freight's fourth-quarter profits, which were affected by a spike in health care costs," Stotlar said. "That issue aside, we were encouraged with results of our operating cost-reduction initiatives begun last August. In less than five months, we've reversed the negative trajectory in primary operating cost and efficiency metrics, which are returning to historical norms. As we move into 2011, our focus will be on vigilant cost control, network efficiency and yield management."
Menlo Worldwide Logistics reported a solid fourth quarter, successfully navigating a changing market for outsourced logistics services. "Menlo completed a commendable year, executing well against its plan, managing costs and exceeding customer goals," Stotlar said. "Headed into 2011, Menlo remains well positioned in its markets with a global footprint and service portfolio that is aligned with customer needs."
In the fourth quarter, Con-way Truckload reported improved key operating and productivity measures compared to the third quarter. A fourth-quarter income decline compared to 2009 was attributed in part to lower total miles, which led to a decline in tractor productivity and reflected changes in fleet composition that had fewer higher-mileage driver teams and proportionally more single driver trucks.
"Our truckload unit operated well, reducing empty miles and increasing average loaded miles in the fourth quarter," said Stotlar. "We have good balance in the network and are well positioned to increase asset utilization as we refine the business mix and expand opportunities for dedicated teams. If the apparent firming of market demand continues, prospects for profitable growth should be encouraging."
The company also announced that Michael Morris has been named senior vice president and treasurer. Morris, who is based at Con-way's corporate office in Ann Arbor, joins the company from Kulicke and Soffa Industries Inc., where he served as chief financial officer since 2009, and as vice president of finance and treasurer beginning in 2006. Prior to that, he was assistant treasurer at Constellation Energy Group Inc. from 2005 to 2006. Previously, he held various positions of increasing responsibility at the treasurer's office of General Motors Corp.
"We are pleased to welcome Mike to the Con-way team," said Stephen Bruffett, the company's executive vice president and chief financial officer. "He brings a strong base of diverse experience, and we look forward to his perspective and contributions."