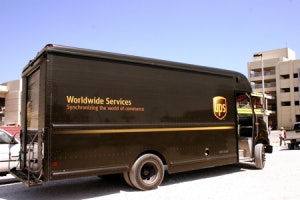 UPS on Tuesday, Feb. 1, announced adjusted diluted earnings per share of $1.08 for the fourth quarter of 2010, a 44 percent improvement over the prior-year period. Global revenue grew 8.4 percent, generating $1.8 billion in adjusted operating profit, a 40 percent increase.
On a reported basis, diluted earnings per share totaled $1.11, a 48 percent increase over the $0.75 reported for the same period last year. The company's net income rose to $1.12 billion from $757 million. During the quarter, UPS recorded a net after-tax gain of $32 million related to the sale of certain noncore business units.
For the full year 2010, the company reported delivery of 3.9 billion packages, an average of 15.6 million per day. Revenue increased 9.4 percent to $49.5 billion. Adjusted operating profit soared 47 percent to $5.8 billion with the International and Supply Chain & Freight segments achieving record-setting levels, generating $1.9 billion and $577 million, respectively. On a reported basis, operating profit for the year was $5.9 billion, up 55 percent. Adjusted diluted earnings per share were $3.56, up 54 percent, and $3.48 on a reported basis, up 63 percent. UPS earned $3.5 billion, up from $2.2 billion.
"UPS again demonstrated exceptional earnings growth by leveraging the strength of its network to provide solutions for customers," said Scott Davis, chairman and chief executive officer of the Atlanta-based company. "I'm encouraged by the opportunities we see in 2011 as UPS continues to expand into emerging markets while demonstrating the power of the logistics capabilities we've built worldwide."
Based on expectations for 2011, UPS is providing annual guidance for diluted earnings per share to a range of $4.12-to-$4.35, an increase of 16-to-22 percent over 2010 adjusted results, which would exceed the peak earnings level recorded in 2007.
"The fourth-quarter results punctuate a year in which UPSers superbly executed our strategy," said Kurt Kuehn, chief financial officer. "As we close the book on 2010 and look toward 2011, UPS is uniquely positioned for growth in the future. Over the past two years, UPS took the necessary steps to weather the economic storm and emerged stronger. As a result, cash flow will continue to be strong, creating a foundation for increasing returns to shareholders. We plan to significantly ramp up share repurchases, to approximately $2 billion in 2011."