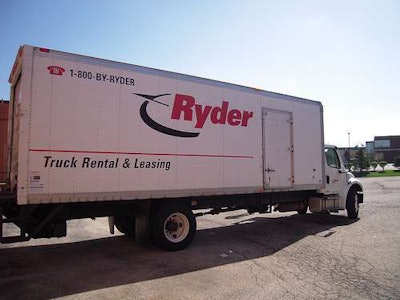 Ryder System Inc. on Thursday, Feb. 3, reported earnings from continuing operations for the fourth quarter of 2010 ended Dec. 31 were $41.5 million compared with $23.7 million in the year-earlier period. Ryder said the improvement reflects the impact of significantly stronger results in its Fleet Management Solutions business segment, driven primarily by better commercial rental performance and used vehicle sales results. These increases were offset partially by lower full-service lease performance resulting from higher maintenance costs due to fleet aging and the cumulative impact of customer fleet reductions.
Total revenue from continuing operations was $1.31 billion, up 5 percent from $1.25 billion. Operating revenue (revenue excluding FMS fuel and all subcontracted transportation) from continuing operations was $1.06 billion, up 4 percent from $1.02 billion. FMS business segment total revenue improved 5 percent due primarily to higher commercial rental revenue and fuel services revenue passed through to customers. FMS operating revenue grew 4 percent due to higher commercial rental revenue, partially offset by lower full-service lease revenue reflecting the impact of customer fleet downsizing.
In the company's Supply Chain Solutions business segment, total revenue increased 8 percent due to higher subcontracted transportation and operating revenue. SCS operating revenue rose 4 percent due to improved high-tech and automotive volumes, and new business. DCC business segment total revenue grew 2 percent and operating revenue grew 5 percent, reflecting the pass-through of higher fuel costs and new business. In 2009, the company discontinued SCS operations in South America and Europe, and results of these operations are reported as discontinued operations for all periods presented.
Net earnings were $37.1 million versus $8.2 million. "In view of our measurable performance across many areas, 2010 was a very successful year for Ryder," said Greg Swienton, chairman and chief executive officer of the Miami-based company. "In what was an uneven slow economic recovery, we achieved revenue growth and very good earnings leverage, including a 24 percent increase in comparable earnings."
Swienton said the company's solid balance sheet and strong cash flow enabled Ryder to announce several strategic acquisitions in the fourth quarter that will help grow and expand capabilities in all three reporting business segments. "Even in what is likely to be a gradual economic recovery, Ryder enters 2011 very well positioned to profitably accelerate growth in our business," he said.
Total revenue from continuing operations for the full-year 2010 was $5.14 billion, up 5 percent from $4.89 billion in the same period of 2009. Operating revenue from continuing operations was $4.16 billion, up 2 percent from $4.06 billion. Earnings from continuing operations were $124.6 million, compared with $90.1 million. Comparable earnings from continuing operations were $117.0 million, an improvement of 24 percent from $94.6 million. Net earnings, including discontinued operations, were $118.2 million, up 91 percent compared with $61.9 million.
"We took a big step forward in 2010 with performance that was substantially better than our 2009 results," said Swienton. "Although we have not yet experienced a return to growth in every product line, we completed an extremely good year of progress with revenue growth in all segments and higher overall earnings. For 2011, we expect the continuation of many of the same positive trends we saw in 2010."
Swienton said Ryder is making investments in its fleet, maintenance technology and sales and marketing to increase the efficiency and competitiveness of its offerings and position the company for accelerated growth. "In 2011, even in a gradual recovery with the lingering effects of a deep freight recession still apparent, we plan to accelerate revenue growth and deliver very solid results," he said. "Over the longer term, we expect that the substantial pent-up demand for lease fleets due to a range of factors – including new, more expensive EPA-mandated engine technologies – will result in future contractual revenue and earnings growth."
Ryder will be showcasing its solutions at the Reverse Logistics Association Conference & Expo taking place at the Rio Hotel and Casino in Las Vegas, Nev., from Monday, Feb. 7-Wednesday, Feb. 9. Ryder's reverse logistics experts will be available to discuss topics such as integrating forward and reverse logistics activities, maximizing the value of returned assets, identifying alternative disposal methods and finding efficiencies in the reverse logistics supply chain.