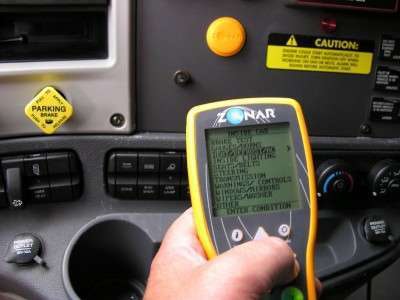 During the Technology & Maintenance Council 2011 Annual Meeting & Transportation Technology Exhibition, Mitchell 1 on Monday, Feb. 7, announced enhancements to Repair-Connect, its online program designed to give technicians the necessary tools to troubleshoot an engine diagnostic code. Mitchell-1 also announced a strategic relationship with Zonar Systems to integrate Repair-Connect into Zonar's Ground Traffic Control software to offer Zonar Rx.
Repair-Connect is designed to speed up the repair process by taking a technician directly to the service information he needs by inputting the Diagnostic Trouble Code (DTC); when the trouble code is entered into Repair-Connect, in seconds seven tabs open that contain information specific to the code, such as component and location views, R&I, wiring diagrams, specs and more.
The latest release of Repair-Connect, originally released for 10L and above diesel engines, will help service Classes 4-8 trucks and provide engine diagnostic information for both gas and diesel engines. Mitchell 1 says it also has added improvements to the user interface, and that once the integration with Zonar is complete, Zonar Rx not only will communicate trouble codes from an engine ECM, but also will provide the essential service information required to diagnose and repair the problem.
"The relationship with Zonar and the development of this new offering is a natural evolution for both companies," says Dave Costantino, CVG director. "Integrating our Repair-Connect application with Zonar's ECM data-capturing capability takes diagnostics and repair information to a whole new level."
Zonar's Ground Traffic Control, a Web-based fleet management portal, is designed to provide a real-time picture of fleet operations, presenting all the information available through any of Zonar's electronic fleet management products. Zonar says that when a customer's vehicle reports a trouble code, Zonar Rx instantaneously will notify the customer of the problem and present the repair information required to service the vehicle and clear the trouble code, thereby speeding up repairs and reducing downtime. "The alliance between Mitchell 1 and Zonar brings unique and innovative time-saving benefits to our customers," says Chris Oliver, vice president of marketing at Zonar Systems.
Mitchell 1 says its online vehicle repair products – including Tractor-Trailer.net, Medium-Truck.net and Repair-Connect.net – have all the vital procedural service information in one place to maximize shop productivity, including thousands of detailed color wiring diagrams to help solve complex electrical problems, as well as full-color photos that provide a real-world view of many vehicle components and assemblies. Mitchell 1's CircuitSelect is designed to allow the user to trace, highlight, isolate and hide individual wiring circuits using different colored highlights.