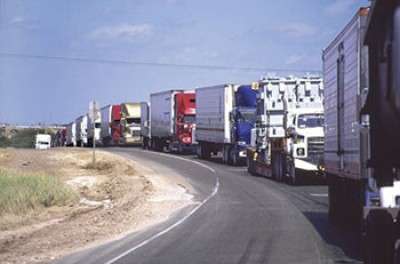 The American Trucking Associations on Tuesday, Feb. 8, announced its appreciation for the governments of the United States and Canada for renewing efforts to streamline the flow of trade between the two countries and improve security coordination. ATA also applauded President Obama for his commitment to rebuilding and renewing the nation's infrastructure.
"The trucking industry appreciates the efforts of President Obama and Prime Minister Harper to advance the cause of trade between the United States and Canada," says Bill Graves, ATA president and chief executive officer. "This agreement is a positive first step to increasing the competitiveness of businesses on both sides of the border."
According to ATA, trucks carry about 60 percent of the value of trade between the United States and Canada, the U.S.'s single largest trading partner. "Removing bottlenecks and speeding the flow of goods across the border will not only help carriers in both countries, but also their customers who depend on timely and efficient cross-border operations," Graves says.
At the same time that Obama and Prime Minister Harper were meeting, ATA members and staff met with U.S. Customs and Border Protection Commissioner Alan Bersin to discuss ways to improve cross-border trucking operations. "We held a very open and positive discussion with Commissioner Bersin and other CBP officials to find ways to improve and expedite the movement of freight across the border," Graves says. "We look forward to working with CBP and other government agencies to define what is needed to have a more secure and efficient process for cross-border trucking operations."
Steve Russell, chairman and CEO of Celadon Group Inc., represented ATA's member carriers at the meeting with CBP. "I want to commend Commissioner Bersin for his openness in wanting to work with us to reduce unnecessary costs and delays at both our northern and southern borders," Russell says. "We encourage the Obama administration to develop a process that expedites the flow of low-risk trucks into Canada, but also to streamline the movement of goods with Mexico."
Obama made his comments regarding the nation's infrastructure during his address to the U.S. Chamber of Commerce on Monday, Feb. 7. ATA called on the administration to live up to that commitment by proposing a robust surface transportation program with a strong focus on highways.
"We agree with President Obama when he said America is operating with 'outdated and inadequate infrastructure,' and we appreciate his commitment to provide the United States with the 'fastest, most reliable' transportation system in the world," Graves says. "However, we urge the president and his administration to live up to that commitment with a strong focus on traditional highway and bridge projects as they work with Congress to craft the long-overdue surface transportation reauthorization."
Graves says the U.S. Department of Transportation reported in late January that, by any measure, trucks haul the vast majority of the nation's freight, and that America's trucking industry carries these goods safely, efficiently and faster than any of its competitors. "Investing in the nation's roads and bridges is among the most efficient ways to create jobs and ensure the continued competitiveness for U.S. businesses."