The 10th and final part in a series of quick peeks into the world of commercial vehicles through the lends of Commercial Carrier Journal
Retrospective:  2000 to present
Washington D.C. — trucking HQ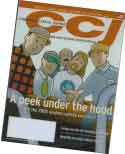 While environmentally driven improvements in diesel engine technology go back several decades, the pace quickened with major emissions reductions in 2002, 2007 and 2010. Going from small NOx and PM levels to extremely small emissions levels proved challenging and expensive. By some estimates, the last three emissions-driven technology changes have added more than $20,000 to the cost of a truck – and that's not counting lower fuel economy and payload lost to greater weight. And taken with sharp changes in the economy and freight demand, the resulting disruptions in equipment buying have brought even more financial pain.
A few blocks from Environmental Protection Agency headquarters is the Federal Motor Carrier Safety Administration, which didn't even exist prior to 2000. Just a few months after the Motor Carrier Safety Act of 1999 created the agency, FMCSA floated its plan for revamping driver hours-of-service regulations that had not changed substantially since they were imposed more than 60 years earlier. It took three more years to finalize a rule – one that was far more to the trucking industry's liking than the 2000 proposal.
Safety advocates weren't so satisfied, however. What followed was a series of federal appeals court challenges that forced FMCSA to make a few more changes and to find more data to back up its choices. Today, nearly eight years after the first rule change, the process continues, and this time it could be the trucking industry heading to the U.S. courthouse on Constitution Ave.
Truckers respond to tragedies

In the months following Sept. 11, 2001, many industries mobilized to fight what everyone thought might be frequent terrorist attacks on U.S. soil.
The trucking industry was no exception. The American Trucking Associations responded by mobilizing a relatively new safety awareness program called Highway Watch into an army of drivers to be trained as the eyes and ears of law enforcement. A few million dollars later, the effort fizzled as the newly established U.S. Department of Homeland Security reallocated resources to other priorities.
In 2005, the trucking industry responded again when Hurricane Katrina struck the Gulf Coast. Often without any compensation at all, hundreds of trucks hauled water, food and other necessities to the region.
Fuel for thought

During the week ended Jan. 24, 2000, diesel prices soared more than 11 cents to $1.418, sending the entire trucking industry into a tizzy. Turns out, those were the good ol' days. Since that unprecedented spike in 2000, the price of diesel has risen by more than 2 cents in a week 164 times – the largest jumps coming in the wake of Hurricane Katrina and the long, painful surge that occurred during the first half of 2008. In the two months following early August 2005, the price of diesel soared more than 79 cents.
Among the many consequences of high volatile prices has been major spec'ing changes – aerodynamic designs and appliances, low rolling-resistance tires and auxiliary power units to reduce idling.
Visit www.CCJ100.com for an in-depth timeline detailing news and events in the trucking industry from this decade and share your company's history.