Power Steering Fluid
Bar's Leaks Power Steering Fluid with Stop Leak is formulated to prevent wear, inhibit corrosion, prolong fluid life, prevent leaks and seal existing leaks in pumps, rack and pinion units and gearboxes. The power steering fluid contains a blend of lubricity and anti-wear agents that chemically bond to metal surfaces to help prevent metal-to-metal contact, reducing wear and extending pump life. It also includes corrosion inhibitors, seal conditioners and antioxidants that help stop chatter and maintain smooth steering, while helping to quiet noisy power steering pumps. The stop-leak product is compatible with all petroleum-based mineral oil and synthetic power steering fluids and can be used to top off the power steering fluid level whenever needed; one 12-ounce bottle treats two to three quarts of fluid.
Bar's Leaks
Visit www.ccjdigital.com/info

Compression repair additive
Rislone Compression Repair with Ring Seal is a proprietary blend of petroleum additives developed for higher-mileage engines suffering from decreased or uneven compression that can be caused by normal engine wear and decreased sealing between the piston rings and cylinder walls. Compression Repair is formulated to fill scratches and grooves in cylinder walls to prevent blow-by gases and compression from leaking past the rings and fouling the crankcase oil. The additive also is made to free sticky rings to increase compression while reducing friction and wear. Compression Repair, which is compatible with any four-stroke gasoline or diesel engine, does not contain any lead that could damage the inside of the engine or be burned and contaminate emissions components or the environment, and is made to work with all petroleum-based motor oils, including conventional, high-mileage and synthetic formulas.
Rislone
Visit www.ccjdigital.com/info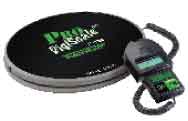 Refrigerant scale
Tracer Products' TP-9366 Pro-DigiScale is a high-capacity refrigerant scale designed to accommodate cylinders up to 220 pounds while allowing users to weigh and charge from the same platform. The unit provides measurements in pounds/ounces, kilograms/grams or decimal pounds and is designed for load cell accuracy to +/- 0.25 ounce (7 grams) with no drift. The device comes with a weighing platform, communication cable, 9V alkaline battery and control head that features a large LCD to facilitate easy viewing even in direct sunlight; all components are packed in a plastic carrying case. Additional features include an automatic shutoff mode to conserve battery life, low-battery and over-range warning indicators, and automatic and manual "zeroing."
Tracer Products
Visit www.ccjdigital.com/info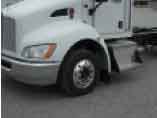 Automatic tire chain for ambulance
Onspot now offers an automatic tire chain kit for the Kenworth T270 chassis with the Kenworth AG210L air suspension aimed at the ambulance market. Onspot automatic tire chains are designed to allow the operator to engage tire chains at the flip of a switch to provide increased traction in forward or reverse on snow and ice.
Onspot
Visit www.ccjdigital.com/info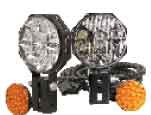 Snowplow kit
Truck-Lite's LED snowplow kit is designed to improve overall visibility for snowplows and be highly visible to oncoming traffic, even in harsh winter weather. The LEDs are engineered for longer life expectancy, increased durability and lower current draw via electrically charged semiconductor chips that produce a durable solid-state lamp built to be more impervious to shock and vibration. The kit, part number 80863, is composed of a right-hand and left-hand lamp assembly, as well as the appropriate harness. Each right/left lamp assembly includes an LED headlamp, bracket and pedestal turn signal lamp.
Truck-Lite
Visit www.ccjdigital.com/info
Interior, dome LEDs
Peterson's safety lighting line now includes several additional models of white interior and dome LEDs:
• Model 361, a clear 4-inch round 2-wire LED interior light with six diodes, polished stainless-steel housing and removable frosted lens for mounting;
• Model 366, a clear 5.5- x 3-inch rectangular 2-wire LED dome or interior light with 24 diodes and white plastic housing that mounts on four 11/16-inch centers;
• Model 369S, a clear 12-inch swivel 2-wire LED interior rail light with 24 diodes, on-off switch and white plastic housing; and
• Model 379S, a clear 5.5-inch round 2-wire LED dome light with 30 diodes, on-off switch, white plastic housing and removable white plastic lens for mounting.
Peterson
Visit www.ccjdigital.com/info


Split-system no-idle AC
Hammond has updated its 12V no-idle Arctic Breeze Truck AC system with a split-system design for smaller spaces on light- and medium-duty trucks. The new system packages the AC components so that the condenser and fan are mounted externally, while the compressor and motor are located inside the cab. The Arctic Breeze Truck AC is designed to deliver 8,000 Btu of cooling, drawing 45 amps from 6 AGM truck batteries to provide up to 16 hours of cooling time. The system is equipped with an integrated low-voltage cutout switch to prevent draining the starting batteries.
Hammond
Write 206 on Reader Service Card or
visit www.ccjdigital.com/info

Rotating bar pin end bushion
Hendrickson Truck Suspension Systems' rotating bar pin end bushing for walking beams is designed to save time as the installer will not need to pay added attention to the bar pin angle during installation; once pressed in, the bar pin can be turned with a shop wrench or similar tool to the required axle angle. The rotating bar pin end bushing includes a set of shims to help simplify axle alignment as well as the required fasteners to complete the installation.
Hendrickson Truck Suspension Systems
Visit www.ccjdigital.com/info
Updated swivels
Hamilton's next-generation swivel technology, HPI or Hamilton Precision Integrated, now can be found on select series of the company's heavy-duty forged steel casters with load capacities ranging from 600 to 23,000 pounds per caster to handle 24/7 operations such as automatic guided vehicles and tow-line carts.
Hamilton
Visit www.ccjdigital.com/info

Solid state flasher
Waytek Inc.'s solid state flasher, manufactured by Sure Power Industries, has a 100 percent solid state design to accommodate temperature fluctuations and is environmentally sealed so that vibrations do not affect it. According to the company, independent lifecycle testing did not find a failure before the test was terminated at more than 42 million flashes.
Waytek Inc.
Visit www.ccjdigital.com/info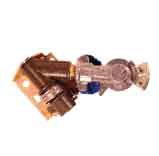 Anodized gladhands with swivel
Phillips Industries' Swinger gladhands now are fully anodized to help protect against magnesium chloride, road salt and other chemicals that cause corrosion. Swinger gladhands with a live swivel are designed for intermodal and piggy-back trailers where straight or angled gladhands are exposed to damage. The Swinger is designed to allow the gladhand to swivel 180 degrees without kinking the air line; when not in use, the gladhand automatically is returned to seal, protecting the air lines. The Swinger swivel design is available with service or emergency gladhands and with the Phillips Qwik-E gladhand, which has a quick-release valve designed for quicker release of trailer brakes.
Phillips Industries
Visit www.ccjdigital.com/info

Scissor lift
The Hunter RX10 scissor lift features a 10,000-pound lifting capacity and a choice of runway lengths to accommodate vehicles ranging from passenger cars to crew cab pickup trucks. The scissor design requires minimum bay space and can save further space with a shallow-pit installation that sets the runways flush to the floor when fully lowered, eliminating the need for long approach ramps. Surface-mounted models provide a lowered height of 8.75 inches, providing clearance for vehicles with low ride height or low-hanging spoilers. The optional PowerSlide system is designed to control turnplate and slipplate operation automatically, and the optional Inflation Station feature helps make alignments more accurate by automatically setting a predetermined tire pressure for each wheel simultaneously.
The extra-wide 24-inch runways with louvered ramps help make positioning the vehicle on the lift rack easier, while the open access at the front and rear create an unrestricted workspace underneath the vehicle. A powder-coat finish adds aesthetics and durability to help resist shop damage.
Hunter
Write 211 on Reader Service Card or
Visit www.ccjdigital.com/info
Heavy-duty torque/angle wrench
Snap-on's Heavy Duty TechAngle Torque and Angle Wrench (ATECH4R600) is designed to eliminate the need for angle gauges and protractors and provide an accurate, efficient way to achieve torque plus OEM-specified angle-tightening sequences. Features and benefits include:
• Digital readout that displays a torque setting and, with a push of a button, switches to the angle mode;
• Angle readout not affected by ratcheting;
• Manual preset and automatic track, peak and first peak modes;
• Audible (tone) and tactile (vibrating handle) preset alerts;
• Comfortable nonslip grip handle;
• Sealed ratchet head; and
• Low battery indicator and auto shutoff after two minutes idle.
Snap-on
Visit www.ccjdigital.com/info
Electric sit-down lift trucks
Linde Material Handling-North America's RX60 series of electric counterbalanced sit-down lift trucks includes eight models with capacities ranging from 5,000 pounds (RX60-25C and RX60-25L) to 10,000 pounds (RX60-50). The RX60-25C and RX60-30C feature cushion drive and steer tires, while the six remaining trucks in the series have SE drive and steer tires as standard equipment. The lift trucks offer:
• High performance: A new rail design helps strengthen the mast and limit deflection, resulting in a superior residual capacity. The trucks feature travel speeds of 12 mph and a lift speed of 100 fpm, and also feature automatic power boosts that are activated as the system's sensors demand to negotiate railroad crossings, curbs, steep ramps or other obstacles;
• Ergonomics: The trucks each feature low noise levels, a floating operator compartment, a tilted floorboard, a fully adjustable suspension seat and an adjustable steering column;
• Durability: The heavy-duty cast-ductile iron steering axle provides a strong structure, while major electrical component placement inside the counterweight offers protection. The counterweight dissipates naturally occurring heat during operation, and thermal protectors monitor components and limit power output in case of high temperature;
• 80V electrical system: Maintenance-free enclosed motors provide performance comparable to liquid propane- and diesel-powered forklifts, while the large battery compartments are designed to accommodate standard and vented batteries. A fast-charge assist option is available;
• Safety: Visibility of the load and through the mast is provided by the rail's design and by having two free-lift cylinders instead of one. The "ramp start assist" function helps the operator with stopping and starting on inclines; and
• Versatility: When equipped with a full cab and electric heater, the RX60 provides operator comfort in inclement weather. When fitted with cold storage equipment, it also will work in freezers with temperatures as low as -20 Fahrenheit. Dual front tires add stability for wide loads or at high lift heights.
Linde Material Handling-North America
Visit www.ccjdigital.com/info

Safety vest
Tingley Rubber has designed a lightweight flame-resistant high-visibility safety vest made of a Modacrylic material and to meet the needs of workers who cannot wear a vest that will melt or drip when worn over their clothing. The vest, designed for added comfort in a breathable fabric, joins Tingley's Job Sight line engineered to provide excellent daytime and nighttime visibility, superior comfort and safety protection in the toughest work environments. The line consists of vests, pants, T-shirts, sweatshirts and outerwear for a wide range of industries, including transportation, construction, waste management and utilities.
Tingley Rubber Corp.
Visit www.ccjdigital.com/info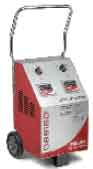 Fleet charger
Clore Automotive now offers Solar's Octane Series OS6150, a 6/12/24V fleet charger that features an enhanced Transoid Transformer, Quad Force Rectifier and enhanced internal circuitry for rugged durability. Octane Series chargers are designed for improved charging efficiency, lower power consumption, lower operating temperatures and longer unit life. A Comfort-Walk handle and an EZ View control panel helps make operation simple and convenient, while a two-hour timer adds to convenience by allowing a technician to set the desired charging time and walk away to perform other tasks.
Clore Automotive
Visit www.ccjdigital.com/info
Electronic fixed ratcheting head torque wrench
Stanley Proto has added three fixed ratcheting head models to its line of electronic torque wrenches. The wrenches accept standard Proto sockets and come in ¼-, 3/8- and ½-inch drive versions with torque ranges from 25 in.-lb. (2.8 Nm) to 250 ft.-lb. (339 Nm). The torque wrenches are accurate to within +/- 2 percent of indicated value in both directions, while 99 onboard memory storage locations help improve efficiency when taking multiple torque readings. The fixed ratcheting head features a robust 24-tooth design with a 15-degree arc swing, an alloy steel drive gear for strength and durability, a low-profile design to facilitate easy access and a reversing lever design to help ease one-handed operation. Features and benefits include:
• Three units of measure (ft.-lb., in.-lb. and Nm);
• A rotating head for easier viewing of the LCD display;
• A fast sampling rate that allows the wrench to measure peak torque the moment it's reached; and
• Visual and audible indicators.
Stanley Proto
Write 216 on Reader Service Card or
Visit www.ccjdigital.com/info