Nissan finally unveiled its long-awaited NV Series commercial light van at a press event in Miami earlier this month. Until now, Nissan has declined to compete in the North American commercial truck market, even though the company maintains a huge presence in those markets globally. (According to Nissan, commercial vehicle sales, including heavy-duty trucks and buses, account for 20 percent of its global business annually.)
And although Nissan has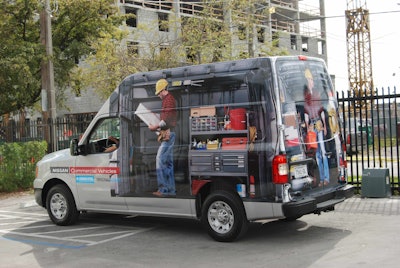 multiple van products it could have simply imported into the U.S. and Canada, the newly minted Nissan Commercial Vehicle Group felt that an all-new design – one specifically tailored to meet the needs of North American businesses – was the best way to break into the American commercial market.
That clean-sheet design is evident in the NV van's robust exterior styling – which bears a strong family resemblance to Nissan's Titan and Frontier pickup trucks as well as the Armada SUV. That familiarity continues inside the van, which as Peter Bedrosian, senior manager, product planning, notes includes seating, instrumentation, visibility and noise-dampening on par with Nissan pickups and SUVs. "Current vans tend to favor cargo more than the driver," Bedrosian says. "So we thought we could place a little more emphasis on the driver by making them more comfortable and productive."
Bedrosian says the most visible aspect of this philosophy is the engine – which is emphatically not in a doghouse stuck between the driver and passenger seats. "Those engine doghouses ranked really low in the customer surveys we did," he notes. "They really limit the amount of foot space and legroom available in the cab and even the best designs are difficult to service. What's more, over time, the doghouse seals fail, which leads to high levels of engine noise on the driver compartment."
From a business point of view, the Nissan design team made certain the NV vans would be productive as well as tough in day to day business applications. The starting point for the "panel van" concept is an all-new, durable body-on-frame construction coupled with a fully-boxed frame design for additional strength. This body-on-frame design concept was carried through on high-roof versions of the van, which offer 105-inches of usable storage and work height in the cargo area, compared to 83.9 inches of roof height in the standard van. All told, NV van high-roof models offer 323.1 cubic feet of cargo volume, compared with 234.1 cubic feet in standard roof versions.
The NV's cargo area is designed to be as efficient as possible, for secure, safe transportation, as well as easy access to tools or work benches, as well as faster and easier loading and unloading. Nearly vertical sidewalls maximize walk-through storage space and allow easy installation of aftermarket storage systems or a bulkhead behind the driver and passenger seats without drilling holes or other major modifications. Additionally, reinforced mounting points are positioned throughout the cargo area to aid in aftermarket installations and all cargo pre-wiring packages have been optimized for fast and easy aftermarket up-fits.
Rear-wheel drive was deemed a necessity, as was an optional, 5.6-liter, 317 horsepower V-8 engine, which gives V-8-equipped NV's a 9,500 pound towing capacity. The standard 4.0-liter V-6 engine puts out 261 horsepower. Both engines are mated to a standard, five-speed automatic transmission.