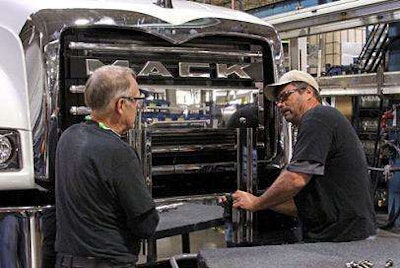 On the Feb. 20th episode of the CBS television series "Undercover Boss," Denny Slagle, president and chief executive officer of Mack Trucks Inc., addressed employee rumors about the company moving production to Mexico, said it's important that products continue to be made in the United States, and expressed his belief that Mack can remain competitive building trucks in America.
"Because we're part of the only heavy-duty truck manufacturing group building exclusively in the U.S. for the North American market, it's natural for this concern to be on employees' minds," Slagle said. "Like our employees, I want my grandchildren to grow up in a country that builds things. I think it's essential to securing the future economic health of our communities and our country. But we're not entitled to that future. We have to earn the ability to keep manufacturing here by ensuring we're competitive – and I'm convinced that working together, we can do just that.
"I won't say buy our products just because they are made in America," Slagle said. "But all things being equal, I think it's important to put your thumb on the scale for this country."
Each week, "Undercover Boss" follows a different executive on an undercover mission to examine the inner workings of their companies. The Mack episode was broadcast on Feb. 20, drawing 10.7 million viewers, and can be viewed online at www.cbs.com/primetime/undercover_boss/video/. Slagle agreed to do the show to check the pulse of his company and celebrate the unsung heroes working the front lines.
"Our industry and company, like so many others, has been deeply impacted by the worst recession since the Great Depression," Slagle said. "I viewed 'Undercover Boss' as an opportunity to make sure that the Mack spirit, which has driven the success of this company for more than 110 years and which is so important to our prospects moving forward, is still strong. I found that spirit alive and well in spades, and had the privilege of working side by side with employees doing extraordinary things, not only on the job, but in their personal lives and communities. I came away from the experience more committed than ever to working hard to secure the future of this iconic American brand."