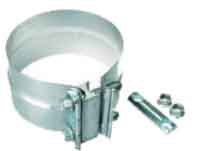 Exhaust parts
TRP Aftermarket Parts offers a line of exhaust mufflers, pipes and clamps for different configurations, including aluminized and chrome-plated tubes, Y-pipes and stacks, plus flex hoses in a variety of materials and precut sizes. The stacks come in a range of lengths and configurations, including straight, west coast, curved and monster in both 4- and 5-inch diameters.
The TRP exhaust program offers operators a choice of good, better and best models of mufflers, all with internal support flanges on inlets and outlets to ensure long life. TRP offers a premium quieter muffler designed to reduce the noise level by up to five decibels compared to its standard muffler. For customers who need a muffler with low restriction for use on trucks with higher-horsepower engines, TRP offers a top-of-the-line muffler designed to reduce the noise level by up to another three decibels as compared to the better model.
The clamps use 304 stainless-steel bright material and bands with preattached hardware with force bars, nuts and reaction blocks to help curb tearing on installation. A stepped-band design for lap joints helps provide faster, more accurate installation and a better seal. The program offers customers a choice of good, better and best clamps; TRP's best clamp comes with a preformed band and heat-resistant gasket material designed to improve the clamp's sealing capacity by more than 50 percent over the performance of a standard stainless-steel clamp with a flat band.
TRP Aftermarket Parts
Visit www.ccjdigital.com/info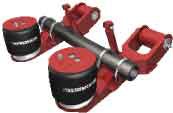 Lightweight trailer suspension
Hendrickson's HT250YS trailer suspension is engineered to be 80 pounds lighter than its counterpart, the HT 250 Y-beam suspension developed for lowboy applications. The streamlined design of the HTTM 250YS, which allows for easy replacement for current Y-beam suspensions, incorporates Hendrickson's Quik-Align pivot connection with Tri-Functional bushings that are engineered to deliver faster, easier and accurate axle alignment.
Hendrickson
Visit www.ccjdigital.com/info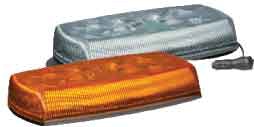 LED minibar
Ecco's 5580 Reflex LED minibars are designed to provide a compact, powerful warning solution that offers the flexibility of either permanent of vacuum-magnet mounting. Featuring 12-24V DC operation, the 5580 Series uses high-intensity LEDs and eight LED reflector modules to maximize light output. The permanent-mount model offers the choice of 18 flash patterns.
Ecco
Visit www.ccjdigital.com/info

Expanded fuel filter line
Donaldson's expanded fuel filter line now includes filters for Cummins engines, Racor fuel systems, Stanadyne Fuel Manager FM100 fuel systems and Davco Fuel Pro 380/382/482 fuel processors. The expanded lineup covers applications in both on-road and off-road vehicles and offers features designed to make them easy to install and convenient to use. Many of the filters have Twist&Drain valves that are engineered to simplify water removal thanks to a wider easy-turn "thumb and forefinger" profile, a self-venting design to allow for easy water flow, and a single threaded port in the bottom of the filter housing for faster and easier water draining without the need for multiple sensor and drain ports. Many of the filters also are manufactured with Synteq media, a high-efficiency composite media designed for fine particulate removal that combines cellulose and synthetic materials.
Donaldson Co.
Visit www.ccjdigital.com/info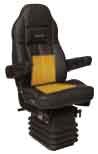 Heated truck seat
Seats Inc.'s Legacy Series heated seating is designed to improve comfort for over-the-road truck drivers. Standard in back and seat cushions, the 12V heater provides dual-temperature heat controls, allowing the operator to customize their seating experience. Constant temperature can be maintained with a high of 110 degrees Fahrenheit and a low of 101 degrees Fahrenheit.
Seats Inc.
Visit www.ccjdigital.com/info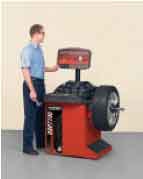 Wheel balancer
Targeting the quality-conscious shop with a lower service volume, Hunter's DSP7705 is a rugged economy wheel balancer designed to ease service and provide fast, accurate results. The DSP7705 is engineered to handle a wide range of wheel designs up to 44 inches in diameter and 20 inches in width, with a motor that can spin assembles up to 150 pounds repeatedly without overheating. The DSP7705 is designed to be simple to operate: The intuitive display uses easy-to-understand wheel graphics and simple controls to help operators enter wheel dimensions, determine the best weight placement and navigate through balancing procedures. The Dataset arm assists with automatic direct measurement of wheel dimensions when using tape weights, eliminating manual data entry errors.
The DSP7705 also supports a series of features to help speed service. Servo Stop control is designed to position wheels automatically at the top-dead-center weight location, saving time and ensuring accuracy. Split Spoke mode is designed to locate the best out-of-sight position automatically for adhesive weight placement on custom wheels, and Split Weight mode is designed to split the weight reading into two weights and relocate them on the wheel to help reduce weight inventories and avoid trim ring obstructions. CenterCheck verification is designed to indicate proper centering of the wheel before proceeding with the balance, and Quick Cal-Check is designed to confirm if calibration is needed at any time.
Hunter
Visit www.ccjdigital.com/info
Trailer skirt
Laydon Composites designed its Hybrid Trailer Skirt for quick installation to minimize vehicle downtime. The company worked with Crane Composites, a manufacturer of flat-sheet composite panels for the trailer industry, to design a purpose-built panel specific for trailer aerodynamics. Laydon, which added an injection-molded plastic mono clamp and strut for mounting, used computer-aided modeling and finite element analysis to stress-test the design and the material in all temperatures. The clamp is made to grab onto a trailer's crossmembers to form mounting points for the skirt panels and supporting struts; each clamp is secured with a single stainless-steel bolt and locknut.
Laydon Composites
Visit www.ccjdigital.com/info
Four-axle walking beam suspensions
Ridewell's RWB Quad rigid four-axle walking beam suspensions are available in 120,000- and 200,000-pound capacities using 5- and 5¾-inch axles. Axle spacing is available in 50 and 56 inches, and beam spacing can be customized to customer requirements.
The company also added new suspensions to the RAR-260 trailer suspension family. Tall-mounting-height 25,000-pound-capacity overslung RAR-260 suspensions now are available with weld-on and bolt-on hangers.
Ridewell
Visit www.ccjdigital.com/info
LED display
The Filter Minder LED display from Engineered Products is a panel or dash display designed to read sensor output voltage to help determine filter restriction or other conditions being monitored by a sensor. As voltage increases, a light bar progressively illuminates until reaching maximum condition or full illumination of the light bar. The unit, available in square and round versions, is designed with memory to "remember" the highest condition even if power is turned off. The last LED flashes when maximum condition is reached. The display can be adjusted to off, dim and bright settings, and it can be reset to zero.
Engineered Products
Visit www.ccjdigital.com/info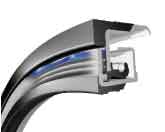 Heavy-duty oil seal
Federal-Mogul's National heavy-duty oil seal technology is designed to offer maximum contaminant exclusion for tough wheel-end applications. The "Red" 37 Series wheel seal features Federal-Mogul's National Dynamic Edge technology engineered to deflect contaminants from the seal and other wheel-end components; the design consists of an integral sinusoidal wave that helps sweep and propel environmental contaminants away from the seal face. The seal also features a labyrinth design of four floating points of contact that help lock out dirt and moisture and help facilitate maximum service life. The spring-loaded sealing lip, manufactured from abrasion-resistant nitrile, is designed to deliver positive sealing with minimal shaft interference. The seal's unitized construction provides increased structural integrity, and an inside/outside diameter design, which features Federal-Mogul's Sure-Lock technology, helps resist contamination and prevent bore and shaft leaks.
Federal-Mogul
Visit www.ccjdigital.com/info
Rear-mount cameras
ASA Electronics has updated its line of compact, aerodynamic Voyager Super CMOS color rear-mount observation cameras designed to increase backing safety for commercial vehicles and heavy-duty trucks. By using CMOS technology – designed for high noise resistance and low static power consumption – and 14 LED lights, the camera can provide increased picture quality and enhanced nighttime vision with decreased power draw. The waterproof cameras have a 117-degree viewing angle to help eliminate blind spots and a machined aluminum body that comes with a noncorrosive mounting bracket and stainless-steel hardware. They are engineered to withstand vibrations and other outdoor extremes such as humidity, condensation and temperature fluctuations.
ASA Electronics
Visit www.ccjdigital.com/info
A/C hose system
Gates' low-permeation reduced-barrier A/C hose system utilizes PolarSeal II hose, double-banded clamps and specialty pliers designed for ease of use, replacing the need for traditional crimping methods. The system is suited for hard-to-service transportation, fleet and heavy-duty applications, long hose runs, complicated retrofits and field repairs, as assemblies can be completed directly on vehicles. Hose runs are made prior to the attachment of the fittings, allowing the hose to pass through smaller openings within the vehicle chassis and body.
Gates Corp.
Visit www.ccjdigital.com/info
Durable hose
Eaton's GH100 flexible rubber hose is designed to withstand "bakeout" and the structurally-depleting effects that biodiesel fuel and advanced synthetic lubricants have on conventional underhood rubber fuel and lubrication lines. The hose is designed to fill the temperature performance gap between conventional tube hose products and premium hoses.
Eaton
Visit www.ccjdigital.com/info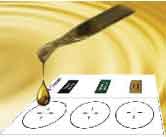 Oil Analysis Kit
Fumoto Engineering's Instant Oil Analysis Kit is designed to offer quick onsite oil analysis by using a dipstick to apply a few drops of oil to a test sheet, with results appearing in seconds. Using a chromatographic color chart, users can diagnose the oil quality for particle contaminants, depletion of fluid additives, soot content, sludge and varnish, and indication of water, fuel or glycol antifreeze dilution. The test sheet uses test media up to 2 micron and is designed to offer results on gas, diesel, transmission, brake, steering or any fluid.
Fumoto Engineering
Visit www.ccjdigital.com/info

Kits for air fittings
Phillips Industries has put together two new combination kits for its Qwik-Fit Push-to-Connect Composite Air Fittings. Each kit contains a collection of male connectors, straight unions, 45-degree male elbows and dust boots in various sizes typically used in airline repairs. The parts are assembled in containers that help keep them secure and in one place. The 80-1291 Travel Kit measuring 6½-by-10½ inches contains 48 pieces, and the 12-by-18-inch Shop Kit contains 110 pieces.
Phillips Industries
Visit www.ccjdigital.com/info

Torque screwdriver
Stanley Proto's enhanced torque screwdriver line includes more accurate versions of four existing tools and four additional torque screwdrivers designed for high accuracy. The company's previous offering included four ¼-inch drive torque screwdrivers – an inch-ounce model and an inch-pound model with an accuracy range of +/- 6 percent of the torque reading, as well as a CERT version of each. Proto says it now has improved accuracy to a precise +/- 4 percent of the indicated torque reading; this accuracy level is available in the clockwise direction from 20 percent to 100 percent of full scale. The latest ¼-inch torque screwdrivers with +/-2 percent accuracy (in the clockwise direction from 20 percent to 100 percent of full scale) also include inch-ounce and inch-pound versions. Torque settings are changed via a metal lock ring allowing micrometer-style adjustments. Each torque screwdriver has a ¼-inch square drive tip and ships with a ¼-inch square to ¼-inch hex adapter for use with insert bits. It comes in a blow-molded plastic box for protection and easy storage.
Stanley Proto
Visit www.ccjdigital.com/info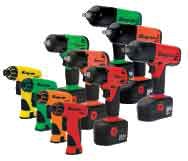 Colorful tools
Snap-on cordless impact wrenches and cordless screwdrivers are available for a limited time in bright green, orange and yellow, as well as traditional Snap-on red. The 14.4V 3⁄8-inch drive cordless impact wrench has a screen on the motor to help keep debris out and the tool running longer, a heavy-duty dual ball-bearing motor, 2.5 amp/hour battery packs and a 5.0 amp/hour charger, 230 ft.-lbs. of bolt breakaway torque (BBT) and a heavy-duty impact mechanism and ergonomic overmolded cushion grip. The 18V 1⁄2-inch cordless impact wrench has 400 ft.-lbs. of torque output, 620 ft.-lbs. of BBT, a forward/reverse switch and a heavy-duty impact hammer, anvil and 48 mm motor with twin ball bearings. The 7.2V cordless screwdriver fits in a pocket and is suited for restricted access applications, while an auto spindle lock is available for manual applications. The screwdriver also has a 1⁄4-inch quick-change chuck and a pistol grip-style handle to facilitate ease of use and extra comfort.
Snap-on
Visit www.ccjdigital.com/info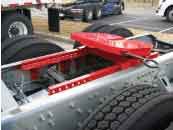 Fifth Wheel Assembly
Volvo Trucks North America, working in conjunction with Fontaine Fifth Wheel, has developed a lower assembly that supports both the fifth wheel and the truck frame. This design also allowed engineers to reconfigure the fifth wheel top plate without sacrificing stability, strength or durability; the cast-steel top plate weighs 165 pounds. The integrated frame-mount system incorporates Fontaine's top plate lock design that helps prevent high hitching of the trailer kingpin, as well as a secondary lock. Air actuation with in-cab release – operable only when the parking brake is engaged – is an available option. The fifth wheel can handle a vertical load of 50,000 pounds and a drawbar pull of 150,000 pounds.
Volvo Trucks North America
Visit www.ccjdigital.com/info

Higher-torque Ram engine
Cummins Inc. has released a High Output 6.7L Turbo Diesel engine for Ram heavy-duty pickup trucks. The high-output rating produces peak torque of 800 lb-ft at 1600 rpm, increasing power across a wide speed range of 1200-2700 rpm and delivering up to 46 additional hp at typical highway cruising speeds while maintaining 350 hp at 3000 rpm. The 6.7-liter Turbo Diesel's base engine is the Cummins ISB, which is used in a variety of demanding applications. Cummins developed the high-output rating via the engine's advanced-performance tuning; the crankshaft dampener was the only engine part that needed to be changed as a result of the increased torque. The engine also has an integrated exhaust brake that offers 222 braking hp at the wheel.
Cummins
Visit www.ccjdigital.com/info
Lightweight Trailer Slider
Hutchens' Series 10 Slider for dry van and refrigerated trailers combines the latest design concepts with lighter materials and advanced welding techniques for lighter overall weight and added durability. The slider, suited for trailers requiring a 48-inch nominal frame width and 49-inch axle centers, uses a frame structure with redesigned hangers that accommodate a variety of Hutchens' steel leaf springs and suspension options. It also works with all current Hutchens van slider body rails and can be used in place of the H9801 spring slider because it produces the same mounting height. Other improvements include:
• A 9-inch-deep frame made from high-strength 76 KSI minimal-yield steel;
• C-channel side rails with optimized flange contours to reduce weight and resist corrosion;
• Corrosion-resistant individual hanger towers that provide vertical load support;
• Full-depth crossmembers that provide optimal lateral support;
• Huck fasteners used at high-stress crossmember attachments;
• A design that helps reduce frame stresses and maximize durability at impact zones;
• A wide center hanger footprint that helps increase frame and hanger life;
• A maintenance-free Huck-fastened rocker connection;
• Large-diameter lock pins and heavy-duty hold-down clips that help resist braking loads and sliding forces;
• ½-inch-thick wear pads at spring contact points for extended service life; and
• An EZ-Pull pin release system for simple repositioning.
Hutchens
Visit www.ccjdigital.com/info
U-joints
Dana's SPL-250 and SPL-170 permanently lubricated heavy-duty U-joints are designed for main- and tandem-drive interaxle driveshaft applications. Both feature a bearing package with a larger needle bearing for increased capacity, a Viton synthetic seal to help improve grease retention and a thermoplastic seal guard to help protect against grease contamination.
Dana
Visit www.ccjdigital.com/info