Log on to CCJ100.com!
As the companion site for CCJ's special 100th anniversary issue, CCJ100.com takes you beyond the print pages and puts you right in the middle of trucking history. Here's some of what the special website has to offer …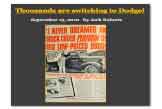 From the vault:
Don't miss this blog of interesting trucking facts and oddities from the pages of
CCJ's early editions.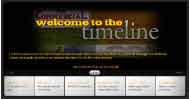 Interactive timeline:
A decade-by-decade look at the important milestones and innovations that have helped shape the trucking industry over the years.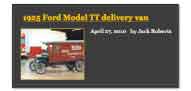 Vintage test drives:
CCJ puts you in the driver's seat of some early-model trucks. Experience what it was like to drive and care for the forerunners of today's modern trucks.
To see a video of CCJ's ride-and-drive of a 1915 International Auto Wagon, visit the Vintage Test Drive section of CCJ100.com. Smartphone users can follow the instructions to the right and scan the Mobi Tag to see the video directly on their mobile devices.
Share your company history:
Join the conversation! We invite you to enter your own company's history in this special section reserved for fleets.
Supplier history:
View the proud histories of OEMs and suppliers to the trucking industry, some of which even pre-date CCJ.