Cat launches on-highway truck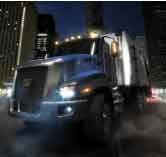 Navistar partnership results in 'historic day'
When Caterpillar announced in 2008 that it would be entering the on-highway truck market, there was great interest and speculation as to just how much of a Caterpillar truck the final product actually would be; after all, Cat was partnering with Navistar to produce the new truck. The two companies share a long history of collaboration on engine projects and high-pressure fuel systems.
But Caterpillar engineers say the new CT660 vocational truck is not simply an International WorkStar with a shade of yellow lipstick; they say it is "essentially new from the framerails up." Granted, the Caterpillar CT11, CT13 and forthcoming CT15 engines are Navistar MaxxForce diesel engines, but Cat says its engineers put their own distinctive stamp on the truck – with styling cues taken directly from the company's wheel loader line – and placed their usual emphasis on cab ergonomics.
The launch – which took place on the eve of last month's ConExpo equipment show in Las Vegas – was an historic day for Caterpillar, according to George Taylor, director of the company's new vocational truck group. "This project really began about 15 years ago when we first started talking about entering the on-highway truck business," Taylor says. "The real driver was our customers, who told us time and time again, 'Why don't you build trucks that I can use in my business?' "
So Cat began a highly focused effort to find out how their customers were using vocational trucks, as well as their likes – and dislikes – about the brands they were using. Taking that information, Cat engineers took Navistar's WorkStar platform and cleaned the slate to build it back up as a true Caterpillar machine.
For interior comfort and convenience, the CT660's instrument cluster and center stack feature a slick, integrated speedometer/tachometer that can be read easily through the steering wheel. The Cat Link equipment telematics system will give drivers and fleet managers easy access to a host of truck-specific data, including fuel economy, hours of operation, vehicle location, maintenance and troubleshooting information. The system also can contact a Caterpillar dealer directly should a problem develop.
CT engine horsepower ratings range from 330 to 550, and peak torque ratings range from 1,450 to 1,850 lb-ft. The engines use Navistar's advanced exhaust gas recirculation system with high-pressure common-rail fuel injection, precision intake-air management and electronic controls. The Cat CX31 automatic transmission – derived from the company's off-highway transmissions – features six forward speeds and one reverse. Power-take-off options include two side locations and a high-output rear location. An aluminum lockup torque converter allows the CT660 to make quick starts from a dead stop, even with heavy loads.
Cat will back the new truck line with dedicated service at dealers across the country, including 400 service locations with 2,300 service bays, more than 2,500 technicians and 7,000 service trucks. – Jack Roberts
IN BRIEF
* Navistar showcased the company's 15-liter exhaust gas recirculation-based diesel engine at the ConExpo equipment show in Las Vegas.
* Cummins launched Cummins Care, an enhanced customer assistance program providing 24/7 response and specialists trained to answer questions and assist customers with finding the nearest authorized service location.
* Donaldson implemented targeted price increases for its industrial air filtration product lines and gave notice of targeted price increases for certain engine OE filtration and OE exhaust system product lines effective at various times later this year.
* Accuride Corp.'s Fabco division released its new line of 18,000- to 23,000-pound FSD-23 low-profile steerable drive axles designed to offer customers a lighter weight and lower height solution for heavy-duty all-wheel-drive vehicles.
* Bridgestone Bandag Tire Solutions launched a new marketing campaign designed to promote retreading and to encourage fleets to extend their casing age limits when retreading. The company says tightness in the market supply for new replacement tires in 2011 has made retreading more attractive.
* Eaton Corp. acquired Internormen Technology Group, a provider of hydraulic filtration and instrumentation. Eaton says the acquisition, terms of which were not disclosed, will expand its filtration portfolio with technically advanced products and systems for mobile, industrial hydraulic and process applications.
Freightliner 'recommits' to vocational truck market
Freightliner's singular message at last month's ConExpo equipment show in Las Vegas was its recommitment to the North American vocational truck market. The company introduced a new family of work trucks, the Severe Duty (SD) line, aimed at Class 7 and 8 vocational markets.
Sterling was supposed to be Daimler Trucks North America's vocational truck line, with Freightliner concentrating on long-haul applications. David Hames, general manager of marketing and strategy for Freightliner, says increasing costs and the looming U.S. Environmental Protection Agency emissions regulations forced DTNA to pull the plug on Sterling in 2010, but now the Freightliner SD line will pick up where Sterling left off. The trucks feature bold and aggressive new styling to help differentiate the vocational line from the company's long-haul offerings.
Freightliner invested in frame, suspension, power-take-off and axle upgrades to improve productivity and efficiency on jobsites and in severe off-highway working conditions. These enhancements have been coupled with optimized body installation procedures by developing close engineering relationships with body installers nationwide.
The SD series will consist of both 108- and 114-inch BBC configurations – both with set-back axle positions – as well as a Coronado SD for extreme heavy-haul and severe off-road use. The 108SD features a 42-inch set-back axle with ratings from 10,000 to 20,000 pounds and single and tandem rear axle options from 21,000 to 46,000 pounds. Power options include a standard Detroit Diesel DD13 or Cummins ISB and ISC diesel engines.
The 114SD features a set-forward axle with a standard 31-inch position or an optional 29.5-inch bridge formula configuration, and a set-back 48-inch setting for enhanced maneuverability. Front axle ratings range up to 23,000 pounds, and heavy rear axle configurations for single axles go up to 38,000 pounds. Tandem rear axle ratings range up to 58,000 pounds, and tridem ratings go up to 69,000 pounds. – Jack Roberts
NTEA Work Truck Show
Alt-fuel vehicles, new truck launches dominate
Over the years, the National Truck Equipment Association's Work Truck Show has evolved as a showcase for the latest in alternative fuel vehicle technology. And this year, with fuel prices once again climbing skyward at an alarmingly fast rate, the show's emphasis was clearly on low cost of vehicle ownership throughout the lifecycle of a work truck and on alt-fuel and all-electric vehicles. But a host of conventional diesel trucks also were on display, including several new models:
Hino enters Class 4-5 truck market*
Hino Trucks announced two diesel and two diesel-electric hybrid cab-over-engine trucks for the Class 4 and 5 markets. The trucks were designed for the North American market and accompany Hino's 258, 268 and 338 conventional models in the Class 6-7 markets.
The Class 4 155 diesel and 155h diesel-electric hybrid models have a 14,500-pound GVW rating. In the Class 5 market, the 195 diesel and 195h diesel-electric hybrid models carry a 19,500-pound GVW rating. All models are powered by the Hino J05E Series 5-liter engine rated at 210 hp and 440 lb-ft of torque. Using Aisin's A465 6-speed automatic transmission, the Hino hybrid is the first to be packaged with an automatic transmission.
Isuzu, UtiliMaster unveil Reach van
Isuzu Commercial Truck of North America and UtiliMaster have joined forces to create a new pickup-and-delivery van called Reach. The van features a body designed by UtiliMaster on an Isuzu NPR Eco-Max chassis and powered by Isuzu's 3.0-liter diesel engine. Isuzu says the Reach provides added fuel economy and the functionality of a custom-built work truck along with the styling and ergonomics of a cargo van.
The Reach will be available through the Isuzu nationwide network of 284 dealers, with production scheduled to begin this summer. "The Reach's Isuzu powertrain offers incredible fuel efficiency and proven durability, and its frame, suspension, steering and braking systems are true commercial grade, not just beefed-up passenger van components," says Shaun Skinner, executive vice president and general manager of Isuzu Commercial Truck of America.
Western Star debuts Class 8 4700 vocational
Western Star Truck Sales introduced its new Class 8 vocational truck, the 4700. The company says the 4700, combined with its 4900 and 6900 models, provides customers with a full range of truck options to suit any need. Available in both a set-forward and set-back configuration, the 4700 features a 110-inch BBC and is suited for dump, mixer, crane, roll-off, sewer vacuum and plow applications. The 4700 will be available to order in the third quarter of 2011, with targeted delivery in early 2012.
Mitsubishi debuts Canter cabover line*
Mitsubishi Fuso Truck of America's new Canter FE/FG Series cabover trucks include five models in the Class 3-5 markets. The standard chassis lineup includes the Canter FE125 (Class 3), FE160 (Class 4) and FE180 (Class 5) and extends to a seven-passenger crew cab model, the Canter FE160CC, and the FG4X4 4-wheel-drive medium-duty cabover.
The company's new 4P10 diesel engine – a turbocharged, intercooled four-cylinder model – is coupled to an advanced Mitsubishi Fuso Duonic six-speed dual-clutch automated manual transmission. The Canter models use Daimler's BlueTec selective catalytic reduction emissions technology. n
*Editor's Note: CCJ will offer expanded coverage of new light- and medium-duty truck models in our June 2011 issue.