Marten Transport,
Mondovi, Wis.
Wisconsin carrier uses a mix of old-fashioned common sense and modern technology to save money, solve problems and improve service
When Marten Transport of Mondovi, Wis., was named a CCJ Innovator last year, it was to recognize a company policy change that had more to do with challenging the status quo than with technological adaptation. But even a brief tour of Marten Transport headquarters, on two separate facilities in Mondovi, leads a visitor to one inescapable conclusion: This fleet openly and enthusiastically embraces new technology and innovative thinking in virtually every conceivable way, where phrases like "being ahead of the curve," "early adopter" and "thinking outside the box" unabashedly are used in every department in nearly every conversation.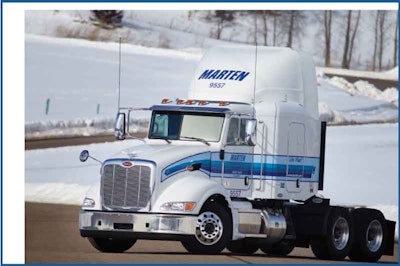 CCJ initially could have recognized the company as an innovator for the maintenance department's all-hands-on-deck approach to Compliance Safety Accountability; airtight accounting of each of the fleet's nearly 4,200 trailers and using tracking information to bring reefer maintenance costs in line and control trailer cool-down run times; or using a real-time Web-based cargo tracking system to make sure the fleet has ample resources available to handle upsurges in freight demand while ensuring the most productive and profitable revenue stream possible on a monthly, weekly or even daily basis.
Such innovative thinking is the rule, rather than the exception, at Marten Transport, and everyone – from technicians on the shop floor, to drivers and mid-level managers, and all the way up to Chief Executive Officer Randy Marten – takes this philosophy seriously.
"We're not doing anything revolutionary," Marten says. "The people working here at Marten are just seeking good, solid common-sense solutions to the problems we face day in and day out. And we've created a culture where people aren't afraid to ask 'Why?' Everyone here knows if they come up with a good idea – no matter how outlandish it seems at first glance – we're going to listen to them and act on that idea if it has merit.
"Lots of companies talk about ideas. The trick is to actually put ideas into practice. And that's something Marten has always done well."
– Randy Marten, CEO
"Lots of companies talk about ideas. The trick is to actually put ideas into practice. And that's something Marten has always done well."
Conventional 'wisdom'
The innovation Marten Transport initially was cited for by CCJ began with a phone conversation in Randy Marten's office – or rather, because Marten was trying to carry on a phone conversation in his office, which looks out over one of the fleet's refueling lanes. Marten's phone call was drowned out by the reefer unit on a tractor-trailer taking on fuel. It wasn't a particularly warm day, but the reefer unit was, in Marten's words, "hammering away" out on the yard.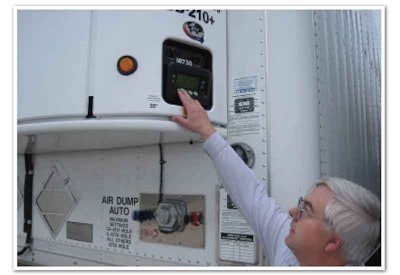 Annoyed by the racket, Marten found himself wondering why, exactly, the reefer unit was running so long and burning so much fuel. Hanging up the phone, he immediately headed out to the fueling lane and began peppering the truck driver with questions: Why was the reefer working so hard? Had the trailer been pre-cooled properly? What was the load? Where was it headed? What was the temperature inside the box?
It turned out, the driver told him, that the reefers ran all the time because they had to work hard to keep the trailer interior at the industry standard temperature of -10 degrees Fahrenheit for frozen food shipments.
It wasn't long before Marten had Executive Vice President Doug Petit in his office and was peppering him with questions: Why were the trailer temperatures set at -10 degrees? Who determined that temperature setting? Was that temperature absolutely essential for the safe shipment of frozen goods? Would it be possible to save money on fuel and maintenance costs if a higher temperature was used? If higher temperature settings were used, would Marten Transport's customers – many of which are Fortune 500 companies – accept them?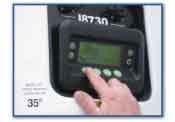 Petit got to work on the problem and discovered that there actually was little science behind the industrywide -10 degree temperature setting. "Since the early days of refrigerated trailers back in the late 1930s, frozen food has always been transported at this temperature," Petit notes. Bills of lading generally specified shipments "below zero degrees Fahrenheit."
Because fuel was relatively cheap at the time, there was no real penalty for running a reefer unit all the time, beyond wear and tear on the power unit itself. Eventually, -10 degrees simply became the de facto setting and the ways things were done, Petit says. It was simply the status quo – and nobody in the trucking industry ever challenged it.
But the advantages of transporting frozen goods at a higher – but still safe – temperature were obvious to both Marten and Petit: The relatively warmer temperature settings would require a lighter duty cycle from reefer engines, which, in turn, would save both fuel and maintenance costs.
"The people working here at Marten are just seeking good, solid common-sense solutions to the problems we face day in and day out."
– Randy Marten, CEO
To find out how viable the higher temperature idea was, Petit set up a test running two identical shipments of frozen food side-by-side with bills of lading specifying temperature requirements of "zero degrees or below." One truckload was set at the industry standard of -10 degrees Fahrenheit, while the experimental load was carried at -1 degree.
Analysis of the loads after the run was complete showed that product temperatures inside the trailers were not affected by the higher temperature setting. Moreover, 11 subsequent tests showed the trailer with the higher temperature setting saved 200 gallons of diesel fuel and ran 151.4 reefer hours less than the unit on the trailer set at -10 degrees. Best of all, Petit found there were "zero" food quality control issues over the duration of the test when shipped using the higher temperature settings.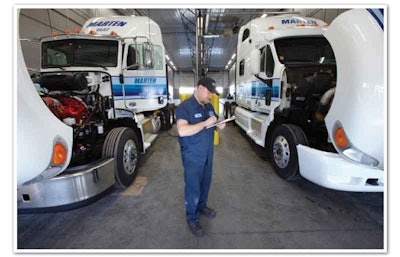 It was clear to everyone involved in the testing process that the fleet was on to something. The potential for fuel and maintenance savings was tremendous. But would Marten Transport's customers be willing to accept the new temperature settings and allow them for their food shipments?
Initially, many customers were hesitant. But the beta test data was so compelling and addressed so many basic concerns that many customers quickly became converts. Even more convincing was the fact that Marten Transport wisely pulled one of its biggest customers into the testing process as a way to further validate the data, and that customer quickly became a vocal supporter of the new temperature settings.
Marten Transport implemented the new temperature settings fleetwide in March 2009. Today, more than 80 percent of its frozen food shipments use the -1 degree setting, and the resulting cost savings have been huge by any standard; all told, Marten Transport has saved more than 130,000 gallons of diesel fuel per quarter at a savings of almost $400,000 per quarter.
Making the most of CSA
While CCJ recognized Marten Transport as its 2011 Innovator of the Year based both on the company's willingness to challenge conventional wisdom and on the elegant simplicity of its temperature solution, the company also is a clear industry leader in terms of proactive maintenance procedures, driver recruitment and retention, asset management and virtually every other aspect of fleet management imaginable.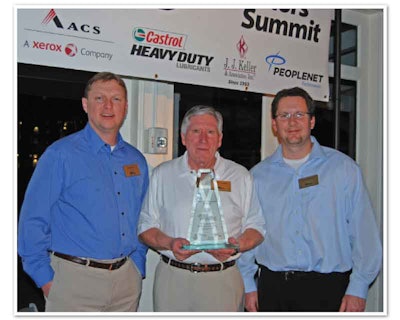 For example, while many fleets stressed over the implementation of CSA last year, Marten Transport actually welcomed the new standards. "Currently, we have a very good CSA rating level – one of the best," says Dave Meyer, director of maintenance. "But we're always challenged to retain that ranking or get even better – because anytime you're shut down, you're losing revenue."
Meyer says CSA has proven helpful in working toward those goals simply because the new measurement system consistently brings any problems or potential problem areas to the forefront, allowing for a quick response by Meyer and his technicians. One set of procedures adopted specifically to prepare for CSA was an all-new comprehensive vehicle inspection program complete with highly trained inspectors and a dedicated in-door inspection bay.
The inspectors stand by night and day during operational hours to conduct full-on inspections of tractor-trailer traffic within Marten Transport's expanding terminal footprint. Meyer and his team developed an all-new CSA-targeted checklist with about 150 inspection points. Drivers accompany the inspectors during the entire process so they can be coached on potential equipment issues. The inspections take about 35 minutes and are so detailed that CDLs and medical cards are checked before the big rig hits the road.
Before, Meyer says it was a hit-and-miss process as to when tractors and trailers were inspected. Now, he says every one of Marten Transport's 2,500 tractors and almost 4,200 trailers are getting eyeballed as often as once or even twice a month. "We implemented the program in 2009, and it really took us a couple of years to refine our procedures and get everything right," Meyer says. "But once again, we were ahead of the curve and ready when the new rules went into effect."
Meyer says the company now does about 1,000 inspections per week. "It's definitely paying off in many different ways," he says. "Every month, we're dropping points off our CSA score, which will drag our percentile down even better." Also, Marten Transport's outside network repair spend and downtime both have diminished drastically, allowing drivers to be more productive. "Just as importantly, it gives us a tremendous amount of focus on the maintenance side of things because we can spot emerging trends – say, tires or lights – and handle them before they become fleetwide problems."
Another recent CSA-specific implementation has been the addition of company service trucks serving the major trailer pools. The goal, again, is to get as many eyes on as many company assets as often as possible. The service trucks run out of company terminals in major markets such as Chicago, Atlanta, Ontario and Indianapolis. They also go to customers' drop yards, where technicians can do spot inspections and check things like reefer fan belts, air lines, brakes, tires and air pressure, "which is the big one," Meyer says.
The mobile technicians have helped Marten Transport enact air pressure initiatives that have been highly successful in maintaining proper tire inflation on trailers that previously weren't being inspected with the focus they are now. "We're talking about 57,000 wheel positions," Meyer notes. Under the previous system, technicians typically would find about 12 percent of trailer tires with low air pressure readings. "Today, we've got that down to 3 percent," he says.
Greener, cleaner and leaner
Marten Transport also is taking advantage of the latest advances in trailer tracking technology with an eye toward not only cutting operational and maintenance costs, but also serving customers better while reducing both parties' overall carbon footprint.
Dean Gobrecht, operations manager for the claims department and asset intelligence, says many of Marten Transport's customers – including Anheuser-Busch, Hershey's and General Mills – stake a lot on their reputation and the quality of their products. "What we want to offer these customers is peace of mind when they ship with Marten Transport," Gobrecht says. That led the company to work with vendors to develop a system that offers product integrity for all shipments.
The goal is to monitor a shipment from pickup to delivery and be able to assure customers that nothing has happened to their product in between. "Using this system, we're able to monitor and know if there're any issues immediately," Gobrecht says. "So when they receive their food product, pharmacy product, whatever they might receive, it is in the same condition as it left their dock."
The system provides the data feed to Marten Transport. Sensors in each refrigerated trailer transmit vital data, detailing where a trailer is, what it is doing, how long its reefer has been running, what temperature the interior is set at, what the return air inside the trailer is, if it has any shutdown codes or if there is anything forecasted to go wrong with the shipment.
"We can look at reefer fuel levels, so we know that when a load goes on a railcar that it will have enough fuel to ensure load integrity until it hooks back up to a tractor or reaches its destination," Gobrecht says. Likewise, Marten Transport receives alerts if a load is detained due to a weather issue or breakdown. "At that point, we can dispatch a maintenance team at a rail hub to refill the fuel tank, perform maintenance work or even pull the trailer off the railcar for major repairs or alternate transportation."
Gobrecht says the system can recognize a specific customer's temperature settings for a shipment and adjust automatically to fulfill and maintain those settings. If the trailer environment goes out of those parameters, Marten Transport is notified in real time, allowing instant action to ensure time to make any movements or adjustments required to maintain load integrity.
The system also has been successful for Marten Transport's bottom line. The company is using less fuel and oil because its reefers don't have to run as much as they did previously. "At 3 gallons per reefer per oil change, if we can take away just one oil change per year on 4,000 reefers, the savings are impressive – and we have a lot less used oil to dispose of throughout the year," Gobrecht says.
Many of the company's customers are concerned about green initiatives. "This is a very definite way they can reduce their overall carbon footprint," Gobrecht says. "We're now playing a huge part in decreasing that footprint as a load moves from one side of the nation to the other. That's very helpful for all of us."
In that same spirit, Gobrecht says many Marten Transport customers now are very responsive when told that reefer run times are excessive and how the fleet is working to control the issue. "They acknowledge the problem and work with us to give directives to the appropriate people to make sure they monitor how often our reefers are running beyond when they receive them at delivery or at the shipper," Gobrecht says. "The system drives costs down for all of us."
That means Marten Transport is able to be more efficient for its customers and doesn't have to charge them as much because reefers don't have to be maintained at a higher interval, Gobrecht says. "We wouldn't be able to do that if we didn't have this real-time information to help us." n
ABOUT THE AWARD
Commercial Carrier Journal's editors recognize innovators throughout the year and select one for special recognition as Innovator of the Year. Innovators considered for the current award were those recognized in the magazine in 2010.
Innovation in any aspect of the operation is eligible for recognition. To qualify, the carrier must operate at least 10 power units in Classes 3-8 and maintain a satisfactory safety rating, if rated. Selection of innovators for recognition is at the sole discretion of CCJ's editors.
This year's award was announced and presented at the CCJ Innovators Summit, a networking event for current and previously recognized innovators that was held Jan. 26-28 at the Hawks Cay Resort in the Florida Keys. Representatives of innovative trucking operations shared best practices and updated one another on the results of their initiatives.
The CCJ Innovators program is sponsored by PeopleNet, Castrol, J.J. Keller and ACS. For more information on the program, links to previously recognized innovators or a copy of the nomination form, go to www.ccjinnovators.com, or contact Jeff Crissey, editor, at 800-633-5953 or jcrissey@rrpub.com.