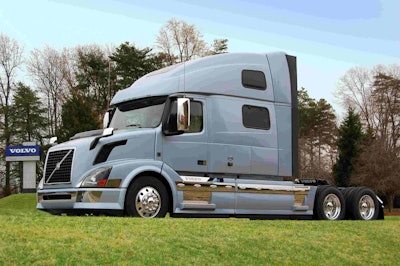 Volvo Trucks North America on Wednesday, March 30, announced that in response to increased demand, the company will ramp up production at its plant in New River Valley, Va., and recall about 700 employees. The ramp-up – which includes adding a second shift – and associated recalls will take place in several stages between May 2 and June 13. Current employment at the plant is just less than 1,500.
"Customer response to our products – particularly the fuel-efficiency and performance of Volvo's new near-zero emission engines – continues to be extremely positive," said Ron Huibers, senior vice president of sales and marketing. "Combined with the improving economy, this response is helping us continue the momentum we established with our 2010 market share increase."
Volvo said it increased its combined U.S. and Canadian retail sales volume 46 percent in 2010, and increased its market share two points to 9.6 percent. The company said that through February, its retail sales were up 47 percent vs. the same period last year, and its year-to-date market share was up 1.6 points, to 10.9 percent.
Volvo already had gone on record stating its U.S. Environmental Protection Agency 2010 diesel engines received a 5 percent boost in overall fuel economy compared to its 2007 engine family thanks to the adaptation of selective catalytic reduction. Huibers said the company now is going a step further, using new innovative aerodynamic features and powertrain enhancements to boost Volvo VN fuel economy another 3 percent for an overall gain of 8 percent compared to 2007 Volvo diesel engines.
"This is the next logical step forward for Volvo," Huibers said. "Environmental responsibility has long been a core value for Volvo. Our SCR solution has us well-situated to meet upcoming CO2 regulations, which happen to go hand-in-hand with increasing fuel economy for our customers. We feel really good because we see a shift in society's values that is lining up nicely with the core values Volvo has held for many years."
Frank Bio, product manager, said Volvo engineers used computive fluid dynamics programs as well as full- and half-scale wind tunnel tests to analyze not just around and over a VN tractor, but also underneath it. So while a casual observer might note changes to the VN's newly integrated roof fairing-sunvisor design, bumper or bug screen, or changes to the rearview mirrors, many small changes in the front wheel well and other areas underneath the truck now also are working to manage airflow under the tractor and help it cut more efficiently through the air.
"We've always been focused on fuel economy, and aerodynamics are an important part of that solution," Bio said. "Volvo introduced its first aerodynamic heavy-duty truck in 1978, and we've been building on that legacy ever since."
Volvo powertrain product manager Ed Saxman said new VN powertrain options also play a key role in boosting Volvo fuel economy ratings with the release of a new 455 hp and 1,550/1,750 lb-ft. torque rating for the D13 engine. The new rating complements Volvo's existing Eco-Torque and Dual-Torque ratings of 405, 425, 475 and 500 hp designed to maximize fuel economy by providing a driver-intuitive easy-to-use algorithm that rewards fuel-efficient driving and encourages low-rpm engine operation. Volvo also offers the Eco-Torque ratings on both its D11 and D16 engines.
Saxman said customers also now can achieve fuel savings through Volvo's new Mass Based Variable Torque software designed to sense the gross combination weight of the truck and adjust the engine's torque when the truck is loaded lightly. The software's adjustments are designed to improve overall fuel efficiency while still delivering excellent performance under all conditions.
Dometic announced that it is supplying battery-powered engine-off air conditioning systems for factory installation on new Volvo VN sleeper model trucks. And Eaton announced that its UltraShift Plus automated transmissions now are a data book option for Volvo VN linehaul vehicles with Cummins diesel engines.