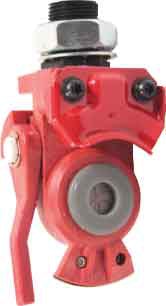 Shutoff Gladhands
Phillips Industries has designed additional shutoff gladhands for double trailers. The zinc die-cast surface-mount shutoff gladhands and two bulkhead mounts are made with composite material for increased protection against magnesium chloride, road salts and chemicals. The shutoff gladhands, designed to keep debris out of the air system with integrated shutoff valves or arms, now also include dustflap seals and filter screens for added protection. Each of the shutoff gladhands are color-coded – blue for service and red for emergency – for easier identification.
Phillips Industries
Visit www.ccjdigital.com/info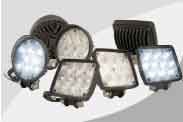 LED Auxiliary Work Lamps
Truck-Lite has added white LED auxiliary lighting options to its Signal-Stat lineup with round and rectangular work lamps. The three high-diode-count lamps are suited for light utility, construction, agricultural, airport and tow trucks, as well as state and highway departments, and are designed to provide brighter, crisper and whiter light output closer to the color temperature of daylight. The additions include part No. 8150, an 8-diode 4.5-inch round lamp; part No. 8155, an 8-diode 4.33-by-3.94-inch rectangular lamp; and part No. 8160, a 10-diode 4.33-by-3.94-inch rectangular lamp. The LED work lamps are designed with a polycarbonate lens, aluminum housing and multivolt function to operate from 9V to 36V without adjustment, and to offer longer life than incandescent lamps.
Truck-Lite
Visit www.ccjdigital.com/info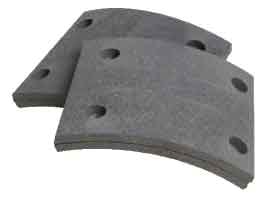 Transit block
The Abex MQ transit block from Federal-Mogul is designed to provide quieter brake operation, added stopping power and extended lining for transit vehicles. The transit block is engineered to reduce noise and help ensure a stable, reliable and safe braking system while delivering premium wear characteristics in both low- and high-floor bus applications.
Federal-Mogul
Visit www.ccjdigital.com/info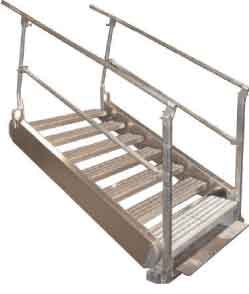 Safety Products
Benko Products' Green Access & Fall Protection Railcar and Tank Truck Safety Bridges are available in custom widths and lengths to meet application requirements. Standard Green Safety Bridges offer a 24-inch-wide nonskid grip strut walking surface that allows safe access in applications where the working range is within 15 inches above or below the platform height. Benko can extend these widths an extra 12 inches or more to increase operator comfort and accommodate larger material loads. Both fixed- and adjustable-reach safety bridges are available, and most accommodate common vehicles up to 10 feet in height. Benko also can customize these lengths to suit 12-foot-tall tank trucks and isotainers, promoting stability and flexibility for applications where operators regularly must access vehicles of varying heights.
Green Safety Bridges are manufactured from carbon steel, aluminum, fiberglass or a combination of each. Multiple finishes also are available, including standard safety-yellow enamel finish, hot-dipped galvanized finish and uncoated or anodized finish for aluminum models.
Benko Products
Visit www.ccjdigital.com/info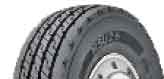 Waste Haul Tire
Continental Tire the Americas' HSU2+ waste haul truck tire, suited for waste hauling and other severe service applications, incorporates the previous HSU2's wide tread and shoulder ribs for improved wear, a robust cut- and chip-resistant tread compound and tread grooves designed to reduce stone retention. An added feature is Continental's "Stable" bead construction, a design that helps provide longer casing lifetimes and better structural durability. The Stable bead features an 18 percent increase in chafer cord density, an increase in the amount of tear-resistant wrap at the chafer and ply edges of the steel cord, an optimized chafer angle to facilitate improved stiffness across the body ply of the tire and an extruded sidewall, turn-up cover and rim strip. For heavy front-axle load applications, the Stable bead helps facilitate maximum performance and greater retreadability. The HSU2+ is available in size 315/80R22.5, load range L, and has an extra-deep 26/32nd-inch tread depth, as well as 276 mm of tread width for added stability.
Continental Tire the Americas
Visit www.ccjdigital.com/info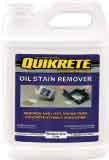 Oil Stain Remover
Quikrete's Oil Stain Remover helps keep concrete shop floors clean by absorbing and lifting tough stains without scrubbing. The easy-to-use product is suited for service bay floors, garage floors and other concrete surfaces.
Quikrete
Visit www.ccjdigital.com/info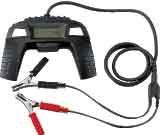 Digital Battery, System Tester
Clore Automotive's Digital Battery and System Tester for 6V and 12V batteries (Model No. BA44) from Solar is designed to offer a complete battery and system analysis solution for automotive service professionals and fleet maintenance facilities. The tester features an operating range of 1.5V-15V and the capacity to test a wide range of battery types rated between 40-2000 CCA, including conventional, maintenance-free, AGM, gel cell, deep cycle and marine batteries. The tester is designed for easy operation and to assess discharged battery condition as well as starting systems and charging system performance. It can operate in seven languages, including English, Spanish and French, and features a counter to track how many tests have been performed. The tester also features long 6-foot leads for convenience; a bright, backlit LCD display that can be adjusted for optimal use in both bright and low-light environments; and a variety of safety features, including reverse polarity and overvoltage protection.
Clore Automotive
Visit www.ccjdigital.com/info
Fuel injection hose
Gates Corp.'s Automotive Aftermarket unit now offers Barricade Fuel Injection hose, a line of low-permeation hoses. The line for carbureted automobiles and small-engine/off-highway applications also has added two new diameters and is approved for use with gasoline, diesel, biodiesel, methanol, ethanol and gasohol fuels, as well as aggressive fuel mixes such as higher-ethanol blends. The hose's Aramid fiber reinforcement allows for a maximum working pressure rating of 225 psi, and its built-in five-layer GreenShield barrier technology helps the fuel hose meet the requirements of the California Air Resources Board and the U.S. Environmental Protection Agency by reducing fuel vapor permeation and fuel waste.
Gates Corp.
Visit www.ccjdigital.com/info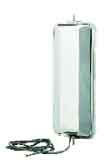 Truck Mirrors
TRP Aftermarket Parts now offers a line of mirrors for all makes of Class 6, 7 and 8 trucks in many finishes and styles, such as an 8-inch convex mirror and a 7-by-16-inch West Coast mirror available in heated and nonheated options. The heated West Coast mirror features 12V heater elements with 60-inch leads; both the heated and nonheated options come with a mirror-bright stainless-steel finish for added protection against the elements, heavy-duty multichannel construction for durability and 5/16-inch No. 18 mounting studs to simplify installation. The convex mirror comes in chrome steel for durability and visual appeal and features an "L" bracket to simplify installation; it also has a 5/16-inch adjustable ball stud for added strength and ease of use, and its glass is mounted in ozone-resistant vinyl for added protection against breakage.
TRP Aftermarket Parts
Visit www.ccjdigital.com/info
Auto hauler
Volvo Trucks North America developed the Volvo Autohauler exclusively for the automobile transport business. The VAH is a day cab with a lower chassis than standard models and a short bumper-to-back-of-cab (BBC) dimension. The lower chassis is designed to reduce the overall height of the truck, allowing a car, pickup or minivan to be positioned over the cab to maximize the efficiency of every delivery. The design also features an axle-forward configuration to help provide the weight distribution needed for added maneuverability. With a clean top-of-frame behind the cab, the VAH is built for quick body mounting and easy trailer hookup.
Available with a Volvo D11 or D13 engine equipped with selective catalytic reduction, the VAH can deliver up to 500 hp. The intelligent Volvo I-Shift transmission system continuously monitors changes in grade, vehicle speed, acceleration, torque demand, weight and air resistance; with the engine and transmission in constant communication, I-Shift is designed to select the best gear for the engine automatically.
Volvo Trucks North America
Visit www.ccjdigital.com/info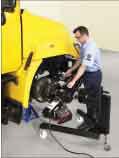 Rotor Lathe
Hunter's OCL430HD rotor lathe is designed to improve medium- and heavy-duty service by machining the rotor on the vehicle. Hub-mounted service eliminates the need to disassemble the hub to remove the rotor; machining the rotor on the hub also helps reduce runout while providing a more precise cut, extending rotor life. The OCL430HD includes all of the operational features of Hunter's OCL410 light-vehicle brake lathe, but is designed with more robust lathe components to help handle larger rotors. With a reinforced cutting arm and rugged tool holders, the OCL430HD is built to resurface rotors up to 17.5 inches in diameter and up to 3.5 inches in thickness. A 1.5-hp 230 VAC motor provides added torque.
The ServoDrive system is designed to vary the spindle speed and rotational torque of the lathe while in operation, allowing the technician to adjust the speed without compromising the final surface finish. Pro-Comp computerized compensation helps adjust for lateral runout with a push of a button and a single-point adjustment, allowing the technician to complete the machining of the rotor within OEM specifications. Hunter's Anti-Chatter Technology is designed to help minimize machining problems by oscillating the speed of the lathe while machining the rotor to help prevent vibration buildup.
Hunter
Visit www.ccjdigital.com/info
Filtration safety accessory
Eaton's Splash Guard safety accessory is designed to provide additional protection from liquid splash conditions. Engineered to fit on Eaton's Flowline and Flowline II single-bag filter vessels, the safety accessory is made from impact-resistant UV protective polymer, making it suitable for harsh industrial environments. The Splash Guard is secured to the filter housing vessel lid to help protect operators from unexpected pressurized spray and discharge. The accessory is designed for easy installation without interfering with bag changeouts.
Eaton
Visit www.ccjdigital.com/info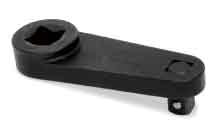 Torque Adaptor
Snap-on's SRD35 Torque Adaptor is designed to not only help technicians reach bolts easily, but also deliver the extreme amount of torque needed to turn the bolts, eliminating the need to switch tools for 90-degree torque procedures. The tool has special applications for use on Ford F-250/F-350 trucks and Excursions (2003-2007) and Ford E-Series vans (2004-2009), including ambulance, law enforcement and shuttle bus conversions using the 6.0L Power Stroke diesel engine. Among the tool's highlights:
• Using the ¾-inch drive ratchet/torque wrench transmits the high torque necessary to loosen and tighten head bolts with less strain on the technician;
• The need to remove the truck/van cab from the chassis to access the rear head bolts is eliminated, saving time and preventing damage to the rear heat shield;
• The need to remove the evaporator housing also is eliminated, saving time and the additional cost of adding refrigerant during A/C recharging; and
• Coupled with an SWM181 18mm socket, all head bolts can be accessed, eliminating the need to change tools or remove the adaptor during the job.
Snap-on
Visit www.ccjdigital.com/info
Roadside Lighting Repair Kit
Grote Industries has compiled a portable Roadside Lighting Repair Kit to help truckers resolve lighting and wiring failures that occur in the field. The kit contains 23 commonly-used lighting components, as well as tools to make a field repair for short drives back to the hub or to the nearest service center. The kit is flexible, lightweight and made of rugged nylon. Fully loaded, it measures 11 inches long, 8 inches tall and 7 inches deep, and can be stowed behind a seat, under a console and in other tight spaces. The kit comes with 12 lamps, four styles of pigtails, three unique grommets, two unique brackets, conspicuity tape and a selection of 14-gauge butt connectors. The kit also includes a selection of zip tie fasteners to help stabilize any field repair and an inventory sheet with part numbers and color images to help keep track of content usage and replenishment.
Grote Industries
Visit www.ccjdigital.com/info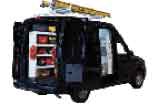 NV Van Storage
Knaack and Weather Guard Van Solutions now offer customized van storage equipment for the Nissan NV Commercial Van, featuring driver-friendly bulkheads and a wide range of shelving, specialty storage and roof rack options designed to meet the needs of professional contractors and field service/repair professionals. Customized Nissan NV bulkheads provide an extra 4 inches of room to stretch out the legs or recline the seat. The bulkhead is available in standard-roof and high-roof models, along with a lineup of bulkhead accessories such as hard hat, fire extinguisher and extension cord brackets, literature holders and first-aid kit and safety reflector kit trays. The Weather Guard Dog Hatch Door allows for storing 10 feet of pipe and lumber inside the van.
Within the cargo area, Weather Guard provides up to 90 inches of Jumbo Steel Shelving in which to keep tools and equipment secure and organized, with 44- and 59½-inch-long shelves designed for both the standard-roof and high-roof models. A 51-inch retainer lip is available for all shelving units that help to keep tools and equipment from rolling around on the floor while the van is turning or stopping abruptly.
Weather Guard
Visit www.ccjdigital.com/info

Drive tire
Dunlop's SP 464 long-haul drive tire features a 28/32-inch tread depth in an aggressive tread pattern for added traction and mileage, as well as three deep "hydro" grooves to help evacuate water. Penetration protectors help resist cuts and punctures, while the tire's solid shoulder ribs enhance long, even wear and its four-belt construction allows for added retreadability. The tire is available in sizes 11R22.5 LR G, 11R24.5 LR G, 295/75R22.5 LR G and 285/75R24.5 LR G.
Dunlop
Visit www.ccjdigital.com/info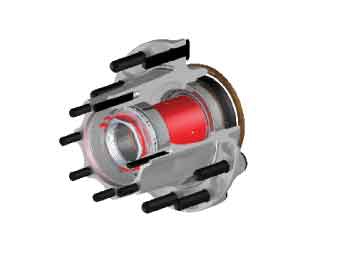 Hub Assembly
ConMet's PreSet Plus hub assembly is designed to provide enhanced wheel end maintenance with features such as an integrated spindle nut design that helps simplify installation, protect components during installation and removal, and aid in removing the assembly during service. The nut also is designed to increase clamp, improve safety and eliminate adjustments required to engage a locking ring. The bearing spacer has been optimized for the PreSet Plus system to accommodate higher clamp loads, and all components are designed to be field-serviceable. Other features include preadjusted bearings, a standard long-life oil seal and a magnetic fill plug for drive and trailer hubs to inspect metal particles in the lubricant.
ConMet
Visit www.ccjdigital.com/info
High-Performance Grease
DayLube high-performance grease, which uses nanoceramic particles that act as submicroscopic ball bearings to provide continuous lubrication to steel surfaces, now is available in 1- and 5-gallon pails. The grease, which is NSF-H1 Food Grade Certified and is formulated for added adhesion, is suited for a wide range of industrial applications such as bearings, bushings cables, cams, chains, conveyors, gears, lifters, machine parts, robotics, slides, wear plates and more. Applicable industries include aerospace, agricultural, automotive, can makers, consumer goods, food and beverage processing, general manufacturing, marine, material handling, medical/scientific, military/national defense, pharmaceutical, stamping and fabricating, truck and bus, and more.
With a lower coefficient of friction at all temperatures, chemically inert DayLube also is formulated to be environmentally friendly. Since DayLube is made to maintain its viscosity across full temperature range and to not soften or run out, it shows little evidence of breaking down, even after 100,000 production strokes, providing added friction reduction and wear resistance. DayLube is formulated to operate in temperature ranges from -40 to 800 degrees Fahrenheit, while the nanoceramic particles remain intact to 2,500 degrees Fahrenheit. It also offers high load-bearing properties and a low dielectric constant, does not contain metal or silicone, and is resistant to steam, acids and most chemical products.
DayLube
Visit www.ccjdigital.com/info
Compact brushless actuator
BorgWarner says its compact brushless actuator, designed to optimize engine performance and reduce nitrogen oxide emissions for on- and off-road commercial diesel vehicles, features the latest advancements in electronic rotary actuators. From turbocharger and exhaust gas recirculation systems to exhaust brake applications, the compact brushless actuator is designed with proprietary smart electronics to control various complex engine emissions and performance systems. To deliver a combination of compact size and higher torque, BorgWarner says its engineers optimized the brushless DC motor and gear drive using an advanced heavy-duty gear train to withstand the harsh duty cycles of off-road environments. The device is designed to perform in temperatures up to 284 degrees Fahrenheit and provide continuous operation up to 266 degrees Fahrenheit; for even higher temperature capability, two water cooling options are available.
BorgWarner says that by using electric rather than pneumatic actuation, response time is reduced to 150 milliseconds. The actuator, available for both 12V and 24V systems, communicates via a controller-area network and features proprietary "smart seating" algorithms to adapt to changes in mechanical components over time due to wear or temperature, while proprietary advanced power management functions optimize performance while protecting the actuator from extreme operating conditions. The fully sealed compartment is designed to protect electronics even if fully immersed.
BorgWarner
Visit www.ccjdigital.com/info
Impact sockets
Ingersoll Rand has expanded its industrial-grade impact socket line to include 1½-inch, 2½-inch and No. 5 spline drive impact sockets. Each impact socket is either laser-etched or roll-stamped to see the socket's size after hundreds of uses. The sockets are molded from Chromoly steel for added strength, durability and quality.
Ingersoll Rand
Visit www.ccjdigital.com/info

Navigation Unit
Cobra Electronics designed its 5550 PRO 5-inch navigation unit for professional drivers with features nearly identical to its larger sibling, the Cobra 7750 Platinum, including enhanced graphics, Junction View with Lane Assist, State Mileage Log and Hours-of-Service Log, along with last-mile routing for road coverage on secondary highways. The enhanced graphics and menu options offer added visibility in bright sunlight, along with an intuitive interface for added efficiency when scrolling through searches and configuration settings. Junction View with Lane Assist provides drivers with 3D images of upcoming highway junctions as well as lane guidance and enhanced turn-by-turn directions. The State Mileage Log feature monitors miles driven within a state for IFTA reporting, and an Hours-of-Service Log timer makes it easier for drivers to track on-duty, off-duty and driving time. The Cobra 5550 PRO includes more than 12 million standard points-of-interest (POIs) plus 33,000 truck-specific POIs supplied by ProMiles and TruckDown Info International.
Cobra Electronics
Visit www.ccjdigital.com/info
Plug-in system for hydraulic lifts
Energy Xtreme's U36 Crossover system is designed to provide emissions-free energy to power the hydraulic lifts of bucket trucks used by municipal, telecom, cable and utility fleets. The lightweight maintenance-free system, which can be factory-integrated onto new vehicles or retrofitted onto vehicles already in use, can run the vehicle's auxiliary electrical equipment, tools, motors, pumps, hydraulic booms or bucket truck equipment, as well as the truck's lights, radio and laptop, all without the need to engage the engine or use a generator. The recyclable system can be plugged into a 30-amp wall outlet.
Energy Xtreme
Visit www.ccjdigital.com/info