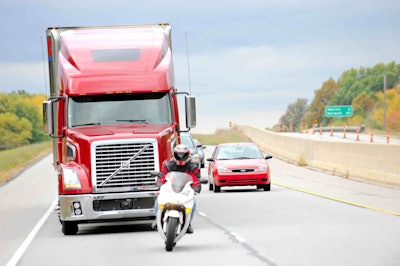 Bendix Commercial Vehicle Systems on Wednesday, March 30, announced the launch of Bendix Wingman Advanced, a collision mitigation technology that expands on the Bendix Electronic Stability Program (ESP) full-stability system and features adaptive cruise control with braking features.
Using a radar sensor mounted to the front of the vehicle, Bendix Wingman Advanced delivers both warnings and active interventions to help drivers potentially avoid rear-end collisions. A stationary object alert system notifies drivers of metallic objects in the vehicle's path, allowing three seconds for driver response before impact.
The adaptive cruise control with braking feature can intervene actively to help maintain a safe following distance behind a forward vehicle by reducing throttle, engaging the engine retarder or applying the foundation brakes.
With collision mitigation, two-thirds of the available braking power can be delivered compared to about one-third through adaptive cruise control with braking. The driver can add additional braking or steering inputs.
"Utilizing Bendix Wingman Advanced may help fleets and their drivers in the new CSA (Compliance, Safety, Accountability)-driven environment to maintain a strong safety performance and better scores, which, in turn, may help drive revenue, lower costs and increase profitability," said Fred Andersky, Bendix director of marketing for controls.
Bendix is working with International, Kenworth, Peterbilt, Volvo, Mack and Prevost to determine when to release Bendix Wingman Advanced through the respective OEMs. The company also announced:
• Bendix Trailer Remote Diagnostic Unit (TRDU), engineered for use on most trailer ABS systems, to help technicians identify diagnostic trouble codes and locate the exact location and component of the trailer ABS system problem. The TRDU plugs into the trailer's seven-pin connector;
• That 100,000 ESP units have been delivered since the system was introduced in 2005. Thirteen percent of Class 6-8 air-braked vehicles sold in 2010 were equipped with ESP, and the year marked the highest sales volume of the system since its introduction;
• A 13-percent price reduction in Bendix SmarTire tire pressure monitoring system aftermarket kits; and
• A new production line at the Bendix Spicer Foundation Brake facility in Bowling Green, Ky., that will triple assembly capacity for air disc brakes. Bendix announced a 120-percent increase in demand for air disc brakes in 2010 and forecasts a 40-percent increase for 2011.