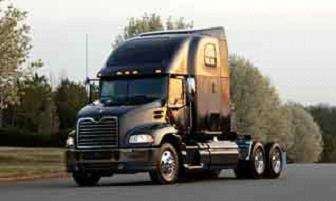 Mack Trucks on Thursday, March 31, said that despite ongoing weakness in the construction sector, the company is well-positioned for success. "I'm proud to say that despite there being almost no Class 8 construction truck market last year, we managed to maintain our overall North American market share, actually grow our U.S. share, and preserve or expand our leadership positions in the segments of the market that are core to Mack," said Kevin Flaherty, Mack senior vice president, U.S. and Canada.
Flaherty said the diversity of Mack's business and its range of products, both highway and vocational, allows the company to better weather storms in a particular segment like the one it is experiencing now in construction. "While demand for vocational vehicles remains low, we're encouraged by a number of factors," he said. "Despite extremely difficult economic times, we've continued to invest in our product range."
Flaherty said customer response to the company's ClearTech selective catalytic reduction trucks has been positive, particularly when it comes to fuel economy and performance. "We sold out every slot we had for our new Mack mDrive automated manual transmission almost as soon as we introduced it, and demand for that product continues to be very strong," he said. "Our dealers have continued to provide the kind of customer service and support that's at the heart of Mack. In short, despite a rather large bump in the road right now in the construction segment, it's clear that Mack's future is bright."
Flaherty said that Mack expects a Class 8 North American market this year in the range of 220,000 trucks, driven primarily by replacement demand and the average age of the existing U.S. fleet, which at eight years is the oldest since deregulation, according to the company. Last fall, the company opened a new 160,000 square-foot Mack Customer Center in Allentown, Pa. – a short drive away from the Mack Macungie plant where all of the company's trucks for North America and export are built.
"The combination of these two facilities gives us a powerful tool for showcasing our history, current products and brand," Flaherty said. "We're proud to be part of the only heavy-duty truck manufacturing group building exclusively in the U.S. for the North American market. Every truck we sell in the U.S. is built in the U.S. – that means a lot to us, we think it also matters to customers, and we believe the kind of manufacturing jobs we offer are the kind we need to hold on to in this country."
Among's Mack's new offerings are new optimized roof and chassis fairings for the Pinnacle models, additional fuel-efficient Econodyne ratings for its Mack MP engines and interior enhancements to improve driver comfort and productivity. Mack rolled out redesigned roof fairings for its Pinnacle 70-inch high-rise, 70-inch mid-rise and 60-inch mid-rise sleepers. The company also debuted stronger, lighter, longer chassis fairings, covering up to a 140-gallon fuel tank – yet costing less than the previous option. Mack says customers ordering Pinnacle model sleepers with improved aerodynamics can expect up to a 6 percent fuel efficiency improvement.
"The new roof fairings are optimized for the lowest possible coefficient of drag and a much smoother transfer of air from the truck to the trailer," said Jerry Warmkessel, highway marketing manager. "The design of the new chassis fairings is simpler and more aerodynamic. The fuel efficiency improvements achievable with these optimized aero aids and the proven performance of our MP engines with ClearTech SCR positions the Mack Pinnacle among the best in highway fuel efficiency."
Mack also announced the addition of four new Econodyne ratings – MP7-405E, MP8-415E, MP8-445E and MP8-505E – fully optimized for fuel efficiency without sacrificing power. Through an enhanced fuel mapping strategy, Mack's EconoBoost intelligent torque management system offers an extra 200 lb-ft. of torque seamlessly through the system command.
"We found that drivers can significantly increase fuel efficiency by remaining in the top gear as much as possible," said David McKenna, director of powertrain sales and marketing. "EconoBoost initiates at 1300 rpm, providing additional power that allows drivers to remain longer in the top two gears. The engine torque reverts back to the lower profile when the engine senses situations with zero torque input, such as cresting a hill."
Further enhancements to the Pinnacle series include an optional one-piece windshield and an updated Grand Touring trim package with button-tuck vinyl and ultraleather seats that provides drivers comfort and a welcoming environment at no extra charge over the previous trim offering.
Expanding on its application excellence in the vocational market, Mack also introduced a new twin-steer package for its Granite model. Available in axle-forward or axle-back packages, the twin-steer now offers vertical back-of-cab aftertreatment. And the new Body Link III for vocational trucks provides an under-cab 29-pin connector, cab pass-through boot for a quick and reliable body hookup, and assignable in-cab switches.