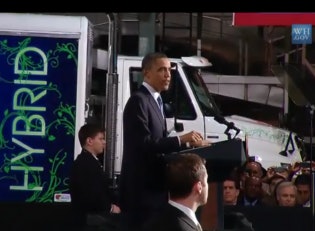 President Obama on Friday, April 1, announced the National Clean Fleets Partnership, a public-private partnership to help commercial vehicle fleets reduce diesel and gasoline use by sourcing electric vehicles, alternative fuels and fuel-saving measures into their daily operations. Through the partnership, the Department of Energy will assist companies in their efforts to reduce fuel use and achieve greater efficiency and cost savings by offering specialized resources, technical expertise and support. The partnership is part of the DOE Vehicle Technology Program's Clean Cities initiative and will complement the U.S. Environmental Protection Agency's SmartWay program by furthering efforts to improve efficiency in goods movement and reducing U.S. dependency on foreign oil.
The partnership includes five charter members representing some of the nation's largest fleets with a collective 275,000 vehicles: AT&T, FedEx, PepsiCo, UPS and Verizon. According to the White House, their planned petroleum reduction strategies will account for the deployment of more than 20,000 advanced technology vehicles and annual petroleum displacement in excess of 7 million gallons.
As part of the announcement, DOE challenged other companies to join the effort. Participating companies will benefit from technical assistance, including peer-to-peer information exchange and collaboration with DOE and national laboratories surrounding research and development initiatives. In addition, group purchasing also will be available so that smaller companies can work with their larger peers to get the benefits of purchasing advanced vehicles in bulk.
The National Clean Fleets Partnership followed the president's announced goal two days earlier of cutting America's oil imports amount by one-third by 2025. The White House identified large commercial fleets as a key opportunity to reduce oil imports, "which with the proper incentives can offer significant potential reductions in fuel use," according to a White House statement.
"Though many hurdles still remain and the path to success will not be easy, the sustainable business benefits of alternative fuels cannot be underemphasized," said Scott Davis, UPS chairman and chief executive officer. "We must deal with the short-term problems of cost differentials and infrastructure to prepare for our long-term future."
For more information, please click the following link: National Clean Fleets Partnership PDF.