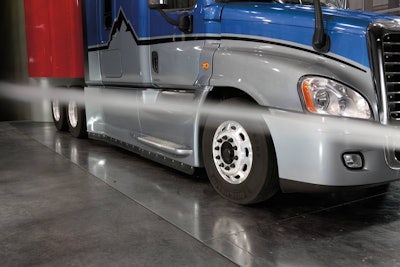 The U.S. economy is recovering better than was expected a few months ago, and truck markets in the North American Free Trade Agreement region recorded double-digit growth in 2010, according to Daimler Trucks North America, which says its own figures also improved nearly 25 percent last year.
"Our sales success in 2010 outpaced the development of the market," said Martin Daum, DTNA president and chief executive officer. "We increased our market share by two percentage points compared to the previous year's figure. We also recorded a very positive development of sales in the U.S. market alone. The sales figures for 2011 look very promising."
DTNA has started the current fiscal year in a strong competitive position, said Andreas Renschler, the Daimler Board of Management member responsible for Daimler Trucks and Daimler Buses. "We are expecting significant growth in the U.S. truck market this year, particularly in sales of trucks in Classes 6 to 8," Renschler said. "As a result, we will revise our original 2011 growth forecast for the NAFTA region upward. We expect that the truck market in the NAFTA region will grow this year by 30 to 35 percent. Up to now, the growth prognosis was 20 to 25 percent." Renschler said this upturn is resulting in a significant increase in the demand for transport services, and thus also for commercial vehicles – because economic growth means more demand for transport.
To accommodate the rising demand for commercial vehicles in NAFTA, DTNA will expand its production schedule in 2011 and plans to fill a combined total of about 1,300 new positions at all of the truck locations in the United States and Mexico in the first half of the year.
DTNA, which said incoming orders in North America currently are exceeding expectations, also announced that its Virtual Technician reporting system, after about one year in service, is helping customers reduce downtime and improve productivity. Virtual Technician offers real-time vehicle system insights through remote telematic diagnostics. The program formulates insights based on engine diagnostic codes from sensors and components that then are packaged and analyzed. Based on these insights, the program initiates a series of reporting and remedial actions.
The system is designed to reduce unscheduled downtime by remotely and accurately diagnosing and determining the failure and repair procedure required, providing the shops with advance knowledge of the parts required and service technician skill needed in advance of the vehicle's arrival. Fleets are provided a choice of service facilities within range of the vehicle to schedule service procedures.
"With Virtual Technician, we have determined that more than 93 percent of the issues identified by indicator lights are easily correctable and can wait until the best time for the customer to be addressed," said David Hames, DTNA general manager, marketing and strategy. "Virtual Technician maximizes uptime by enabling customers to make informed decisions immediately."
Daimler also announced the next generation of chassis side fairings, with 20-inch side extenders being added to the Freightliner Cascadia. Also, Eaton's UltraShift Plus automated transmissions now are an available option on the Cascadia 125-inch BBC equipped with the Detroit Diesel DD13, DD15 or DD16 engine, as well as the Cascadia 113-inch BBC equipped with the DD13.