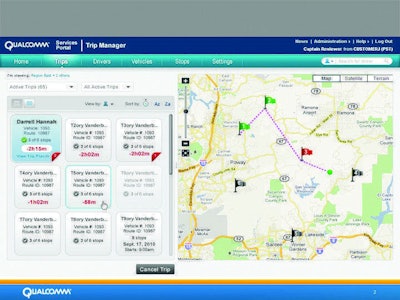 Qualcomm, a provider of integrated wireless systems, applications and services, announced several new applications that will be available later this year.
Trip Manager, a new application for managing driver and route activities, will be available on Qualcomm's Mobile Computing Platform 110 (MCP110) and MCP200 in the summer of 2011.
Qualcomm designed Trip Manager to meet the needs of private fleets that primarily operate within a local or regional geographic area. The application is integrated with Qualcomm's Circle-of-Service Workflow to help fleet managers improve the way they plan, view and manage routes and drivers in near real time.
Trip Manager displays key trip information to fleet managers and other back-office staff through maps, reports and queries. With this data, Qualcomm says fleet managers can monitor planned versus actual routes taken, discern trends, identify under-performing stops and drivers and determine focus areas for improvement, which can help reduce overall fleet costs.
"Trip Manager will allow our customers to increase driver and dispatcher productivity, improve customer service, enhance productivity and better manage costs," said Norm Ellis, vice president of sales, services and marketing for Qualcomm Enterprise Services.
A Proof of Delivery handheld application, which leverages Intermec's CN50 rugged mobile computer, is scheduled to be commercially available this summer as well. Qualcomm says the application is ideal for private fleets, dedicated logistics operations and specialized carriers. It will allow the driver to automate work assignments performed outside of the vehicle, such as barcode scanning, exception management and signature capture.
A Vehicle Inspection Report (VIR) application provides a simple, closed-loop process for completing vehicle inspection reports. VIR will help fleets decrease operational costs, improve the accuracy of vehicle inspection reports and focus on the critical inspection elements and requirements identified by the Federal Motor Carrier Safety Administration (FMCSA), the company says.
VIR allows fleets to control user access and editing capabilities for vehicle inspection reports, and provides search, edit, data exporting and printing capabilities. Drivers can access VIR through Qualcomm's Hours of Service (QHOS) application, or as a stand-alone application. VIR is scheduled to be commercially available in late 2011.
Qualcomm also announced the integration of Mobileye's on-board sensor data with its Critical Event Reporting application (CER). Mobileye's image sensing and processing technology detects critical events including Lane Departure Warning, Forward Collision Warning and Following Time Violations, as well as alerts the driver in the cab. Qualcomm customer C.R. England, the nation's largest refrigerated trucking company, is deploying the integrated solution.