EPA certifies Navistar midrange engine
Navistar International Corp. has received certification from the U.S. Environmental Protection Agency for its 2011 model year MaxxForce DT midrange diesel engine at 0.39 g/bHpHr NOx using Navistar's in-cylinder NOx reduction technology. Navistar says the certification represents a 22 percent emissions reduction from the original 0.50g/bHpHr certification and demonstrates progress to achieving the 0.20g/bHpHr standard through base engine and in-cylinder optimization.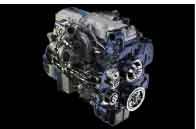 Navistar says it has had continuous success in recent years producing progressively lower-emissions diesel engines, phasing in these engines through a process that's invisible to the customer. Navistar says that in just the past 18 months, its MaxxForce engines have ratcheted down NOx emissions by more than 67 percent from 1.2g NOx to 0.9g to 0.5g and today down to 0.39g and beyond.
"Getting to 0.2g NOx through our in-cylinder technologies has always been part of our plan and remains so today," says Ramin Younessi, Navistar group vice president of product development and business strategy. "Our technology path continues to be a seamless process for our customers where the only thing that changes for them is the EPA label affixed on the engine."
CAPTION: Navistar says it has been introducing progressively lower-emissions diesel engines in recent years, phasing in engines through a process that's invisible to the customer.
IN BRIEF
* Isuzu Motors Ltd. resumed production at its Fujisawa plant on April 5. The factory had been idled since the earthquake and tsunami that struck Japan on March 11.
* Mitsubishi Fuso Truck and Bus Corp. resumed production at the company's main Kawasaki plant in Japan on April 20.
* Volvo will increase production at its plant in New River Valley, Va., adding a second shift and recalling about 700 employees.
* Freightliner Trucks will provide vocational customers with a Telogis telematics prewire option available in its Cummins-equipped Business Class M2, 108SD and 114SD vocational trucks.
* Cummins announced it is achieving a 6 percent improvement in fuel economy with its 2010 engine compared with 2007 technology because of optimized combustion.
* ArvinMeritor officially changed its name to Meritor Inc., and with the divestitures of its light vehicle businesses now completed, the company says it is focused exclusively on global commercial vehicle and industrial markets.
* Canada Post added four all-electric step vans built by Navistar to its fleet. The eStar, a Class 2c-3 electric truck, has a range of 100 miles per charge and can be recharged within 6 to 8 hours.
* The California Air Resources Board announced an early-action compliance credit for trucking fleets that install a particulate filter by July 1 or made a commitment to purchase one by May 1. By installing a particulate filter early on one truck, the fleet will be able to delay compliance for a second fleet truck until Jan. 1, 2017.
Daimler says U.S. economic growth stronger than expected
The U.S. economy is recovering better than was expected a few months ago, and truck markets in the North American Free Trade Agreement region recorded double-digit growth in 2010, according to Daimler Trucks North America, which says its own figures also improved nearly 25 percent last year. "Our sales success in 2010 outpaced the development of the market," says Martin Daum, DTNA president and chief executive officer. "We also recorded a very positive development of sales in the U.S. market alone. The sales figures for 2011 look very promising."

DTNA has started the current fiscal year in a strong competitive position, says Andreas Renschler, the Daimler Board of Management member responsible for Daimler Trucks and Daimler Buses. "We are expecting significant growth in the U.S. truck market this year, particularly in sales of trucks in Classes 6 to 8," Renschler says. "As a result, we will revise our original 2011 growth forecast for the NAFTA region upward. We expect that the truck market in the NAFTA region will grow this year by 30 to 35 percent. Up to now, the growth prognosis was 20 to 25 percent."
Renschler says the economic upturn is resulting in a significant increase in the demand for transport services, and thus also for commercial vehicles – because economic growth means more demand for transport. To accommodate the rising demand for commercial vehicles in NAFTA, DTNA will expand its production schedule in 2011 and plans to fill a combined total of about 1,300 new positions at all of its truck locations in the United States and Mexico in the first half of the year.
Test drive:
Mack's mDrive eases driver workload over tough terrain
By Jack Roberts
Mack Trucks invited me to take a 2011 Mack Pinnacle A/B 70-inch Mid-Rise sleeper across the Great Smoky Mountains out of Greensboro, N.C., to Louisville, Ky. Riding with me was David McKenna, Mack's director of powertrain sales and marketing. McKenna's job was to coach me on the proper use of the Pinnacle's mDrive 12-speed automated manual transmission (AMT).
Our Pinnacle was pulling a flatbed loaded with granite blocks, totaling 79,000 pounds and change. No problem for the mDrive, McKenna explained to me, which starts out by sensing the load behind the tractor. The transmission also has an inclinometer so it can sense any grade the truck encounters. Using this information, the transmission can "talk" to the engine and the engine brake, telling it how much available horsepower and torque they have to either get the load moving or slow it down, making thousands of split-second calculations to determine the correct gear and the correct shifting sequence.
"The key to the mDrive is that data stream," McKenna says. "We only provide a competitive transmission with about 80 percent of the data generated by our engine and engine brake. We're not going to give out all of that information – it's like giving the formula for Coke or Kentucky Fried Chicken away. But the mDrive has access to 100 percent of our powertrain telemetry. That makes all the difference in the world."
A 30% workload reduction
A transmission cannot replace a human when it comes to handling traffic and changing road conditions. That's why Mack designed its AMT with intuitive manual controls to ensure safe, consistent vehicle operation at all times. I found this out early in our drive after starting up a long freeway ramp. Reaching over, I hit a button at the top of the mDrive labeled "Perform," telling the transmission and engine that I needed extra horsepower. As a result, the mDrive switched to a more aggressive gear selection and shift sequence, while the 505-hp MP8 diesel churned out additional horsepower to get us rolling.

It was in the mountains – or, more precisely, coming down the mountains – where I gained a full appreciation of the mDrive's capabilities. After letting me fan the brakes down a few long grades, McKenna suggested letting the transmission hold us on the next one. As we crested yet another mountaintop, I reached over and manually downshifted from 12th to 11th gear. The engine brake engaged immediately and, working with the transmission, held the Pinnacle at my desired speed going down. My right foot hovered nervously over the brake pedal waiting to pounce if the speed started to get away from me, but I needn't have worried. On steeper grades, an additional downshift to 10th gear might be in order, but this was easy enough to do.
I also found the mDrive to be just as effective when it came to climbing grades. It downshifted as needed to lug us uphill efficiently with no casting about for the right gear. And once we were on the Western edge of the Smoky Mountains, I found that the mDrive also works with the Pinnacle's cruise control, engine and engine brake to maintain desired vehicle speed without engine over-revs or sudden spikes in fuel use.
After our drive, I calculated the transmission probably cut my workload by as much as 30 percent considering all the gear shifts and brake applications I did not have to make. This slick, intuitive system can turn a mediocre truck driver into a much safer and more efficient one.