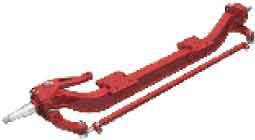 Fabricated front steer axle
Hendrickson Truck Suspension Systems' Steertek NXT fabricated front steer axle – approved for on-highway and medium-duty truck, bus and motorhome applications – is designed to accommodate a variety of wheel end and knuckle designs and features scalable architecture to meet a capacity range of 8,000 to 23,000 pounds. The lightweight axle is designed for added strength and maneuverability and reduced maintenance, and can be combined with the company's monoleaf spring technology to form the Softek lightweight front suspension system.
Steertek NXT, which will be available in August, includes continuous beam architecture to help minimize stress points for added durability while enhancing strength-to-weight ratio. The rigid box-shaped cross section helps resist horizontal, vertical and twisting forces and is designed to manage the increased brake torque loads resulting from the 2011 stopping distance regulation changes in Federal Motor Vehicle Safety Standard No. 121. For braking efficiency, Steertek NXT is compatible with both drum and disc brakes with either 5/8-inch or ¾-inch fasteners.
The two-piece knuckle assembly helps simplify kingpin bushing serviceability and includes a double lip seal to help improve bushing life. Integrated steering arm and tie rod attachments help increase strength and further reduce weight. An integrated clamp group and axle seat provides a platform for efficient system integration of various suspensions, as well as improved ground clearance and reduced part count. Enhanced ride quality is available by spec'ing Steertek NXT with Hendrickson's Airtek integrated front air suspension.
Hendrickson
Visit www.ccjdigital.com/info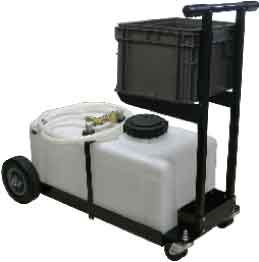 Coolant management tool
K-Line Industries' Coolant Management Tool for fleet maintenance shops and truck maintenance facilities is designed to drain, pressure-test and refill coolant systems simply and cleanly, saving time, reducing or eliminating air pockets and contributing to environmentally green shop initiatives; it also helps prevent the unwanted mixing of coolant types. The tool includes a 20-gallon tank and cart assembly on wheels, a coolant reservoir cap adapter, a vacuum module and a pressure module. After the tool is attached to the truck cooling system, clean dry shop air is used to "blow" coolant out of the system and into the tank; with the system empty, the necessary repairs can be made and pressure-checked before the cooling system is refilled. The coolant then can be replaced into the system using the vacuum module to draw coolant back into the tank, reducing or eliminating air pockets. With the coolant captured within the tool throughout the procedure, there are virtually no spills, no waste and no chance of mixing coolant types.
K-Line Industries
Visit www.ccjdigital.com/info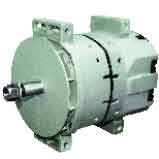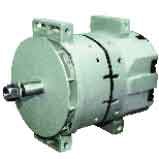 Alternator line
TRP Aftermarket Parts' alternators for all makes of medium-duty and heavy-duty trucks are rated for higher temperatures found in newer engines that meet the latest emissions standards up to 221 degrees Fahrenheit. The brush series includes the RE022 offering 150 amps of power and the RE555 providing 160 amps. The brushless series includes the RE035 offering 140 amps and the FE036 providing 170 amps. The brushless alternators also feature remote sensing capability to help compensate for cable voltage drop through accurate voltage readings, which can help extend the truck's battery service life.
TRP Aftermarket Parts
Visit www.ccjdigital.com/info
Extended service interval grease
Chevron Lubricants' Delo Grease ESI is an extended service interval grease engineered to reduce friction and wear and designed to deliver optimum protection while minimizing downtime for a wide variety of on-road and off-road equipment applications. Delo Grease ESI is suited for Class 6-8 trucks to protect equipment in a diverse range of applications, including wheel bearing, chassis, steering drag links, kingpins, shackle pins, transmission cross shaft spring pins, brake cam shafts and fifth wheel faceplates and pivots operating under high- and low-temperature conditions. Delo Grease ESI is formulated with highly refined base stocks, a lithium complex thickener, rust and oxidation inhibitors and extreme pressure and tackiness additives. The grease is suited for automatic centralized greasing systems and in wheel bearings operating near the high temperatures of disc brakes.
Chevron Lubricants
Visit www.ccjdigital.com/info
Truck air purifier
Dometic's portable Breathe Easy air purifier is designed to reduce allergens, contaminants and odors from the air inside a truck. The device uses photocatalytic nano mesh technology with non-ozone-producing ultraviolet light to help reduce biological contaminants such as mold spores, bacteria and viruses. The UV light's energy activates titanium-dioxide catalysts on the nano mesh, and the pollutants and odors that come in contact with the nano mesh are reconfigured into cleaner and healthier air. An internal fan pulls air from the space through the purifier. The unit comes with a standard 12V DC power plug and an AC plug adapter so that it can be moved from the truck to be used at any other location.
Dometic
Visit www.ccjdigital.com/info
Trailer scale
Air-Weigh's QuickLoad Trailer Scale incorporates the company's electronics, software and sensor technology, all packaged in an environmentally sealed enclosure. The scale is designed to mount easily on most air-ride trailers in about 15 minutes. Technologies include a completely sealed touchscreen user interface, integrated single or dual weight sensors, battery operation for untethered applications, a standard serial data communication port and built-in warning weight and overweight alarm LED flashers.
Air-Weigh
Visit www.ccjdigital.com/info
Aerodynamic trailer add-on
ATDynamics' TrailerTail Nano is a smaller version of the company's aerodynamic rear-drag-reducing trailer add-on. The Nano is roughly half the size of the original TrailerTail, is designed for use in inner-city operations and pup-trailer fleets, and complies with Canadian regulatory requirements. The Nano, which will be available this fall, extends the length of the trailer about 2 feet, half that of the standard TrailerTail.
ATDynamics
Visit www.ccjdigital.com/info
Wheel battery charger
Clore Automotive's Model No. 4725, a 6/12V wheeled battery charger from Charge It!, is designed to offer fast charging and boosting in an economical space-saving design. The 4725 delivers multiple (40/20/5 amp) charge rates in 12V mode and a 40 amp charge rate in 6V mode. An ampmeter allows the operator to monitor charging progress. The unit also provides 200 amps of engine starting assistance to boost disabled 12V vehicle batteries. Full-size clamps help penetrate corroded battery terminals, while large wheels and a sturdy handle help provide easy shop mobility. The battery charger also features a slimline design for improved maneuverability and efficient storage for crowded shops and garages.
Clore Automotive
Visit www.ccjdigital.com/info
Redesigned truck boxes
Knaack and Weather Guard have redesigned their Hi-Side Truck Boxes for improved security, durability and organizational solutions for construction, municipal and field service professionals. A weather-resistant gutter design helps channel rain and snow off the box to keep its contents dry, while a drill-resistant lock core helps protect against theft and vandalism and an attachment point at the rear of each box helps secure or lock down tools and supplies in the truck bed. A top-mounted removable parts bin helps keep small parts such as fasteners and components organized inside the box, while adjustable quick-release doors open from 90 degrees to 180 degrees for unrestricted access to tools and equipment.
Weather Guard
Visit www.ccjdigital.com/info

CB radio
Cobra Electronics' 29 LX Citizens' Band radio, based on the 29 LX LE 50th Anniversary Limited Edition model, features a modern aesthetic design with a selectable LCD color display in red, green, blue or amber to complement the interior of any cab. The display also has customizable night and day settings to enhance readability in both bright and dark conditions, as well as a clock/timer that enables drivers to track their on-time driving hours; the clock/timer also functions as an alarm clock. The 29 LX includes 4W AM RF power output along with instant access to emergency channel 9 and information channel 19. The Delta Tune feature helps clarify incoming signals, while the adjustable Dynamike boost increases the microphone's sensitivity for increased voice clarity. Other features include:
• A large center scroll knob that provides one-touch unit programming for easy setup and channel changes;
• A weather alert scan that advances to the next clear NOAA weather channel automatically when driving cross-country; and
• A Radio Check Diagnostic to allow drivers to monitor their radio's RF power output, antenna system and battery voltage continuously.
Cobra Electronics
Visit www.ccjdigital.com/info

Construction, agriculture work lamp
Grote's square-face 4-by-4-inch Trilliant Cube LED WhiteLight Work Lamp, suited for the construction and agriculture markets, has a service rating of about 50,000 hours and operates on both 12V and 24V systems. The lamp is available with either the TractorPlus beam pattern or a refined wide flood pattern designed to produce a more penetrating beam that reaches farther. The lamp comes with stainless-steel hardware and brackets and is available in three versions, each with a different connector style: The female receptacle on the back of the first version accommodates the AMP connector style, the second features an AMP Superseal connector style, and the third supports the Deutsch two-pin sealed connector.
Grote Industries
Visit www.ccjdigital.com/info
Enhanced fender product line
Minimizer has updated its tanker fender and released a composite fender bracket, custom paintable fender and liquid platinum painting product. The tanker fender now comes with a deeper lip to help provide added control of water spray and rocks. It also comes with poly brackets that help soften road vibration and are available in a diamond-plated version with a liquid platinum cover or a paintable version. The bracket is made of 100 percent composite material and is designed to bend and spring back when pressured.
The custom paintable fenders have an adhesion promoter baked onto the fender that helps improve palatability for any color of paint. The fenders are made to provide a shine equal to fiberglass or metal and are available in most fender models.
The liquid platinum metal alternative is designed to provide the shine of metal without the risks of dents or rust. Liquid platinum fenders can be laminated with Class A finish film and do not need buffing; they wash clean and are designed to resist fading, rust or cracking.
Minimizer
Visit www.ccjdigital.com/info
Battery status indicator
Phillips Industries' Battery Status Indicator (part number 60-9000) can be added to monitor the state of power for any battery, particularly liftgate batteries. The indicator is designed to alert operators during pretrip inspections that battery power may be lower than required. If battery voltage is more than 12.4V or 75 percent power, the LED light flashes green, but if the voltage falls below 12.39V, the light will blink red, indicating that batteries should be charged before the trailer leaves on the next trip.
Phillips Industries
Visit www.ccjdigital.com/info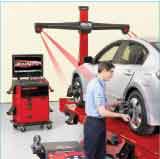 Alignment system
Hunter's HawkEye Elite alignment system features QuickGrip adaptors and three-dimensional targets designed to accelerate service and setup times. Spring-loaded clamping arms are designed to adjust easily to various wheel sizes, and a thumb lever locks the clamp in place. The system's clamping arms grip the tire tread; only a protective rubber ring at the adaptor's base contacts the rim. The entire adaptor and target assembly weighs 6 pounds, facilitating easy handling and installation, while its ultra-compact profile is designed to fit easily between narrow lift posts and other tight constraints. The polymer construction helps makes the assembly tolerant of accidental drops. Digital imaging sensors include four high-resolution cameras that update onscreen adjustment readings and provide 3D modeling of wheel position and orientation. Roll-forward compensation is designed to allow a technician to compensate all four wheels and capture initial measurements in one motion. The consoles include Intel processors running Hunter's WinAlign alignment software on a Windows 7 operating system.
HawkEye Elite systems include Hunter's CodeLink electronic steering system reset device and a VIN barcode scanner. The software supports the use of a drive-on camera to assist with positioning the vehicle on the lift and the TouchRemote feature designed to allow a technician to operate the system remotely using an Apple iPhone, iPod touch or iPad device. The console design also includes integrated storage and charging for accessories and a touchscreen monitor option.
Hunter
Visit www.ccjdigital.com/info