Onboard computers using workflow to turn data into action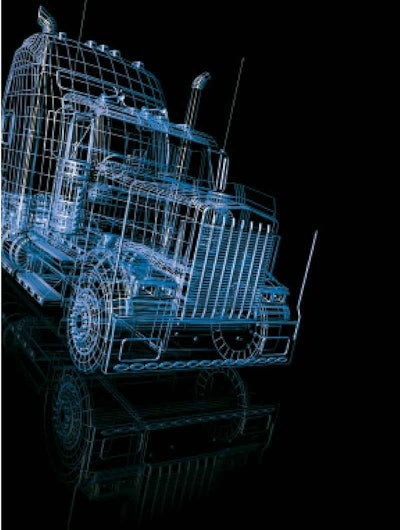 Exception reporting has become the standard for managing large volumes of data. Many fleet operations now use various exception alerts to detect probable outcomes that fall below the desired performance level.
But exception alerts can be a distraction unless they are fused into a workflow. While the definitions of workflow may vary, the ultimate goal is the same – to create a "closed loop" process where information is tied to actions and results.
TransAm Trucking is making such a transition now. Fleet managers for the Olathe, Kan.-based company currently receive detailed visual driver mpg performance reports on a weekly and monthly basis. The exception-based mpg reports come from the R:Com onboard computing and wireless fleet management system from Blue Tree Systems.
As part of TransAm's workflow process, the company has integrated the R:Com performance reports into its dispatch and operations software. Fleet managers use the reports to converse with drivers about how to improve mpg. After the conversation, TransAm typically sees drivers improve by 72 percent.
This month, TransAm plans to close the loop further by sending the mpg reports to drivers automatically. Drivers – both company employees and independent contractors – can visualize their behaviors in a graphic format via R:Com's in-cab display. Russ McElliot, TransAm president, says drivers should be able to understand and take corrective measures without being contacted by managers. "The reports pinpoint the issues pretty clearly," McElliot says.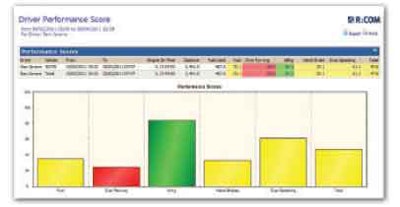 Fuel economy is just one of many examples of ways that fleets can use the latest features in onboard computing and wireless fleet management technology to create automated workflows between the cab and the office.
Creating workflow
Over the past few years, Mesilla Valley Transport has become renowned for its fuel economy measures. Today, an MVT driver who averages 7.75 mpg is considered a bottom dweller in terms of performance. One factor in this success is a daily reporting process that helps keep drivers focused on continuous improvement.
MVT uses the PerformX feature of its PeopleNet onboard computing platform to capture driver and vehicle performance via electronic control modules. The PerformX data is fed into a business intelligence solution from Microsoft to correlate mpg with dispatch data, a necessary step since MVT drivers change trucks or "slip seat" on a regular basis. Drivers then are grouped by fleet and ranked by mpg.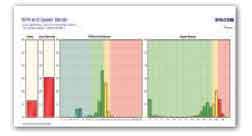 The Microsoft platform formats the report into a daily message sent to drivers through the PeopleNet system. Drivers see their personal ranking and the top five and bottom five performers in the company. This daily reporting process lets drivers see the immediate effects of their behaviors as they work to win the grand prize – a new Harley-Davidson motorcycle rewarded to the top performer every quarter.
MVT also is using its Microsoft BI suite to automate the workflow surrounding engine fault codes. The PeopleNet system picks up ECM fault codes and sends the raw data to a Microsoft SharePoint Server, where each fault code is paired with a "human readable" description. This information then is sent via e-mail to the company's on-road repair group, fleet managers and shop managers. With this structure, the company sometimes is able to contact drivers and schedule critical repairs before the "check engine" light appears, says Mike Kelley, MVT director of information technology.
Fleets can automate virtually any type of exception reporting and workflow by using the tools already included in onboard computing and wireless fleet management systems.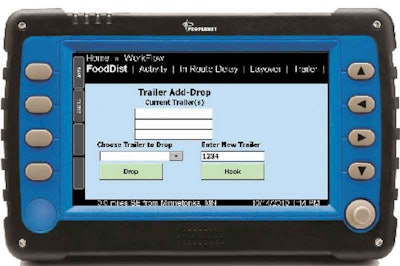 Zonar's Web-based Ground Traffic Control fleet management system comes with a ZAlert feature for users to define the "sweet spot" for any metric they wish to monitor. When a threshold is exceeded, text or e-mail alerts are sent to the person(s) assigned to the alert. ZAlerts can be set up to escalate until the problem is resolved, starting from the driver all the way up to the chief executive officer.
Pushing content
Besides pushing automated exception alerts to fleet managers and drivers, fleets can use multimedia features of onboard computers to send PDF documents, videos and other content to drivers as part of their workflow process. Drivers could receive a violation letter for a logbook error, speeding violation or hard-braking incident.
A more efficient approach to workflow is to have an application – such as a driver scorecard – running on the in-cab computer. This application could be refreshed automatically with information generated from the office and captured by the onboard computer.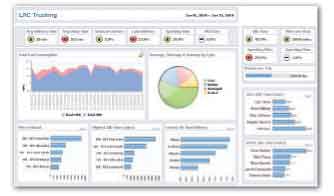 Zonar currently is developing new onboard workflow applications for its soon-to-be-released Zpad mobile display terminal. Zonar says the Linux-based Zpad is "completely programmable" for any number of workflow applications and exception alerts for drivers.
One application under development can be used to manage fault codes. A description and visual aid of a fault code can be pushed to the Zpad terminal's 7-inch color touchscreen display. The message also could instruct drivers what to do; if the truck was about to run out of diesel exhaust fluid, fleets might want drivers to shut the truck down immediately.
The Zpad also can be used to provide drivers with feedback and visual tools to improve their shift points and other behaviors to increase fuel economy.
Driver workflow automation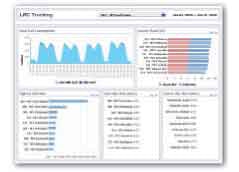 Workflow is not always developed for the purpose of managing exceptions. In many cases, the goal is to improve productivity by getting information and tasks to drivers at exactly the right moment.
Fleet Complete, a fleet management system offered by Complete Innovations, lets users "map" or configure the fields to be pushed automatically to a driver's smartphone based on current location. An armored car company might use this workflow feature to provide an additional layer of security for refilling bank ATMs with cash. Work orders could be dispatched to a mobile device, and workflow rules could be established to send drivers the ATM's combination codes when they enter a tight geofence surrounding the ATM.
Baylor Trucking, a truckload carrier based in Milan, Ind., is in the early stages of developing workflow to automate the information flow to drivers at pickups and deliveries. This process, based on Qualcomm's Circle of Service Workflow, will be triggered by vehicle location; when a vehicle enters a customer's geofence area, the in-cab computer will detect the arrival and initiate instructions to the driver, such as "Proceed to the shipping door between docks 8 and 9 and have two load locks ready."
"These workflow steps are efficient and will save the driver time and frustration," says Cari Baylor, director of sales and information technology. Qualcomm's traditional user interface puts the onus on the driver to initiate the completion of electronic forms and messages – called macros – when arriving at a customer's location for delivery. Circle of Service Workflow combines dispatch system integration with a simple user interface to automate the checklist of activities for drivers to complete by location, says Adam Kahn, director of product and channel marketing for Qualcomm Enterprise Services.
Ron Konezny, chief executive officer of PeopleNet, describes driver workflow as the onboard computing system's "presentation layer" that can be customized to help drivers maximize their available time to drive and deliver goods. PeopleNet currently has developed three "canned" workflow applications for intermodal, food/grocery and tanker. Users can customize their workflows by using a single "decision tree" form to establish what data is presented to the driver at each customer location and what fields a driver can change.
The PeopleNet Tablet, a portable onboard computer, provides workflow applications for drivers inside and outside the cab. After making a delivery, workflow could prompt a driver to use Tablet's built-in scanner and portability to check the load, scan the manifest, capture a signature and send immediate proof of delivery to the customer.
Zonar's new Zpad will serve as both an in-cab display and portable device and will replace the current handheld reader used for Zonar's Electronic Vehicle Inspection Report. The EVIR system uses RFID tags – roughly the size of a half-dollar – placed in different zones around the vehicle and verifies that drivers actually inspected the vehicle's components because they have to place the reader within 1/2-inch of each RFID tag. With the Zpad, drivers now will be able to take pictures and collect additional information to enhance the EVIR system's workflow capabilities.
Tying into CSA
Workflow applications developed by technology suppliers also help carriers manage safety and compliance within the context of the new Safety Measurement System, a key component of the Federal Motor Carrier Safety Administration's new Compliance Safety Accountability program. An onboard computing platform's exception-based reporting tools can trigger alerts for speeding, hours-of-service violations, hard braking and other activities that eventually will show up in SMS.
Some providers of wireless fleet management systems now include automated driver scorecards that allow fleets to assign weights to each measurement category. The weights can be adjusted to reflect a carrier's present need to emphasize one or more of the Behavior Analysis and Safety Improvement Categories (BASICs) – the safety event groups used by SMS to assess carriers. If speeding becomes a problem area, a fleet might weigh speeding more heavily than driver fatigue to prioritize the alerts received by managers and drivers.
Xata's Fleet Performance Manager (FPM) – a planning, visualization and analytic tool available for the Web-based Xatanet fleet management system – features a graphical dashboard that provides insight into key performance indicators. Xata is adding more CSA functionality to the Fleet Scorecards available in FPM. The new features will help with coaching drivers on why their score is low and will recommend actions to improve that score.
Qualcomm's new Web-based CSA Safety Performance Service captures data directly from two main sources: SMS and relevant Qualcomm services data such as Qualcomm Hours of Service, Critical Event Reporting and Performance Management. Along with pulling data from these two sources, Qualcomm designed the application to have a closed-loop management process for violations, interventions, citations, accidents and other data elements used by SMS.
The homepage has a dashboard design with large menu icons of different "screens" used to manage CSA performance. The first screen a fleet administrator would click on would establish peer groups for reporting CSA data. By choosing peer groups, a user can visualize and compare driver safety and compliance by fleet manager, geographic location, equipment type, etc.
Another screen called Data Services lets users select which Qualcomm services data to incorporate into the application. This data can help users see current performance issues that correlate with violations and other driver and vehicle inspection data that falls into one of the seven BASICs.
A Driver Scores screen lets users look across an entire fleet to see which drivers have the highest SMS scores and focus efforts on who needs training, the actions required in the coaching plan and the actions taken. Driver managers that use this screen can either accept the recommended action plan or choose to exempt a driver and acknowledge why.
A Manager Summary Report lets users see SMS data trends and the correlating Qualcomm data by both driver and peer groups. Also, each driver is given an SMS score and a Qualcomm score to help managers anticipate future violations.
Just like a pilot in a cockpit, fleet managers and drivers need to eliminate clutter and distractions to perform at peak efficiency. Workflow can do this by getting information flowing to the right people at the right time, and by closing the loop on any exceptions that may occur.
Navigating through workflow
When the latest advancements in digital mapping and navigation systems are combined with powerful onboard computing platforms, the result is a detailed and intuitive workflow for drivers.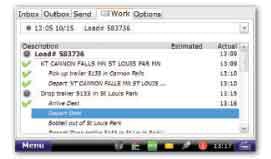 TransAm Trucking, an Olathe, Kan.-based refrigerated carrier, has integrated the R:Com onboard computing platform from Blue Tree Systems with its dispatch, fuel optimization and in-cab navigation system. Once a driver-load assignment is made in dispatch, the company's fuel optimization software determines the gallons and fuel locations en route.
The pickup, fuel stop and delivery locations are sent to R:Com's in-cab computer, where turn-by-turn navigation routes the driver from customer to consignee and every fuel stop along the way. Turn-by-turn guidance from origin to destination is a risk management tool that can help prevent accidents – such as bridge strikes – caused by drivers getting lost or going off route, says Russ McElliot, TransAm president.
Besides providing turn-by-turn directions for truck-specific routes, Rand McNally's IntelliRoute TND navigation system notifies drivers of posted speed limits. Enhanced warnings also alert drivers to sharp curves, steep hills, speed limit changes, state boundaries, road construction, time zone changes and on-/off-duty changes.
Rand McNally recently announced that IntelliRoute TND and workflow now are available for the TruckPC onboard computing platform. Last fall, Rand McNally purchased an ownership stake in DriverTech, developer of the TruckPC.
By using the TruckPC's workflow, carriers can simplify driver communications. By pressing the "work" button on the in-cab touchscreen display, a driver is shown the next assigned task and given directions, prompted to answer questions or verify information.
If a task were to pick up a load from a Wal-Mart distribution center, the TruckPC's workflow could use IntelliRoute TND to route the driver automatically to the location with turn-by-turn directions. When the driver arrives, workflow would show the driver the next task with instructions that might include multimedia – such as a map display of the customer facility – or require the driver to watch a video about specific requirements for loading cargo, says Bill Bland, vice president of business development for DriverTech.
Teletrac's SmartNav vehicle navigation software integrates with its Fleet Director GPS vehicle tracking system. Drivers are guided along routes with turn-by-turn verbal driving directions and full-color map displays. Teletrac can capture and report detailed route behaviors such as drivers rolling through stop signs.
The latest version of Fleet Director, 8.2, provides flexible at-a-glance dashboards and safety scorecards to help monitor driving behavior and safety performance for individual drivers, user-defined groups and the entire fleet, says Drew Hamilton, executive vice president.