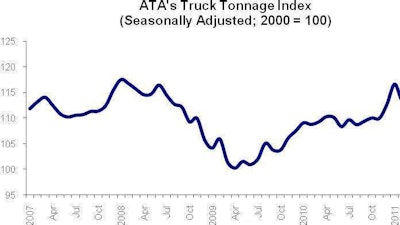 The American Trucking Associations on Tuesday, April 26, said that its advance seasonally adjusted For-Hire Truck Tonnage Index increased 1.7 percent in March after falling a revised 2.7 percent in February. The latest gain put the adjusted index at 115.4 in March, which was the highest level since January's 116.6 reading. In February, the index equaled 113.5.
The nonadjusted index, which represents the change in tonnage actually hauled by the fleets before any seasonal adjustment, equaled 123.3 in March, up 20.7 percent from the previous month.
Compared with March 2010, adjusted tonnage climbed 6.3 percent, which was higher than February's 4.4 percent year-over-year gain, but below the 7.6 percent jump in January. For the first quarter of 2011, tonnage increased 3.8 percent from the previous quarter and 6.1 percent from the first quarter of 2010.
"Despite my concern that higher energy costs are going to begin cutting into consumer spending, tonnage levels were pretty good in March and the first quarter of the year," said Bob Costello, ATA chief economist and vice president. "While I still think the industry will continue to grow and recover from the weak freight environment we've seen in recent years, the rapid spike in fuel prices will slow that growth." Costello also noted that as long as U.S. manufacturing activity remains strong, truck tonnage will benefit.
ATA calculates the tonnage index based on surveys from its membership. The report includes month-to-month and year-over-year results, relevant economic comparisons and key financial indicators. The baseline year is 2000.