Changes to the stopping distance regulations are looming – but manufacturers say they'll easily clear the bar
With the National Highway Traffic Safety Administration's new stopping distance regulations for heavy trucks becoming law Aug. 1, you'd think the trucking industry at large – and heavy-duty truck brake manufacturers in particular – would be hustling to meet the new guidelines. But the opposite seems to be the case. A mood of quiet confidence – particularly on the part of brake component makers – seems to be prevailing.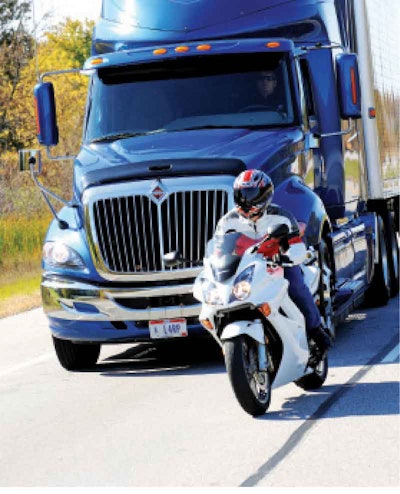 "We've actually been working on this regulation for quite a while," says Gary Ganaway, director of Bendix Spicer Foundation Brake's Drum Brake Engineering Group and marketing. "We've been working closely with our OEM customers so that we can now stress that the impact for a fleet from a spec'ing standpoint should really be minimal on these new regulations – no retrofitting will be required." That's because after Aug. 1, the only vehicles that fleets and end-users will be able to purchase will be those that meet the new requirements. "We believe this will be a seamless transition for fleets," Ganaway says.
For the customers – the fleets – that same sentiment also seems to hold true. "This is going to be relatively painless, particularly when you compare it to all the emissions regulations we just worked through," says Carl Tapp, director of maintenance for Tontitown, Ark.-based P.A.M. Transport, who believes the overall regulations will be a good thing safetywise.
"You see it happen every day – somebody in a car takes a chance by cutting in front of a truck because the motoring public doesn't realize how hard it is to slow or stop a big rig once it's up to speed," Tapp says. "So anything you can do to advance and promote safety in the industry is a good thing in my book."
The limits of physics
Under the new rules, Phase I of the stopping distance regulations will require three-axle tractors with a gross vehicle weight rating (GVWR) of 59,600 pounds or less to meet the reduced stopping distance requirements by Aug. 1. Phase II will require all two-axle tractors and three-axle tractors with a GVWR above 59,600 pounds to meet the requirements by Aug. 1, 2013. Voluntary early compliance is permitted.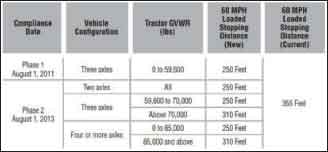 For a small number of heavy severe-service tractors, the stopping distance requirement will be 310 feet under the same conditions. In addition, the final rule requires that all heavy truck tractors must stop within 235 feet when loaded to their lightly loaded vehicle weight (LLVW).
At first glance, the stopping distance regulations seem daunting. Passenger cars in the United States traveling at 60 mph must be able to come to a full and complete stop within 140 feet. Class 8 tractors currently must come to a full stop from the same speed in 355 feet. After Aug. 1, that distance will be cut 30 percent to 250 feet for new vehicles.
The purpose of these regulations is to reduce the number of fatalities and injuries associated with crashes involving tractor-trailer combinations and other vehicles. Once all heavy-truck tractors affected by the rules are equipped with enhanced braking systems, it is estimated that about 227 lives will be saved annually, while 300 serious injuries will be prevented. The final rule also is expected to prevent more than $169 million in property damage annually through averting or lessening the severity of crashes involving Class 8 vehicles.

And while brake manufacturers and OEMs say they will meet these new regulations with relative ease, some experts believe the new regulations are quite aggressive from an engineering standpoint.
"I think we're approaching the limits – or rather the limits of physics – for stopping vehicles this heavy on our highways today," says Tom Runelf, engineering manager for Bendix Spicer Foundation Brake's Drum Brake Engineering Group. "But we have some advantages today that we haven't had in past decades."
Runelf says today's modern onboard electronics and anti-lock brake systems (ABS) have been helpful in meeting the new standards. "But there is a limit to the physics of the tires being able to grip the road, and of the brakes being able to sustain the torque output, to make these kinds of stopping distances," he says. "We're getting very close to what the physical limits of the vehicle to the ground or road can take in terms of safe, effective stops for vehicles of this size."
Larger brakes are key
Given the leap forward that truck brakes will be required to make this year, one could be forgiven for thinking that new, more expensive technology will be required to ensure compliance with the new law. Immediately after the new regulations were announced, industry insiders speculated that an industrywide shift to air disc brakes would be required to meet the tighter standards. But that may not be the case.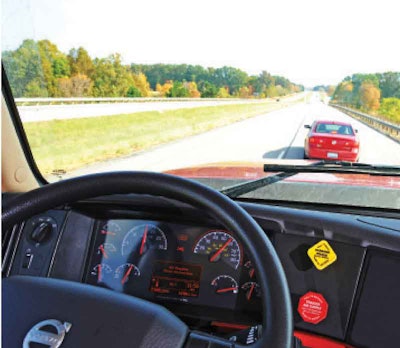 "For Phase I, we have managed to meet the requirements with conventional drum brake components," says Ganaway, who acknowledges that larger drum brakes will be involved. "We will meet these new specs primarily using equipment that was already available in the marketplace. In most cases, we're just using more of the larger brake sizes."
Randy Petresh, vice president of technical services for Haldex, says that most applications will not have to implement air disc brakes, but that some OEMs are doing so on their own accord. (See "Peterbilt standardizes front air discs," page 58.) "Fleets may get air disc brakes whether they want them or not," says Petresh, adding that in Phase II, some configurations may require air disc brakes. "That may be the only way we'll be able to meet the 2013 regulation," he says. "We're working hard on those applications right now, and the jury is still out at this point."
To meet the 2011 stopping distance standards, the front axle of the truck – particularly the front drum brakes – will bear the brunt of the specification changes. The 15-by-4-inch industry standard essentially will be replaced by a new 16.5-by-5-inch brake. "Brakewise, torquewise, lining life, volume and so on will just be tremendously larger than the old 15-by-4," Petresh says. "That brake has been around for 15 years, and a lot of people have been spec'ing it and using it for steer axles. So this is basically an application – taking something we already had – and making it standard equipment to meet these new specs."
Amanda Phillips, manager of Meritor's On-Highway Braking Business, says Meritor engineers believe brakes meeting the revised stopping distance regulation could require larger front and rear brake sizes with advanced friction materials, new front brake spiders and stronger mounting bolts, while slack adjusters will remain unchanged at 5.5 inches.
"Over four years of testing and development have gone into the Meritor Q Plus S-cam drum brake to ensure that it will meet the new federal regulations," she says. This process included the development of various friction materials, hundreds of laboratory dynamometer tests and more than 50 real-world vehicle stopping tests to demonstrate compliance to the federal regulation based on the unique requirements of each vehicle manufacturer.
At the same time, Meritor has recognized the need for high-performance brake solutions on new tractors to work with existing trailers and has taken a "total system" approach to meeting the new regulations by re-engineering both front and rear brakes. New friction material has been developed not only to deliver required stopping distances but also to maintain compatible torque levels between tractor and current trailers and to optimize wear performance, Phillips says.
The biggest hurdle: Finding parts?
Brake manufacturers say fleets that perform their own maintenance need not worry because the basic parts still will be used, so assembly procedures and general brake maintenance will not change. "The primary difference for our end-users is probably becoming a little more attuned to service and parts," Ganaway says.
Depending on the vehicle manufacturer and the application, brake sizes – particularly on the steer axle – will be larger. "In some cases with the OEMs, the drive-axle brakes will also be larger than they have in the past," Ganaway says. "There is probably some attention and due care that fleets doing their own service should keep in mind – that many of the old parts they use may or may not fit the new brakes."
Petresh says fleet maintenance costs actually may go down on vehicles purchased after Aug. 1 because the larger steer-axle brakes will decrease wear on the remaining tractor-trailer brakes. "We don't believe fleets will see any changes on the maintenance side at all, but they may be happy with the new brakes, because in many cases, their maintenance costs and demands will be less because their balance front to rear and total mileage should improve – in some cases quite significantly with the larger front brakes – which will diminish some of the load on the rear as well," he says.
New wider brake parts – including drums, lined brake shoes and hardware kits – will need to be stocked, and volumes will increase over time as the aftermarket demand grows, says Scott Myer, director of marketing for Marathon Wheel. Parts distributors may have to carry an increased diversity and breadth of part numbers. "We don't think this is going to be too bad – likely affecting only a few part numbers," Myer says.
One typically overlooked factor affecting distributors, lined brake shoe suppliers and possibly fleets is the effect that switching to larger brakes will have on brake shoe core management. "As the brake industry has experienced in the past, when high-volume brake part numbers are converted, slowly over time the old brake shoe core becomes obsolete, and the core for the newer part number becomes scarce," Myer says.
This can leave the distributor, shoe supplier or fleet stuck with an obsolete core, or needing to purchase a new shoe because the appropriate brake core is not available. "As with any large conversion of part numbers, this is a serious financial issue that fleets and dealers alike will need to manage carefully," he says.
Replacement brake shoes will have unique part numbers, so fleets replacing reduced stopping distance shoes will need to purchase a shoe with a new part number. But no additional parts that are not required on tractors built prior to the compliance date will be needed.
On a similar note, Phillips says Meritor does not anticipate any substantial changes for maintenance practices with drum brakes. She adds, however, that while parts pricing for the new components has not been finalized yet, fleets can expect a minimal price increase for reduced stopping distance linings.
"In terms of acquisition costs, remember that this new technology will be standard in new vehicles sold after August 1," Ganaway says. "From a cost standpoint, I would say that the end-users will probably not notice the impact." He says the new brake technology is not as expensive as the low-emissions engine and aftertreatment systems required over the past several years, so fleets should not expect to see price increases of thousands of dollars for new vehicles. "They will largely – from a cost standpoint of the original equipment – go unnoticed."
What about air disc brakes?
If fleets are able to meet the new stopping distance regulations using drum brakes, then why has there been so much interest lately in air disc brakes? Mainly because – corrected teething problems aside – air discs are a superior product, manufacturers say.
"At Haldex, we're suggesting that while you don't need it to meet the regulations in August, clearly air discs are a much better mousetrap, and their usage and penetration in the marketplace is going to increase as time goes by," Petresh says. "As fleets are buying equipment, they should consider buying some with air discs – whether it's 10 percent or whatever the number is – so they can start getting familiar with the brake, learn how it performs, start working with the suppliers, learn what's required with them and learn what benefits and advantages they have."
Tapp believes the industry eventually will migrate to disc brakes. "The disc brake technology is getting better, and it's cheaper to maintain than it was before," he says. "On the other hand, air discs will be a major transition for our industry, and I'm not sure the industry is ready for them. You'll have to change everything – parts will have to be available, you'll have training issues."
Mike Jeffress, vice president of maintenance for Maverick Transportation in North Little Rock, Ark., believes in air disc brakes strongly enough that two years ago he shifted his trailer fleet to the technology. So far, Jeffress hasn't spec'd any tractors with air discs because of the weight difference.
As for trailer air discs, Jeffress says the new brakes have worked out well. "We paid a slight penalty in terms of weight," he says. Maverick made the switch to get ahead of the Federal Motor Carrier Safety Administration's Compliance Safety Accountability program. "That's why I'd like to do it on trucks as well, because with air discs, I don't have to worry about brake adjustments," he says. "That just takes a possible roadside CSA hit away, so I'd rather just go with disc brakes."
As far as wear is concerned, Jeffress says trailer air discs are an improvement over drum brakes. "We have less brake fade with them, so from a safety standpoint, I think that's an improvement," he says. "Stopping distance-wise, they're going to stop quicker. I just feel like we need to focus on how to improve on them and make them lighter and more durable as components. I think if we do that, the industry will shift over to them pretty quickly."
Ganaway says there are two ways to look at air disc brakes. On the one hand, the standard service and repair times are shorter and less frequent for disc brakes because they are permanently lubed and sealed. However, because of the newer technology, "the components tend to be more expensive," he says. "What we say to people is, rather than make the full-fledged leap into air disc brake technology, we really like to see them get into the right technology for their operation."
Changes to the stopping distance regulations are looming – but manufacturers say they'll easily clear the bar
Peterbilt standardizes front air discs
In a move designed to help its customers meet the new commercial vehicle stopping distance regulations this year, Peterbilt announced it will make front-axle air disc brakes standard across its entire Class 8 truck and tractor line. Bill Jackson, Paccar vice president and Peterbilt general manager, says the decision was in direct preparation for the enhanced federal stopping distance standards that will take effect in August.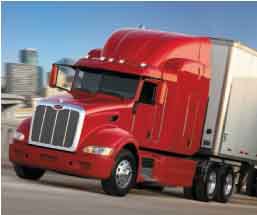 "Air disc brakes offer the shortest stopping distances in the market today and provide a compact design, minimizing weight, reducing maintenance and improving both vehicle and operator efficiency," Jackson says. "That's why Peterbilt is committed to providing our customers with a standard brake system that improves operating costs while ensuring compliance with government stopping regulations – all while having a positive impact on their bottom line."