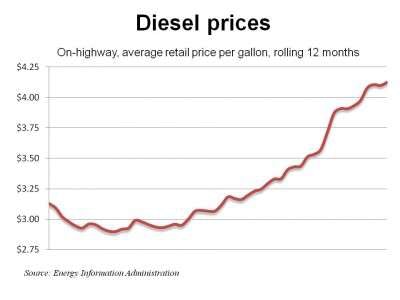 Once again, diesel prices managed to pause from their current surge only for a week before heading higher again. After falling by just 0.7 cents a week earlier, the national average retail price of on-highway diesel rose 2.6 cents to $4.124 a gallon during the week ended Monday, May 2. Only one other time since late November have prices dipped below the previous week's level, and in that case prices rose again the following week.
Diesel prices are just over $1 higher than the same week last year and about $1.08 higher than in late September when the current surge began. The average price of diesel increased in all regions, led by 3.6 cents in the Gulf Coast region. The smallest increase was 0.9 cents in New England. The Lower Atlantic region edged out the Gulf Coast for the nation's least expensive diesel, while California diesel was most expensive by a wide margin.
Complete diesel price information is available on EIA's website.