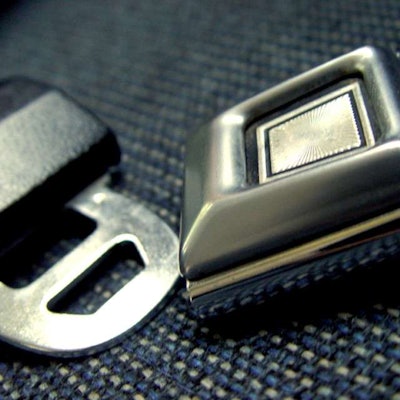 The Federal Motor Carrier Safety Administration on Monday, May 2, announced that newly released data show 78 percent of commercial truck and bus drivers wore safety belts while operating behind the wheel in 2010, compared to 74 percent in 2009. According to FMCSA's Safety Belt Usage by Commercial Motor Vehicle Drivers Survey, the number of commercial drivers that are wearing safety belts has increased by 14 percent since 2007. The 2010 survey observed 26,830 commercial drivers operating medium- to heavy-duty trucks and buses at 998 roadside sites nationwide.
The survey found that safety belt use for commercial drivers and their occupants was higher, 80 percent, in states where law enforcement may stop drivers for not wearing a safety belt, versus 72 percent in states with weaker secondary enforcement belt use laws. A regional breakdown showed that safety belt use rates for commercial drivers and their occupants were highest in the West, at 82 percent, compared with 79 percent in the South, 73 percent in the Midwest and 69 percent in the Northeast.
"Commercial drivers owe it to themselves, their families and everyone on our roads to wear a safety belt," says FMCSA Administrator Anne Ferro. "We are grateful to the drivers who buckle up, and we salute our student contest winners for spreading their lifesaving message." To obtain the executive summary for the 2010 Safety Belt Usage by Commercial Motor Vehicle Drivers Survey, go to www.fmcsa.dot.gov.
Officials from the American Trucking Associations praised industry and law enforcement groups, as well as the federal government, for their efforts to improve seatbelt usage among commercial truck drivers. "Today's news is yet another reflection of the trucking industry's commitment to safety," says Bill Graves, ATA president and chief executive officer. "However, while these numbers are encouraging we acknowledge that there is still much more to do."
ATA has been a longtime advocate of safety belt use and is a member of DOT's Commercial Motor Vehicle Safety Belt Partnership. "Two years ago, as part of ATA's progressive safety agenda, our industry's leading trucking companies called for states to pass primary seatbelt laws," says ATA Chairman Barbara Windsor, president and CEO of Hahn Transportation Inc. "FMCSA's statistics show that these laws boost the rate of seatbelt usage among truck drivers."
ATA's safety agenda also calls for other strategies to induce seatbelt use, such as requiring that belts be of a sharply contrasting color (e.g., bright orange) to allow for easier enforcement, admissibility in court of evidence that a driver failed to wear his/her seatbelt, and denial of workers compensation claims for drivers who don't wear seatbelts.
"Overall truck crash and fatality rates, including the fatality rate for truck drivers, have plummeted in recent years," Graves says. "While there are many factors contributing to these record-setting safety performance accomplishments, increasing seatbelt usage by drivers is certainly among them."
FMCSA's survey findings were released as the agency unveiled the two grand-prize winners of this year's "Be Ready. Be Buckled." art contest that encourages students nationwide to create posters urging commercial drivers to use their safety belts. The winners are Darby Kim, a second grader from Colin L. Powell Elementary School in Centreville, Va.; and Lucia Choi, a fourth grader from James Madison Intermediate School in Edison, N.J. The contest is sponsored by the Commercial Motor Vehicle Safety Belt Partnership, which includes FMCSA and more than 20 other government agencies and organizations.