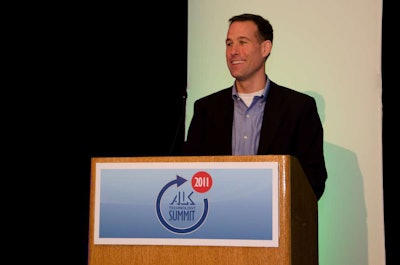 To understand the forces at play in the trucking industry and the economy in general, all you have to do is book a rental car, explained Paul Will, president and chief operating officer of the Celadon Group.
Will offered the analogy on Wednesday, May 4, during a keynote address at the ALK Transportation Technology Summit in Princeton, N.J. Based on his own recent experience of renting a car, Will said the price of his nine-day rental jumped from a bargain price of $296 to $493 after the surcharges, fees and taxes were added to the bill.
Due to the rising costs of raw materials and transportation, "companies are going to have to get money out of the pocket of the consumer," he said.
The U.S. economy is improving, but high fuel prices are driving up commodity and transportation costs and, in turn, hitting consumers hard with inflation.
Consumers are seeing growth in wages, but inflation, falling home equity values and debt is constraining spending. While paying down debt is good for the long-term health of consumers, it is a drag on economic growth, Will said.
The economy also is constrained by tightening credit and a stagnant housing market with new home constructions flat at about 500,000 per year, far short of projections. New homes are now on the market for nine months, far below the historic average of a four- to seven-month sales cycle. Meanwhile, existing homes are on the market for about eight months.
Real GDP is picking up and is projected to continue at about 3 percent for the next four years, but if oil prices continue to be above $100 a barrel, the economy will slow down, Will said.
On a positive note, the trucking industry has seen supply and demand move back to equilibrium, with the trend clearly in favor of carriers. "It should move to the tightest trucking market we've seen," he said. While this is good news for the industry, the continual tug-of-war that exists among carriers, shippers and government regulators will end up costing the consumer.
Another constraint on capacity is the aging of fleet equipment. The average age of trucks on the road now is 6.7 years, and replacement costs for new equipment are high. Many carriers purchased trucks in 2006 for $95,000, for example, but the used trucks today are selling for $50,000. The costs of financing $45,000 over this period is considerably less than financing a 2010 truck for $120,000 that likely will have the same residual value of $50,000.
Having to expense $70,000 to depreciation with higher fuel prices makes it impossible for many fleets to justify buying new trucks, even though vehicles with more than 550,000 miles have triple the maintenance costs, Will said.
Using a 1990 baseline, the mileage on trucks today (a measure of productivity) is flat. The rate per billed mile is up 15 percent. Meanwhile, truck and trailer costs have increased by 200 percent. Investment in new equipment also is constrained by cash flow problems due to shippers stretching payment terms and carriers having to pay for fuel twice a week along with other costs, Will said.
Large fleets already have decreased capacity by 6.5 percent this year even as the spot market is the highest it has been since Hurricane Katrina.
"This shows that capacity is continuing to come out of the marketplace," Will said. Only large fleets are buying trucks because smaller carriers have no access to bank financing and are using working capital to fund higher fuel prices.
Trends that will tighten capacity further include more stringent regulations for the environment, safety and hours of service. "We have passed the point of equilibrium in favor of carriers. It will be that way for quite some time."
Now in its seventh year, the 2011 ALK Transportation Technology Summit is an annual event that brings together senior transportation executives and industry thought leaders to highlight technology trends and share strategies for business success.