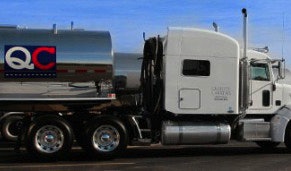 Quality Distribution Inc., a provider of chemical bulk tank truck transportation and intermodal tank container and depot services, on Wednesday, May 4, reported net income of $2.7 million for the first quarter ended March 31 compared to net income of $0.8 million in the first quarter ended March 31, 2010. The Tampa, Fla.-based company attributed the improvement to a 24 percent increase in quarter-over-quarter operating income resulting from solid revenue growth as well as cost containment initiatives.
"I am very pleased with our first-quarter earnings per share in what has traditionally been our seasonally slowest period," said Gary Enzor, chief executive officer. "Both our core logistics and Boasso's intermodal business units delivered stronger year-over-year performance despite difficult weather conditions in our Northeast and Midwest regions. Our core bulk chemical transportation market continues to be capacity constrained, which bodes well for ongoing improvements in our asset utilization."
Total revenue was $177.9 million, an increase of 10.3 percent; excluding fuel surcharges, revenue increased 5.3 percent. The company said this increase was driven primarily by higher pricing within its logistics operations and the addition of a new independent affiliate in 2010, as well as a 13.8 percent increase in revenues, excluding fuel surcharges, from its intermodal business on strong international shipment volumes and higher depot revenue.
"We are off to a great start in 2011 and remain excited about our various opportunities for growth this year as we intend to leverage our asset-light business model and improved balance sheet to bring this growth to fruition," Enzor said. "We remain optimistic about the remainder of the year as we head into our seasonally strong quarters, and look forward to pursuing our multifaceted growth strategy and delivering enhanced value to our shareholders."