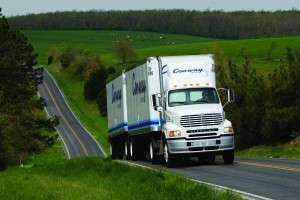 Con-way Inc. on Wednesday, May 4, reported net income for the first quarter of 2011 of $6.9 million compared to a first quarter 2010 net loss of $4.0 million. Revenue was $1.25 billion, a 7.2 percent increase. Operating income was $36.7 million compared to $14.4 million.
Douglas Stotlar, president and chief executive officer of the Ann Arbor, Mich.-based company, said that despite severe winter weather, both Con-way Freight and Con-way Truckload achieved increased profits, while Menlo Worldwide Logistics posted a good quarter against a record performance last year.
Con-way Freight, the company's less-than-truckload operation, reported revenue of $767.7 million, a 5.9 percent increase over $725.0 million due to improved yield and higher fuel surcharge revenue. Operating income was $20.3 million compared to an operating loss of $3.2 million due to effective cost controls, lower health care expense, improved balance in network tonnages, strong operating efficiencies and improved yield. Revenue per hundredweight, or yield, increased 9.7 percent; excluding the fuel surcharge, yield rose 5.6 percent. Tonnage per day declined 4.7 percent, reflecting efforts to moderate tonnage to improve network efficiency. Operating ratio was 97.4 compared to 100.4.
"Con-way Freight's employees are doing a commendable job executing our strategy," said Stotlar. "The improvement initiatives that we launched last year at our less-than-truckload company are beginning to influence bottom-line results. The network is operating with high levels of efficiency and consistency as we continue to improve the fundamentals of the business."
Menlo Worldwide Logistics, the company's global logistics and supply chain management operations, reported revenue of $370.0 million, an increase of 4.2 percent from $355.2 million due to increased revenue from transportation-management services, partially offset by lower revenue from warehouse-management services. Net revenue was $142.3 million, a 1.3 percent decline from $144.2 million. Operating income was $8.6 million, a 32.7 percent decline from $12.9 million; lower operating income also was affected by lower margins on both warehouse- and transportation-management services.
"Facing a tough comparison from a record first quarter last year, Menlo generated consistent results, growing net revenue and operating income sequentially over the fourth quarter of 2010," Stotlar said. "Menlo is well positioned, particularly with its growing international business and a strengthening sales pipeline in North America."
Con-way Truckload, the company's full-truckload transportation operation, reported revenue of $145.2 million compared to $140.6 million, reflecting the positive effect of higher fuel surcharges and improved revenue per loaded mile, excluding fuel surcharges. Operating income was $7.1 million compared to $3.0 million, resulting largely from improved pricing and operating costs that declined as a percentage of revenue. Revenue per loaded mile, excluding fuel surcharges, increased 3.8 percent. Empty miles were 9.6 percent of total miles compared to 10.1 percent. Operating ratio exclusive of fuel surcharges was 93.8 compared to 97.5.
"Strong operating discipline, tighter capacity and improved pricing led to a good quarter for Con-way Truckload," said Stotlar. "Empty miles are declining, and revenue per loaded mile is rising. Results from the first quarter bid cycle were encouraging. Con-way Truckload continues to increase productivity and asset utilization while maintaining its position as a premium service carrier."