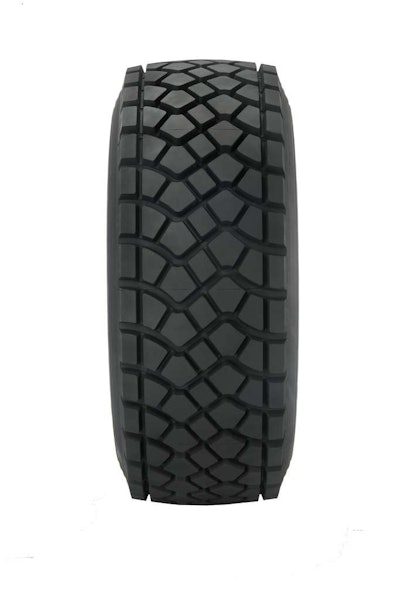 The Goodyear all-position G278 MSD Super Single tire for tough and severe-duty on-/off-highway and vocational applications – including construction, concrete, oil service and logging – replaces the G178 Super Single and is designed for enhanced mileage due to a one-inch-larger footprint, deeper tread depth and special compounding.
Available in 385, 425 and 445/65R sizes in 22.5, the G278 MSD has a rugged criss-cross tread design to facilitate added offroad traction by helping to pump water away from the tread for enhanced grip; the tread design also offers a quiet ride, while the tire's grooved angles with full-width interlocking groove protectors help keep stones from imbedding and drilling into the tread, and special compounding helps resist cuts, chips and tears.
A 30/32-inch tread depth adds to miles to removal, while deep, wide circumferential grooves with more than 500 biting edges help provide all-season traction on wet, snowy and dry roads. A greater net footprint helps maximize pressure distribution, which helps enhance even wear.
The tire has a 68-mph speed rating and is available with matching retreads in three sizes beginning in June; a high-tensile steel radial casing featuring steel belts offers the potential for multiple retreads.