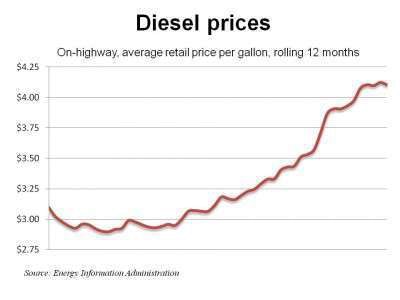 The national average retail price for on-highway diesel dropped 2 cents during the week ended Monday, May 9, to $4.104 per gallon, according to the U.S. Department of Energy's Energy Information Administration. The last time diesel prices fell by a larger amount was the week ended Aug. 23, when prices dropped 2.2 cents. Diesel prices are 97.7 cents higher than the same week last year and about $1.06 higher than in late September when the current surge began.
The average price of diesel declined in all regions except the Rocky Mountain states, where it was unchanged. The largest drop was 3.8 cents in the Gulf Coast region, which regained its usual status as the region with the nation's lowest diesel prices. California diesel was the most expensive by a wide margin.
Complete diesel price information is available on EIA's website.