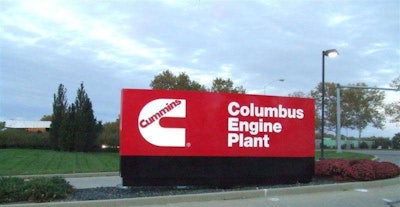 Cummins Inc. expects significant sales and profit growth in 2011 and beyond as it takes advantage of a number of long-term global economic trends and the recovery of key U.S. markets, Chairman and Chief Executive Officer Tim Solso told shareholders on Tuesday, May 10, at the company's annual meeting.
The Columbus, Ind.-based company expects 2011 sales to grow by nearly 30 percent from $13.2 billion in 2010 to $17 billion and earnings before interest and taxes to be 14 percent of sales this year, both company records, Solso said. Cummins earned a record EBIT of $1.7 billion on sales of $13.2 billion in 2010.
The company also will increase its investment in the business this year significantly, expecting to spend as much as $650 million on capital projects to increase capacity and invest in new technologies and products for the future. In addition, the company expects its joint ventures to make $300 million in capital investments to expand their businesses.
"The actions we have taken over the past two years have kept Cummins strong during the recession and have set the stage for a period of sustained profitable growth," Solso said. "We have more growth opportunities ahead of us today than at any time in our history. Our challenge is to pursue those opportunities with the same discipline we displayed during the recent global recession. I am confident that we have the people and strategies in place to lead us to accelerated growth over the next several years."
Solso also recapped the company's successful year in 2010, which included strong growth across all of its business segments and in large international markets such as China, India and Brazil. Cummins' record profitability in 2010 came despite weak commercial truck markets in the United States, which are expected to recover significantly in 2011 and grow further in 2012 and 2013.
"Last year showed, beyond a doubt, that Cummins is more than a North American heavy-duty truck engine maker," Solso said. "Our Engine and Components businesses earned record profits in 2010 despite a sharp decline in our important U.S. markets, and our Power Generation and Distribution businesses performed extremely well as we continued to grow our leadership position in markets around the world."
In the business portion of the meeting, Cummins shareholders voted to elect the 10 Cummins directors standing for election to the board for another year and ratified PricewaterhouseCoopers as the company's external auditing firm for 2011. The board members elected are:
• Solso (first elected to the board in 1994);
• Tom Linebarger, president and chief operating officer (2009);
• Robert Bernhard, vice president for research, University of Notre Dame (2008);
• Dr. Franklin Chang-Díaz, chairman and CEO, Ad Astra Rocket Co. (2009);
• Stephen Dobbs, senior vice president, Fluor Corp. (2010);
• Robert Herdman, managing director, Kalorama Partners (2008);
• Alexis Herman, chairman and CEO, New Ventures Inc. (2001);
• William Miller, chairman and CEO, Irwin Management Corp. (1989);
• Georgia Nelson, president and CEO, PTI Resources (2004); and
• Carl Ware, retired executive vice president, Coca-Cola Co. (2004).
Shareholders also overwhelmingly approved, on an advisory basis, the compensation for Solso and other executives, and elected that future advisory votes on executive compensation be held each year. The advisory votes were required under a federal law that took effect this year to require that public companies give shareholders a greater say in executive pay.