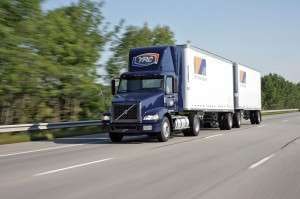 YRC Worldwide Inc. on Tuesday, May 10, announced additional investments in fleet enhancements and network optimization to continue its emphasis on environmental sustainability. This month, the Overland Park, Kan.-based company begins its shift to 5W full-synthetic motor oil, which it says will improve the miles-per-gallon efficiencies of the company's fleet and reduce waste motor oil.
"When fully implemented in 2012, this change will translate to an annual savings of approximately 100,000 gallons of fuel," says Mike Kelley, chief sustainability officer and vice president of external affairs. "In addition, this will reduce the waste oil we dispose of each year by approximately 28,000 fewer gallons."
The company also is adding wind skirts to its 53-foot trailers. "Mounted below the trailers' bottom rails, these skirts reduce drag, and when used in combination with fuel-efficient low-rolling-resistance tires, we are able to achieve a combined 5 percent savings on fuel consumption," Kelley says. Concentrating initially on equipment in California, YRC Worldwide will extend the use of wind skirts nationwide. The company introduced its use of fuel-efficient tires in early 2010.
Additionally, YRC Worldwide will order an initial SmartWay-certified power unit to use in a pilot program this summer. "We have been working with manufacturers on designs that meet the SmartWay standards," Kelley says. "We anticipate concluding the pilot program and placing our initial order for new equipment before yearend."
YRC Worldwide also will be hiring additional network engineers in the next few months. "Network engineers are skilled in finding ways to optimize our network to minimize empty miles and maximize trailer capacity," Kelley says. "Our network design works in tandem with our fleet enhancements, driving further reductions in emissions."