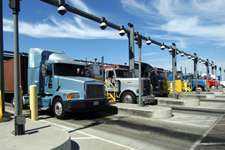 California's Assembly may begin consideration Thursday, May 12, on legislation that would deem drayage truck operators as employees of those persons who arrange for or engage their services, with the exception of public agency employers.
Democrat Assembly Speaker John Perez sponsored the bill that essentially would ban owner-operators from working state ports. The Assembly's Labor and Employment Committee voted 5-1 to pass the measure on May 4. If passed in the Assembly, AB 950 would go to the Senate to repeat the legislative process.
Many organizations have voiced opinions on the bill, with trucking and shipping organizations including NASSTRAC opposing it and labor organizations supporting it.
"Owner-operators provide necessary capacity and flexibility to meet the varying demands of port drayage," said groups opposed to the legislation in a letter to Assembly members. "To impose an employee driver mandate on the companies who arrange for drayage services is simply not consistent with the reality of port activity."
The California Trucking Association called the legislation "the first step to eliminating independent owner-operators throughout the trucking industry," it wrote. "Today, it is the ports. Tomorrow it will be agriculture, construction, and over the road."
Bill supporters say truck owners cannot afford to upgrade and maintain their vehicles to California standards and that the bill would result in owner-operators having health insurance through trucking company employers.