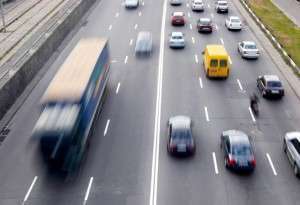 The Ceridian-UCLA Pulse of Commerce Index – issued Wednesday, May 11, by the UCLA Anderson School of Management and Ceridian Corp. – fell 0.5 percent on a seasonally and workday-adjusted basis in April, marking a continuation of the seesaw economic performance experienced over the past 12 months.
"Though down in April, the decline offset only a fraction of the exceptional 2.7 percent gain posted in March, which was sufficient to drive continued growth in the three-month moving average of the PCI," says Ed Leamer, chief PCI economist and director of the UCLA Anderson Forecast. "However, the disappointing 1.8 percent growth of real GDP in the first quarter remained consistent with the pattern of modest, fitful economic growth reflected by the PCI since the first quarter of 2010."
Leamer says the most recent report reinforces the PCI's longheld cautious below-consensus outlook for growth in GDP and employment. "Until we see acceleration in the PCI, we expect monthly employment gains to remain range-bound between 150,000 and 200,000 new jobs," he says. "For the second quarter, the PCI suggests GDP growth in the 2 to 3 percent range, not the 5 to 6 percent range necessary to drive meaningful reductions in unemployment."
Year-over-year growth in April was positive again, up 3.5 percent, the 17th straight month of year-over-year improvement in the index and an indication that the economic recovery continues. From an absolute standpoint, GDP remains ahead of the previous peak reached in the 2007 fourth quarter, but the PCI and industrial production remain about 5 percent below their previous peaks – meaning that the goods-producing component of GDP is still well below its previous high.
"Over time, the PCI has shown a substantial correlation with industrial production," says Craig Manson, senior vice president and index expert for Ceridian. The PCI forecast of 0.8 percent growth in industrial production for March matched the estimate subsequently released by the Federal Reserve, the second straight month that the PCI matched the subsequent government estimate. Manson says that based on the relatively weak April result, the PCI is calling for growth of 0.25 percent in industrial production when the government reports its number on May 17.