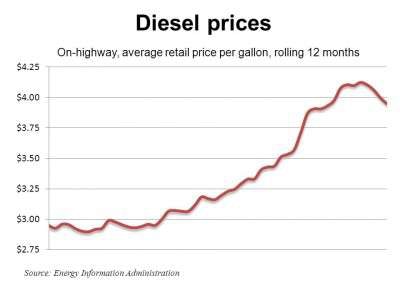 Diesel prices fell for the fourth straight week, according to the U.S. Department of Energy's Energy Information Administration. The national average retail price for on-highway diesel declined 4.9 cents during the week ended Monday, May 30, to $3.948 per gallon. The last time diesel prices dropped for four straight weeks was between mid-August through early September 2010, although those decreases were much smaller than the current streak.
Diesel prices are 96.8 cents higher than the same week last year. The average price of diesel declined in all regions, ranging from a 4-cent dip in New England and the West Coast to an 8.1-cent drop in Rocky Mountain states. California has the nation's most expensive diesel at $4.227 a gallon, while Gulf Coast diesel is cheapest at $.3.884.
Complete diesel price information is available on EIA's website.