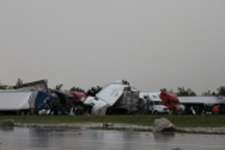 Con-way Truckload on Friday, May 27, asked fellow trucking companies to donate trailers for relief efforts for the city of Joplin, Mo., which on Sunday, May 22, was ravaged by one of the most devastating tornadoes in U.S. history.
Joplin-based Con-Way Truckload told the Truckload Carriers Association that many of its city neighbors have requested assistance from the trucking industry and have asked to borrow trailers for storage, and while the company is happy to help, it does not have enough equipment to meet the demand.
Con-way Truckload told TCA that about 15 to 20 more trailers currently are needed and that each would have to be on loan for an indefinite period of time. Any trucking companies that can help are asked to contact Randy Cornell, vice president of maintenance, at Con-Way Truckload at 417-623-5229 ext. 5737 or cornell.randy@conwaytruckload.com.
Authorities said at least 126 people had died from the storm, making the tornado the single deadliest to touch down in the United States since modern recordkeeping began in 1950. The Missouri Department of Public Safety on Thursday, May 26, said 232 people remain missing.
Kansas temporarily has suspended some regulations for truckers providing relief to Joplin residents. Gov. Sam Brownback issued an executive order until June 22, while Missouri has suspended certain trucking rules until May 30. "The recovery efforts for Joplin will be ongoing for quite some time," Brownback said.
The Kansas Department of Transportation temporarily is waiving overdimension/overweight permits fees and providing priority service to requests. Truckers providing Joplin relief may operate during low visibility, night, holiday and curfew hours if the carriers or drivers use clearance lights or escort vehicles. The registration and fuel tax permits also are suspended during this period.
Until noon May 30, the Missouri transportation department will issue oversize/overweight permits free and will expedite requests to truckers providing disaster relief. Also, during this time, out-of-state carriers that do not hold authority to operate in Missouri can request registration and fuel permits, which will be free.
Truckers seeking these Missouri permits should call 800-877-8499 between 7 a.m. and 5 p.m. and for emergency permits only may call 573-291-4853 or 573-291-4517 after these hours.