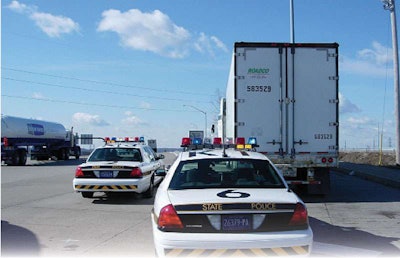 Carriers leverage new technology to stay ahead of CSA compliance
Prior to Dec. 13, 2010, many small firms were used to seeing their SafeStat scores remain fairly static. Only a fatality or a series of out-of-service violations might have led to an onsite compliance review. Otherwise, U.S. Department of Transportation auditors tended to focus resources on larger carriers and deeper pockets.
That day, the Federal Motor Carrier Safety Administration replaced its SafeStat formula for evaluating motor carrier safety with the Safety Measurement System. The agency's ultimate goal for SMS is to calculate monthly safety scores based on live data from roadside inspections.
SMS falls under the Compliance Safety Accountability program, FMCSA's focal point for fleet safety and compliance. In sizing up CSA, many fleet executives and managers realized that to keep their SMS scores low, they would need to standardize processes and execute them consistently – and use technology to achieve those goals.
"We would rather have information first and know how our drivers are performing," says Courtney Waller, project manager for Waller Truck Co. Inc., a 220-truck nationwide truckload carrier. "The least we can do is know our own information and be prepared."
Waller Truck purchased a new driver management system from EBE Technologies in February 2010. The Excelsior Springs, Mo.-based company previously had been using various applications for managing recruiting, driver files, logbooks and vehicle/engine data. Soon, the company will manage everything related to CSA from a single automated platform.
CSA impacts all levels of an organization.
CSA impacts all levels of an organization, not just the safety department and drivers, and technology that helps fleets remain compliant is capable of extending beyond the bounds of safety to reach all of a company's human resources. CSA is the focal point, but the sharing of information and monitoring compliance with company policies and directives is a natural extension.
Through the gate
In the new CSA regime, speed and consistency in recruiting qualified drivers has taken on more importance. Fleets say that CSA, still in its infancy, already has caused a shortage of qualified drivers.
When Waller Truck purchased its EBE driver management system, recruiting was the first phase to be implemented. Previously, recruiters were looking through paper files and Post-it notes to track drivers' progress through the hiring process.
Drivers now apply at Waller Truck through the company's website. EBE's online application prompts drivers to complete all fields, and once information is collected, the recruiting module orders pre-employment background reports, verifies past employment and screens drivers based on company requirements.
With this technology in place, a driver that applies for a job on Thursday can be scheduled to visit the office the following Monday for orientation. In the meantime, the driver can go to a Website to complete payroll forms, sign company policies and complete other orientation materials.
J.J. Keller's Web-based driver management system, Encompass, has an online application to speed the recruiting and hiring process. Once drivers are hired, fleets continue to use the system to manage driver qualification (DQ) files and all other safety and compliance processes electronically.
Badger State Western, a less-than-truckload refrigerated transporter, began using Encompass in January 2009. At the time, the 55-truck company's SafeStat score was above the 75 percent threshold, an open invitation for an onsite compliance review. Having DQ files on paper was part of the problem, says Gary Hoff, who started using Encompass soon after becoming director of safety for the Abbotsford, Wis.-based fleet.
Badger State Western's SafeStat score since has dropped to the high 40s, and the positive trend has continued with CSA, Hoff says. The fleet now is using new features in Encompass to manage compliance with CSA's Behavior Analysis and Safety Improvement Categories (BASICs).
Bringing in data
Similar to SafeStat, carriers can view their SMS scores and underlying roadside inspection data through a secure FMCSA portal at https://www.ai.fmcsa.dot.gov/sms. SMS data comes primarily from roadside inspections and is at least 30 days old, making compliance data management a reactive effort.
 To be more proactive, carriers can use various CSA scorecards and other self-assessment tools designed to predict warnings, violations and other areas of risk long before the SMS formula crunches the numbers. CSA scorecards can utilize more information than what is available from FMCSA in order to help narrow the focus on problem areas.
J.J. Keller's Encompass system features a CSA portal that shows users the latest SMS scores with drill-down capabilities and reports. Users can input roadside inspection reports to see the impact before the next data feed from SMS.
The Encompass system has multiple applications that are accessible through tabs on its main dashboard. Fleets can use these separate applications to set up management alerts in areas that contribute to a fleet's overall CSA score, says Amy Daley, ASP product manager for J.J. Keller.
An hours-of-service tab lets carriers either input paper logs manually for auditing or capture violation alerts automatically through the Keller Mobile mobile computing platform. In the vehicle management tab, alerts can be based on scheduled maintenance or immediate needs from driver vehicle inspection reports (DVIRs). A driver performance tab uses real-time data such as speeding and hard braking captured by Keller Mobile.
Vigillo started offering CSA scorecards for carriers and drivers before the SMS data became public. One of Vigillo's main initiatives today is to help its customers understand what factors are driving their safety performance, says Steve Bryan, the company's chief executive officer.
Vigillo recently deployed an upgrade to its Web-based platform that enables users to integrate their own non-FMCSA data into scorecards to better predict and manage compliance. Customers can bring in data from onboard computers, maintenance systems, human resource systems and other "silos loaded up with data" for processing and analysis, Bryan says.
Roadside inspection data currently comes in two forms: data that fleets collect themselves, and the actual violation data sent to FMCSA, processed and reported back to the carrier through SMS. Vigillo will give carriers new tools to match these two pipelines to better manage the entire inspection process.
"We will be giving customers tools to manage the entire lifecycle of roadside inspections," Bryan says. "We will now be starting to see, and be reporting on, all kinds of new and interesting correlations."
ACS, a Xerox company, last year created CSAdvantage in response to demand for a system to manage driver safety and compliance under CSA, says Steve Sichterman, ACS vice president of business development, safety and compliance.
CSAdvantage uses vehicle inspection reports provided by Vigillo. This data is refreshed each month after it is released by SMS, but ACS is in the process of changing to daily updates. Audited logbook data and DVIRs are supplied through ACS' RapidLog scanning system for paper logs. CSAdvantage also can use electronic logs from third-party systems.
Waller Truck uses a CSA dashboard in its EBE driver management software that includes the SMS data provided by FMCSA and also brings in real-time information from the fleet's onboard computers and various other sources to give a snapshot of individual driver performance.
The company also uses EBE's Driver Portal, an online driver-facing application, to capture information from drivers such as roadside inspections and violations. Waller Truck ultimately will use the Driver Portal to show drivers their own CSA scorecard along with other information such as an expiring commercial driver's license or medical card, or any scheduled training.
Tying to workflow
Besides using scorecards and dashboards to visualize and prioritize CSA-related information, more carriers are using technology to create workflows for the corrective actions, or interventions, required for each driver.
At Badger State Western, J.J. Keller's Encompass system automatically creates letters for drivers when they receive a violation at a roadside inspection. After the inspection information is processed, Encompass custom-builds a letter for the violation. A letter for a speeding violation would show the number of points and their impact on the company's CSA score.
CSAdvantage's workflow engine ties each violation to an intervention based on the threshold a fleet sets by violation and its overall BASICs score. The intervention can be one of three things: e-learning using online training modules from J.J. Keller, counseling with a fleet manager, or a meeting with safety management. A dashboard interface shows driver and safety managers each driver's status throughout intervention.
Buske Lines, an Edwardsville, Ill.-based truckload carrier, has used CSAdvantage since January, and the system has sped the process of screening through FMCSA's monthly roadside inspection data.
Buske Lines also enters roadside inspections into the system manually after drivers turn in their paper copies. "It allows us to get one step ahead of the (CSA) program and take the appropriate intervention," says Steve Ralston, director of safety and compliance for the 155-truck company.
Buske Lines currently is using paper logbooks but soon will be converting to fully electronic logs; CSAdvantage then will use electronic log violation data to generate interventions.
Waller Truck uses its EBE driver management software to tie interventions to real-time alerts such as a hard-braking incident. The system uses workflow to assign driver managers with a task, such as to contact the driver either through an in-cab message or a phone call. The workflow also will send the driver a form with the violation listed. The driver then will be able to use the Driver Portal to sign the form electronically and acknowledge that the incident occurred. The system then will send an alert if the process is not completed on time.
Going beyond CSA
Using technology to speed risk assessment and intervention for CSA compliance is certainly an improvement over paper and manual processes. But the same type of automation can be applied to areas that are not related directly to safety.
Kool Pak, a Lake Oswego, Ore.-based refrigerated carrier, was using a CSA dashboard from a technology supplier. But having users sign onto a Website was somewhat tedious, and "we didn't see the value in just having CSA," says G Geary, senior vice president of operations. "We could sign on to the FMCSA Website to get that."
In June 2010, Kool Pak implemented a Web-based system from Compli that employees now use to access company policies and communications centrally. Employees can review and sign all company policy statements and payroll documents electronically. The Compli system also has DQ file management and integrates internal data and FMCSA data into an executive CSA dashboard.
Kool Pak also found a more proactive and efficient way to manage roadside inspection reports for CSA. When a driver has a roadside inspection, he turns in the paper form, which is entered into Compli immediately. The company pays drivers a bonus for having clean inspections. The safety department attaches the inspection form to the driver's file in Compli and submits the bonus request to payroll.
"With Compli, we don't have to wait for the government data to update," Geary says. "We get e-mail alerts if there is a violation or a clean inspection. We have visibility to all categories and can drill down to see the violations and severity."
Drivers can sign into Compli through their in-cab mobile terminals, in the office or from a personal computer to submit time-off requests and see safety violation information. Drivers also can access training that has been assigned to them. Kool Pak uses ProTread training modules, which drivers can access from their onboard computers and through their Compli login.
If a driver gets an out-of-service violation for hours-of-service, Compli will assign the remedial training automatically. The driver has to take the training and sign off on it electronically. Kool Pak plans to use the system to extend video and other training programs to all employees and to monitor completion. "It allows us to have visibility across the organization," Geary says.
The Compli system also has added focus to the social networking aspect of technology. Kool Pak uses the system to conduct internal business such as its "Idea of the Month" reward program. Employees can login to submit an idea about new business opportunities and how to improve service and reduce costs. "It is becoming part of the culture of the company," Geary says.
Carriers are investing in new technologies to stay ahead of the flow of information. Driver and safety management systems can help focus and increase the efficiency of available resources.
Active safety
Technology can correct behavior in real time
Driving behavior management systems that use in-vehicle telematics devices can reduce the number of risky driving behaviors significantly, according to a 2009 study by the Virginia Tech Transportation Institute. This news probably comes as no surprise to the many fleets already using the technology to receive alerts whenever drivers speed, violate hours-of-service regulations or slam their brakes.
Active safety systems have proven to be just as effective for mitigating risk – if not more so – since they can intervene at the moment that correction is needed. These systems also send out real-time warnings to drivers and provide data for analysis.
Bendix offers several active safety systems. Its Electronic Stability Program (ESP) integrates with the vehicle's electronic and mechanical systems to mitigate skidding or jackknife scenarios.
An expansion of ESP is Wingman Advanced, a technology that uses radar mounted to the front of the vehicle to deliver both warnings and active interventions to help drivers mitigate potential rear-end collisions. The system gives three driver alerts: First, if an impact with the forward vehicle is likely, the system will sound an impact alert; second, if the vehicle approaches a metallic object of size in the lane of travel, the system will sound an alert up to three seconds in advance of colliding with it, which can be helpful while driving in limited sight conditions such as fog, rain or smoke; and third, if the host truck is following too close to the forward vehicle according to fleet standards, a following distance alert will be sounded indicating to the driver to leave more space between the truck and the forward vehicle. All three alerts always are available regardless of cruise control state.
The system can be used for adaptive cruise control, an active safety feature that maintains a 2.8-second gap in traffic by defueling the engine, retarding the engine or applying brakes as necessary when vehicle cruise control is set. If a collision is imminent regardless of cruise control state, the system applies two-thirds braking to help mitigate the accident. Bendix offers a similar system in Vorad with these types of alerts, but only Wingman has the capacity to apply braking.
Each of these systems collects a detailed set of data. A data report in the Wingman system captures alert history, following time and distance histograms, basic trip information and a record of when the ESP is activated; Bendix offers a free software tool called ACom to extract this data. When these systems activate, they also send out SmartMessages that can be reported by any telematics carrier monitoring J1939, which promotes consistency and helps eliminate misinterpreting system behavior that can lead to false e-mails or text alerts to fleet safety personnel.
About 115,000 Bendix ESP systems, 5,000 Wingman systems and 90,000 Vorad systems are on the road today, says T.J. Thomas, product manager of customer solutions and data for Bendix.