SAF-Holland has updated and expanded the application coverage for its CBX Series Suspension System for trailers. The company's proprietary Fusion Beam Technology – which helps facilitate lower trailing arm beam weight without compromising structural integrity by combining two suspension technologies – is being integrated into the CBX40, CBX23, CBX25 and CBX25/30. The technology involves the fusion of a fabricated tailpiece to the back of the suspension's cast steel beam to create a component that can be configured to meet a wider range of dimension requirements. The optimized SAF X-Series 5¾-inch round axle also offers suspension configuration options.
SAF-Holland
Visit www.ccjdigital.com/info
Plastikote's Truck Bed Liner aerosol is formulated to bond permanently, resist abrasion and help prevent slips and falls thanks to textured nonskid recycled rubber granules. The resulting flexible gasoline-resistant surface also helps minimize cargo slippage, resists fading and rust, withstands extreme hot or cold temperatures and will not warp or crack. The aerosol features a trigger designed to make it easier to use and keep hands clean. For customers who prefer a brushing application, the truck bed liner also comes in a gallon can or as part of a kit that also contains a roller frame and cover, scuff pad, roller tray and brush.
Plastikote
Visit www.ccjdigital.com/info

Radio-CD player with hands-free phone use
TRP Aftermarket Parts' AM/FM CD player has a front-panel auxiliary input jack and matching coaxial speakers that offer operators a hands-free solution for answering phone calls. By syncing their cell phone or smartphone to the audio system through Bluetooth wireless technology, drivers can speak through a built-in microphone and hear calls through the speakers. The Bluetooth-enabled radio is designed to provide a higher power output for better sound quality in noisy environments, as well as a continuous stream of weather information through a built-in weather band. The high-power radio, which also comes in a non-Bluetooth model with 24-hour weather band and without, is engineered specifically to work in tough environments.
TRP Aftermarket Parts
Visit www.ccjdigital.com/info
Phillips Industries has applied both its Clear-Vu and Sta-Dry technologies to its Window Crimp & Seal Connectors to provide visual assurance that wires are sealed and crimped properly, and that corrosion buildup is inhibited. Clear-Vu's adhesive-lined tubing is designed to allow for easier see-through inspection and to confirm a waterproof seal via the sealed window. Color-coded stripes help identify wire gauge size and also help guide the installer to the proper crimp position in the center of the barrel.
Phillips Industries
Visit www.ccjdigital.com/info
Coxreels' line of diesel exhaust fluid hose reels are built on the company's all-steel SH Series and T Series reel designs and are equipped with stainless-steel external full-flow swivel and chemical-resistant Viton seals to facilitate a safe, reliable DEF dispensing solution. The swivel is built for easy seal maintenance and fast DEF dispenser hose installation. The heavy-duty single-pedestal SH Series or supreme-duty dual-pedestal T Series configurations can handle DEF hoses up to 75 feet of ¾-inch hose and up to 50 feet of 1-inch hose. Both designs are outfitted with Super Hub dual-axle support systems to help increase stability and reduce vibration during operation, making the reels suitable for either stationary or rugged mobile applications. The models are available in standard spring retraction systems as well as EZ-Coil controlled retraction systems that promote greater operator and workplace safety by retracting up to 80 percent slower than conventional reels.
Coxreels
Visit www.ccjdigital.com/info
Rotary Lift's Wireless Mach 4 column lift is powered by batteries and communicates wirelessly. Technicians make one trip around the lift to turn it on and configure it, and then can operate the entire lift using the control panel on any of the columns. The panel features an intuitive graphic layout of the column setup, onboard diagnostics, LEDs and one-touch controls. Wireless Mach 4 is available in sets of four or six columns; each column has a rated lifting capacity of 18,000 pounds and is powered by two deep-cycle marine batteries. The lift is designed to raise a vehicle 70 inches in 78 seconds; lifting and lowering of all columns is synchronized automatically. Backup communication cables can be used in place of the wireless system with the flip of a switch; the system also can be retrofitted to existing Mach 4 mobile column lifts. The lift has locking mechanisms every 3 inches and a lower-to-lock function, and adjustable forks are designed to handle a wide range of wheels without adapter sleeves.
Rotary Lift
Visit www.ccjdigital.com/info
Construction, agriculture work lamp
Grote's square-face 4-by-4-inch Trilliant Cube LED WhiteLight Work Lamp, suited for the construction and agriculture markets, has a service rating of about 50,000 hours and operates on both 12V and 24V systems. The lamp is available with either the TractorPlus beam pattern or a refined wide flood pattern designed to produce a more penetrating beam that reaches farther. The lamp comes with stainless-steel hardware and brackets and is available in three versions, each with a different connector style.
Grote Industries
Visit www.ccjdigital.com/info
Hunter's TC3300 center-clamping tire changer is designed to allow for fast, simple clamping of wheel designs. The center wheel support is designed for flexibility to mount large assemblies with overall diameters up to 50 inches easily; wheels clamp to the machine safely through the hub, and not on the rim edge where marring damage can occur. The electric motor exerts 800 ft-lbs. of torque to help with difficult assemblies. The floating, articulated mounting arm is designed to allow the polymer mounting head to follow the rim edge smoothly, reducing stress to beads; the polymer head, made of a wearing material, helps remove the potential of marring damage. A bead-loosening side shovel and blast inflation hose help seat the bead during inflation.
Hunter
Visit www.ccjdigital.com/info
SmartWay-certified drive tire
Toyo Tires' M657 on-highway drive tire is SmartWay-certified by the U.S. Environmental Protection Agency and is suited for long-haul highway applications while helping to reduce greenhouse gas emissions. The tire features the company's proprietary e-balance technology, which includes a stiffer belt package and bead construction for improved tire life, endurance, irregular wear resistance and fuel efficiency. The G-rated M657 is available in four sizes: 11R22.5, 295/75R22.5, 11R24.5 and 285/75R24.5.
Suited for single and twin drive-axle applications, the M657 features a 28/32-inch tread depth and Toyo's multi-pitch groove design that enhances traction, even during the latter stages of original tread life. Large parallel-arranged center tread blocks help provide added stability and traction, while stone ejectors help protect the casing against stone drilling and the shoulder design helps resist irregular wear in long-haul applications.
Toyo Tires
Visit www.ccjdigital.com/info
Cobra Electronics' 29 LX Citizens' Band radio, based on the 29 LX LE 50th Anniversary Limited Edition model, features a modern aesthetic design with a selectable LCD color display in red, green, blue or amber to complement the interior of any cab. The display also has customizable night and day settings to enhance readability in both bright and dark conditions, as well as a clock/timer that enables drivers to track their on-time driving hours; the clock/timer also functions as an alarm clock. The 29 LX includes 4W AM RF power output along with instant access to emergency channel 9 and information channel 19. The Delta Tune feature helps clarify incoming signals, while the adjustable Dynamike boost increases the microphone's sensitivity for increased voice clarity. Other features include:
• A large center scroll knob that provides one-touch unit programming for easy setup and channel changes;
• A weather alert scan that advances to the next clear NOAA weather channel automatically when driving cross-country; and
• A Radio Check Diagnostic to allow drivers to monitor their radio's RF power output, antenna system and battery voltage continuously.
Cobra Electronics
Visit www.ccjdigital.com/info
Fuel system cleaner
Penray's Total Diesel Fuel System Cleaner is formulated to dissolve and disperse asphaltenes and enhance overall fuel performance while providing and maintaining a clean fuel system. The treatment – which is part of Penray's Power Fleet line and is formulated to add power, lubricity and cetane – can be used in regular diesel and biodiesel blends.
Penray
Visit www.ccjdigital.com/info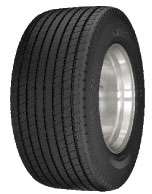 Wide-base single trailer tire, drive tire
Yokohama Tire Corp.'s two latest tires are the RY407 wide-base single trailer tire and the prototype 702 drive tire. The RY407 is a U.S. Environmental Protection Agency SmartWay-certified tire recognized for low rolling resistance. The super single, size 445/50R22.5, offers improved durability and less casing fatigue thanks to an advanced profile; high-tech compounds designed to enhance fuel efficiency; a zero-degree mid-belt designed to distribute the load evenly, lessen running distortion and provide a more consistent footprint; straight grooves for enhanced wet traction; and cross sipes for wear resistance.
The sleek prototype 702 uses Yokohama's Zenvironment technology for enhanced fuel efficiency and will be available in the United States in early 2012 in sizes 295/75R22.5 and 11R22.5. The tire offers low rolling resistance, an updated drive tire tread design, a solid shoulder rib and serpentine grooves to facilitate extra rigidity and stability, Yokohama's patented Stress Control Groove designed to redistribute the shoulder load to prevent wear, and a Z Block design to facilitate improved wet traction and lower rolling resistance.
Yokohama Tire Corp.
Visit www.ccjdigital.com/info
Kelly Tires' KTD drive tire is designed for added traction in pickup-and-delivery applications, as well as in specialty applications such as school bus and metro operations. Available in sizes 225 and 245/70R19.5, the open-shoulder KTD features a beefy traction-block tread design with 400 molded-in sipes to help enhance traction. For curbing and scrubbing, the KTD features tough rubber compounds to help resist chunking, chipping and cracking, while its tread radius helps distribute pressure evenly for more even wear.
Kelly Tires
Visit www.ccjdigital.com/info
Press-Seal Gasket Corp.'s Visco-Elastic Trailer Seal (VETS) for dry van trailer door seals is designed to provide improved sealing and durability. Made from automotive-grade pure EPDM rubber approved for exterior applications, VETS is designed to maintain its sealing throughout temperature extremes and to resist breakage. Modern splicing equipment is used to bond the corner joints, helping to maintain the rubber's strength throughout the seal. VETS are supplied in pairs, with corners already spliced, helping to simplify installation on existing doors.
Press-Seal Gasket Corp.
Visit www.ccjdigital.com/info
Ingersoll Rand has expanded its mini air tool line with the 2101XP-QC ¼-inch Quick Change Mini Impactool and the 2102XP 3/8-inch Mini Impactool. The 2101XP-QC and 2102XP each weigh less than 1.5 pounds and feature a pistol-grip design with an accessible forward/reverse switch that allows for one-handed operation. Each mini Impactool operates with a five-vane motor and is suited for hard-to-reach places; the 2101XP-QC has a quick-change feature designed to allow for convenient attachment exchange.
Ingersoll Rand
Visit www.ccjdigital.com/info
Plews & Edelmann's UltraLube 5th Wheel Trailer Grease is formulated with extreme-pressure and graphite additives to provide protection against friction and corrosion, even in extreme weather and heavy-duty operating conditions. The grease is offered in a 2-ounce smash pack to help drivers and service technicians control the amount of grease applied to the fifth wheel. Users can place the appropriate number of packs on the plate and drop the trailer; the packs burst to distribute the grease evenly across the plate. The grease also contains an eco-safe nontoxic plant-based oil formulated to penetrate into areas where lubrication is needed most to create a long-lasting bond.
Plews & Edelmann
Visit www.ccjdigital.com/info
Hamilton Caster's 7500 Series is designed to carry heavy loads over uneven surfaces. Constructed with a forged steel design and heavy-duty semi-pneumatic tires, the casters are built to deliver a smooth ride even over rough or broken concrete. The series is available in six wheel sizes ranging from 10- to 21-inch diameters with load capacities ranging from 1,000 to 4,200 pounds per caster. The caster also is offered in a dual-wheel version, which doubles the caster's total load capacity; optional accessories include four-position swivel locks and brakes. The tires are engineered with three tread sections: a firm stable base compound for strong rim adhesion, a resilient middle section to help dampen the shock of uneven rolling surfaces, and a tough low-rolling-resistance tread to help reduce energy consumption.
Hamilton Caster
Visit www.ccjdigital.com/info
Horton's DM Advantage On/Off Conversion Super Kit converts a standard DriveMaster On/Off Fan Drive to a DM Advantage On/Off Fan Drive. The kit's components include a double row angular contact (DRAC) sheave bearing and an improved air cartridge seal. The converted product is designed for reliability and long-life performance.
Horton
Visit www.ccjdigital.com/info
Battery charger
Clore Automotive's Model C10122S, a two-bank 12V 10-amp battery charger from Christie, is designed for small lead-acid and gel cell batteries. The C10122S can charge two batteries simultaneously and independently and is designed to recover conventional, maintenance-free or gel cell batteries affected by partial sulfation due to seasonal use or deep discharge during long storage periods. Its "Dud Buster" technology is designed to provide extra initial charge voltage to break through battery sulfation, then adjust to normal charging voltage once the battery begins to accept charging currents. The C10122S features independent circuitry and charging controls for each of its two outputs. Each output allows for infinite charging current control from 0 to 10 amps to enable proper charging of a wide variety of battery sizes. Each output also features an independent timer control to stop the charging process after a specified period.
Clore Automotive
Visit www.ccjdigital.com/info
Bully Dog now offers two ceramic-coated exhaust systems for Detroit Series 60 engines designed to maximize airflow by smoothing out the sharp corners of the stock manifolds and eliminating any bottlenecks, and to eliminate any known failure points in the stock manifold. Both exhaust manifolds work on the same model years of the Detroit Series 60 engines from 1995 through 2003. The high-mount option (Part No. 85301) typically found in Kenworth and Peterbilt applications will replace OEM manifolds No. 23519348 and No. 23511978. The low-mount option (Part No. 85300) typically found in Freightliner and Western Star applications will replace OEM No. 23532122.
The tolerances of the three-piece systems have been tightened to help prevent leakage at the joints. A special metal alloy also has been used so that all three pieces expand and contract at the same rate as the engine heats up and cools over the life of the manifold. Each manifold is finished with a high-performance ceramic coating both inside and out to help improve airflow while lowering exhaust temperatures radiating from the manifold by 300 degrees.
Bully Dog Technologies
Visit www.ccjdigital.com/info