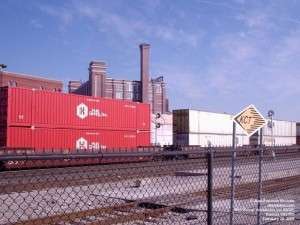 Hub Group Inc., an asset-light freight transportation management company, announced Monday, June 13, that its Comtrak Logistics Inc. subsidiary on June 3 acquired certain assets of Domestic Transport Inc., an intermodal drayage carrier headquartered in Pacific, Wash. Terms were not disclosed.
"This acquisition is well aligned with our goal of growing Hub Group's drayage network," says Chris Kravas, chief intermodal officer for Hub Group, based in Downers Grove, Ill. "This is the 25th Comtrak terminal in our network, and it gives us a significant drayage operation in the Seattle market."
Domestic Transport was founded in 2005 with one truck hauling containers out of the ports of Seattle and Tacoma. The company has grown to a 22-driver operation that handles container deliveries in the state of Washington and throughout the Pacific Northwest.
"We were very impressed with the high-quality standards that Domestic Transport maintained for its drivers," says Jim Ronchetto, president of Comtrak Logistics. "With the addition of Domestic Transport to our network, we are able to offer more flexibility to our customers in the Pacific Northwest region."
Domestic Transport's owners, Leon Borodyansky and Kirill Korchinsky, will continue in leadership roles with Comtrak Logistics. Borodyansky will be the terminal manager, while Korchinsky will be the safety and recruiting manager for Comtrak's newly formed Pacific Northwest terminal.
Hub Group on April 4 announced that it purchased Exel Transportation Services for $83 million before post closing adjustments. ETS is now a wholly-owned subsidiary of Hub Group, operating independently under the name Mode Transportation.