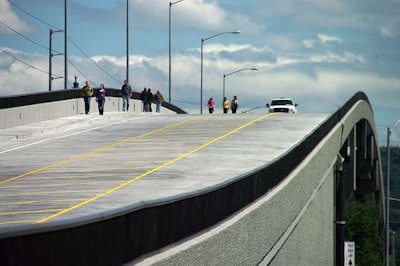 The Port of Tacoma on Friday, June 10, announced that the first vehicles traveled over the Lincoln Avenue overpass, the final piece of a years-in-the-making transportation project to move cargo and commuters more efficiently in and out of the Tacoma Tideflats.
The port says it already had completed supporting surface streets and relocated utilities over the years for the $50 million project, but the unfunded overpass was the final piece needed to carry trucks and other vehicles over busy rail lines serving the port's two main rail yards.
Construction of the overpass became possible in March 2009 when the port received $15.4 million in federal American Recovery and Reinvestment Act funds. The $22 million 2,200-foot overpass adds three lanes of roadway over four sets of railroad tracks. The FAST Corridor project has received funding since 2003 from several state and federal sources. The port paid about $14.2 million of the total.
Building the overpass employed more than 200 people during peak construction, and economists estimate the entire corridor could contribute another 1,500 permanent jobs through efficiency and additional capacity.
While the Lincoln Avenue overpass is open, repairs to the bridge over the river will prompt more detours for another six months, depending on weather. Tacoma Public Works delayed repairs to the Lincoln Avenue Bridge until the overpass was complete so access to local businesses would remain open. During the bridge closure, a temporary heavy-haul route will detour trucks around the construction.