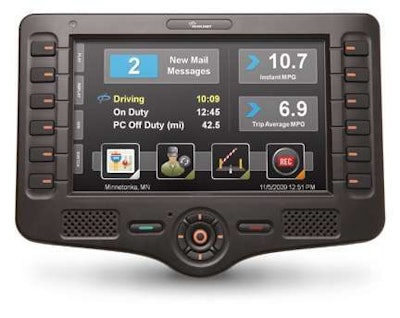 PeopleNet, a provider of integrated onboard computing and mobile communications systems for fleet management, introduced a more efficient, more compact version of its BLU in-cab computing system.
"A lot of what we do is based on feedback from our customer base and market segments," says Matt Voda, vice president of product management. "This next step for the BLU platform was driven by feedback to come out with a new generation of this device."
PeopleNet released the first version of its BLU platform in 2007. About two years ago, customer focus groups showed interest in a smaller form factor for an in-cab hardware device. The company started development for the BLU.2 platform last year and began beta testing units with customers early this year. Volume shipments of the new device will begin in the third quarter.
PeopleNet plans to offer attractive pricing to customers using the original BLU platform or the earlier LCD Driver Terminal display units to upgrade to BLU.2, Voda says. However, BLU.2 was designed to only replace the in-cab display not the existing base unit called G3.
"Our next-generation BLU.2 onboard computing system demonstrates our continued support of BLU as a platform. In addition to new features that enhance driver efficiency, it's 65 percent lighter, thinner, and provides better extreme temperature performance with 40 percent faster startup in cold weather," said PeopleNet CEO Ron Konezny.
The BLU.2 software platform is the same as BLU, and customers will be able to add BLU.2 to their current BLU network. PeopleNet says the BLU.2 device and common codebase are a reflection of its commitment to its large BLU installed base, and it will support BLU indefinitely.
Mackinnon Transport is one of the fleets beta-testing the BLU.2 platform. "The lighter, more compact unit is easier for mounting. I've also heard some of our drivers comment about how driver friendly they are to use and how much they like them," said John Gibson, maintenance manager of the Ontario, Canada-based truckload carrier.
Ed King, mobile communications manager for Intermodal Cartage, an IMC company, explained that after completing beta testing, he'll be replacing the PeopleNet Driver Terminal displays with 225 BLU.2 units and later converting an additional 350 units for the Intermodal Service divisions he's responsible for.
"The drivers now using BLU.2 took to it like a duck to water. The transition is easy and intuitive. They're having no problem getting used to the bigger, seven-inch color screen display," he said.
King said that BLU.2 will make drivers more efficient. "First, roadside inspections should be quicker and easier, because the eDriver Logs grid displays full details of a driver's time. And because BLU.2 is Windows based, we have more opportunities for electronic forms that will eliminate re-entry of information into our proprietary computer system."
Running on WinCE 6.0, BLU.2 operates more quietly and offers more installation options and louder sound range to enhance the platform's Text to Speech feature which allows drivers to play an audio version of messages on screen. Safe Mode enables fleets to limit driver interaction with the system while the vehicle is moving.