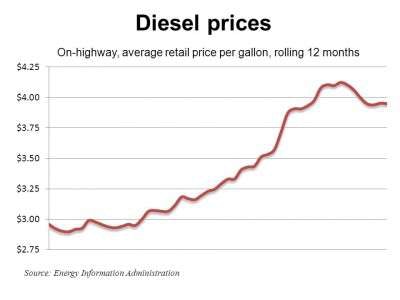 After breaking a five-week slide the week before, diesel prices resumed their downward trend during the week ended Monday, June 20, dipping four-tenths of a cent to $3.95 a gallon, according to the U.S. Department of Energy's Energy Information Administration. Diesel prices are 98.9 cents higher than the same week last year.
The average price of diesel declined in all regions except the Gulf Coast, where they were unchanged. The largest drop was 2.9 cents in Rocky Mountain states. California has the nation's most expensive diesel at $4.236 a gallon, while Gulf Coast diesel is cheapest at $3.896.
Complete diesel price information is available on EIA's website.