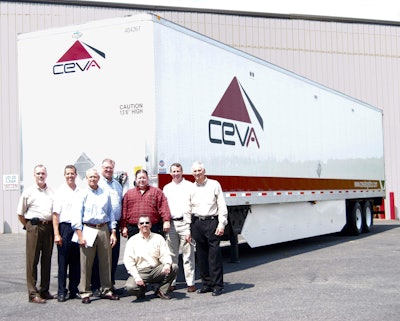 Ryder System Inc., a provider of commercial transportation and supply chain management solutions, announced on Monday, June 20, that it has expanded its full-service lease contract with supply chain provider Ceva Logistics, adding more than 1,000 trailers to support its domestic U.S. ground business, including the company's Ceva Ground and Freight Management businesses. To support the contract expansion, Ryder has purchased 1,044 Utility 4000D-X Composite dry vans.
"We are extremely excited that Ryder and Ceva have selected Utility's 4000D-X Composite dry van to support their expanding fleet needs," says Mike Ashe, manager of national accounts for Utility. "Early on in this process, both Ryder and Ceva determined that the 4000D-X Composite's durability and its innovative composite sidewall was the best trailer for them due to its low tare weight, superior strength, flexible load securement capability and lower operating costs. This order supports the trend that the 4000D-X Composite has become the fastest-growing model in our history."
Utility calls the purchase a major milestone for the 4000D-X Composite, as the 1,044 trailers represents the single largest order for Utility's dry van, and it also is the largest lease account trailer order that Ryder has ever placed. Ryder's Fleet Management Solutions provides full-service lease, rental and programmed maintenance of trucks, tractors and trailers.
"Ryder values its 30-year relationship with Ceva, and we appreciate the confidence they have shown in our ability to meet their well-respected service levels," says Hal Sisco, Ryder's director of national accounts. "We selected Utility to support Ceva's continued growth because of the proven high-quality product that Utility provides."