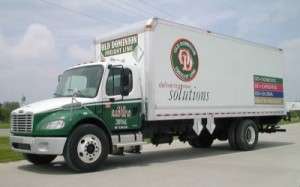 Old Dominion Freight Line Inc. is expanding its service offerings with the introduction of Vault Logistics, a neutral third-party provider of supply chain solutions that will help the company more effectively manage the supply chain process.
Vault Logistics unites several existing business units within Old Dominion into an independent operating division that includes warehousing, business solutions, dedicated services (fleet and warehouse) and truckload brokerage units.
"Customers are asking for a broader range of solutions and innovations across increasingly complex and dynamic supply chains. The right solutions will drive efficiencies and contribute significantly to their bottom lines to grow their business," said David Congdon, president and CEO of Old Dominion. "Vault Logistics is a significant investment in our future and expansion of our capabilities to help our customers thrive in the new economy."
The new division, based in Thomasville, N.C., will serve customers nationwide.
"Too often, 3PLs act more like a vendor for their customers rather than a committed long-term partner, causing the relationship to fail," said Michael Venegoni, Vault Logistics' president. "We take a different approach by listening to companies' needs and acting as a partner who can provide the innovative and customized solutions. While our customers know what's best for their businesses, we know how to offer the best logistical solutions – and together we can help their businesses grow."