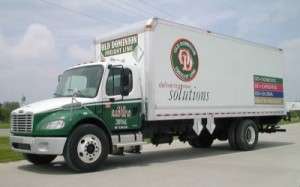 Old Dominion Freight Line Inc. on Thursday, July 28, announced revenue for the second quarter ended June 30 increased 30.4 percent to $480.3 million from $368.3 million for the second quarter of 2010. Net income rose 83.1 percent to $39.4 million from $21.5 million. Old Dominion's operating ratio improved to 86.5 percent from 89.1 percent.
For the first six months of 2011, revenue was $902.9 million, a 31.6 percent increase from $686.0 million for the first half of 2010. Net income rose 108.7 percent to $61.0 million from $29.2 million. Old Dominion's operating ratio improved to 88.6 percent from 91.8 percent.
"Old Dominion's second-quarter performance shattered our prior records for quarterly performance," said David Congdon, president and chief executive officer of the Thomasville, N.C.-based company. Quarterly revenue increased 15 percent over the company's previous high of $417.8 million in the second quarter of 2008. "We believe our operating and financial results further validate the effectiveness of our operating and growth strategies," Congdon said.
Congdon said revenue for the second quarter was driven by a 14.0 percent increase in tonnage and a 14.2 percent increase in revenue per hundredweight; excluding fuel surcharges, revenue per hundredweight increased 8.1 percent. Shipments increased 16.8 percent, outpacing tonnage growth, and revenue per shipment increased 11.5 percent. "While we are proud of the milestones achieved in the second quarter, we are focused on compelling opportunities to improve and expand our organization further in pursuit of our long-term growth objectives," he said.
Congdon said that due to the company's historical and substantial growth, its market share has reached the mid-single digits. "We have an excellent opportunity to further increase our market share by expanding our business organically through increased density within our existing service center network, as well as through additional geographic expansion," he said. "In addition, continued investments in technology represent an ongoing opportunity to enhance productivity and provide better, more transparent services to our customers."
Congdon said the company is continuing to invest in value-added logistics services that include warehousing, truckload brokerage, dedicated fleet and transportation management. "Although currently a small, yet rapidly growing, portion of our business, these value-added services are building new revenue streams for Old Dominion that we believe will allow us to better leverage our service center network and our thousands of customer relationships in the U.S. and abroad," he said. "The strong growth we experienced for the second quarter and expect for 2011 enhances our ability to develop these growth opportunities. We are confident that we have the human capital, the systems and infrastructure and the financial strength to produce significant long-term growth and increased shareholder value."